Modern Designs of Indian Sarees for A Graceful Yet Traditional Look
Modern Designs of Indian Sarees for A Graceful Yet Traditional Look
Draping stylish designer sarees emerged as a style statement in the last few years. Sarees are traditional garments that have been in use for ages in India. Women of all ages and even young girls love to wear this attire for its feminine elegance. Every region has a traditional way of draping a saree, each of which is magnificent. However, in recent times, fashion designers have experimented with the drapery of a conventional saree. Consequently, fashionistas have widely accepted this modification, and many online platforms today offer these trendy sarees.
The fantastic modern designs of Indian sarees are perfect for making any lady look gorgeous in any event. Even though these styles are trendy, still do not eliminate the essence of grace and tradition a saree carries.
Ruffle Sarees
The neat and graceful frills on this saree category look brilliant. The ruffles have coverage throughout the saree, enhancing the majestic look. The available colors are very attractive and will look elegant on all ladies.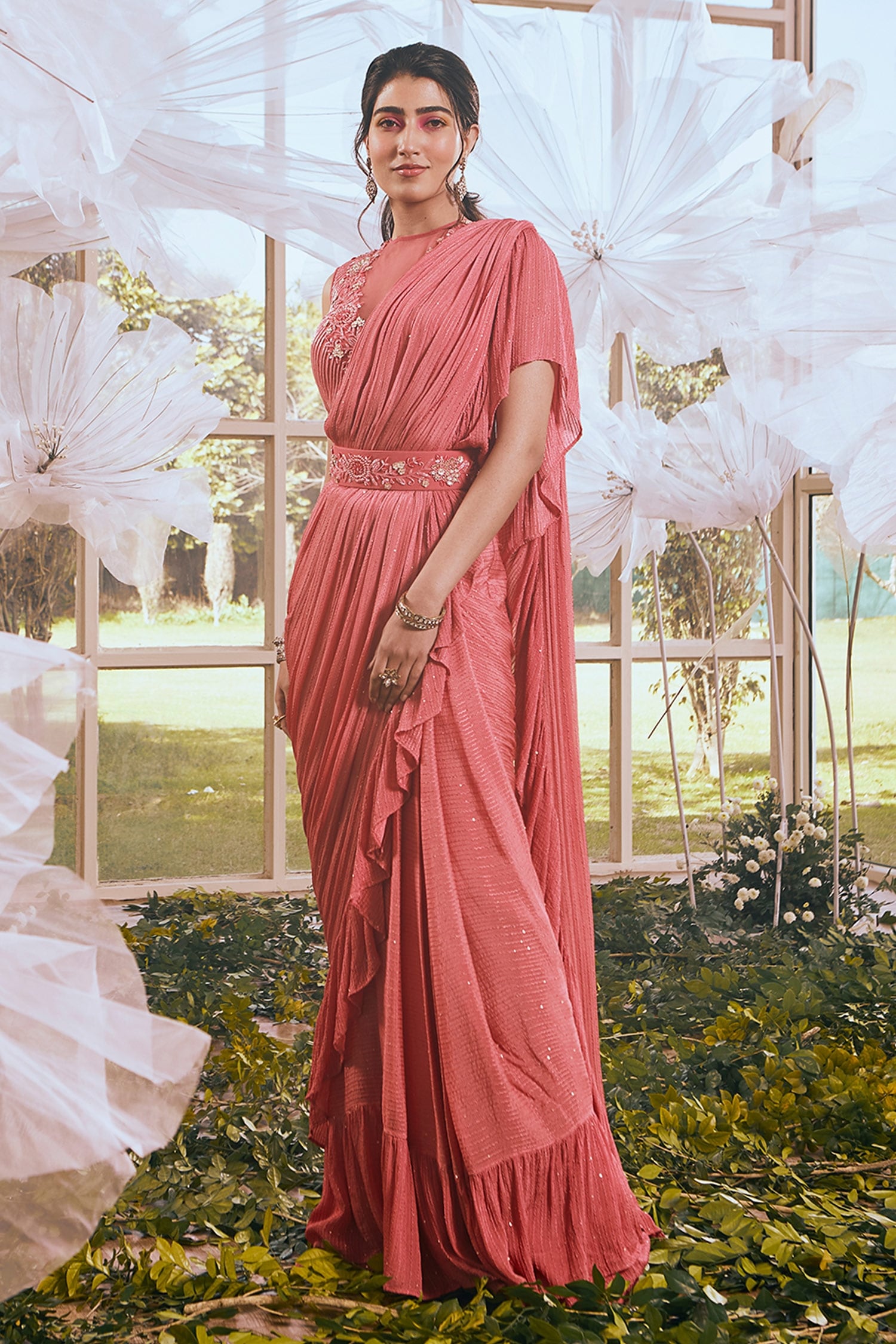 Tiered Sarees
The overlapping layers in these clothing items make them one of the best types of modern designer sarees. The upper part of this style saree gives a classic look, whereas the lower part has an excellent tiered or layered structure. It provides a perfect look for women who love wearing Indo-Western styles.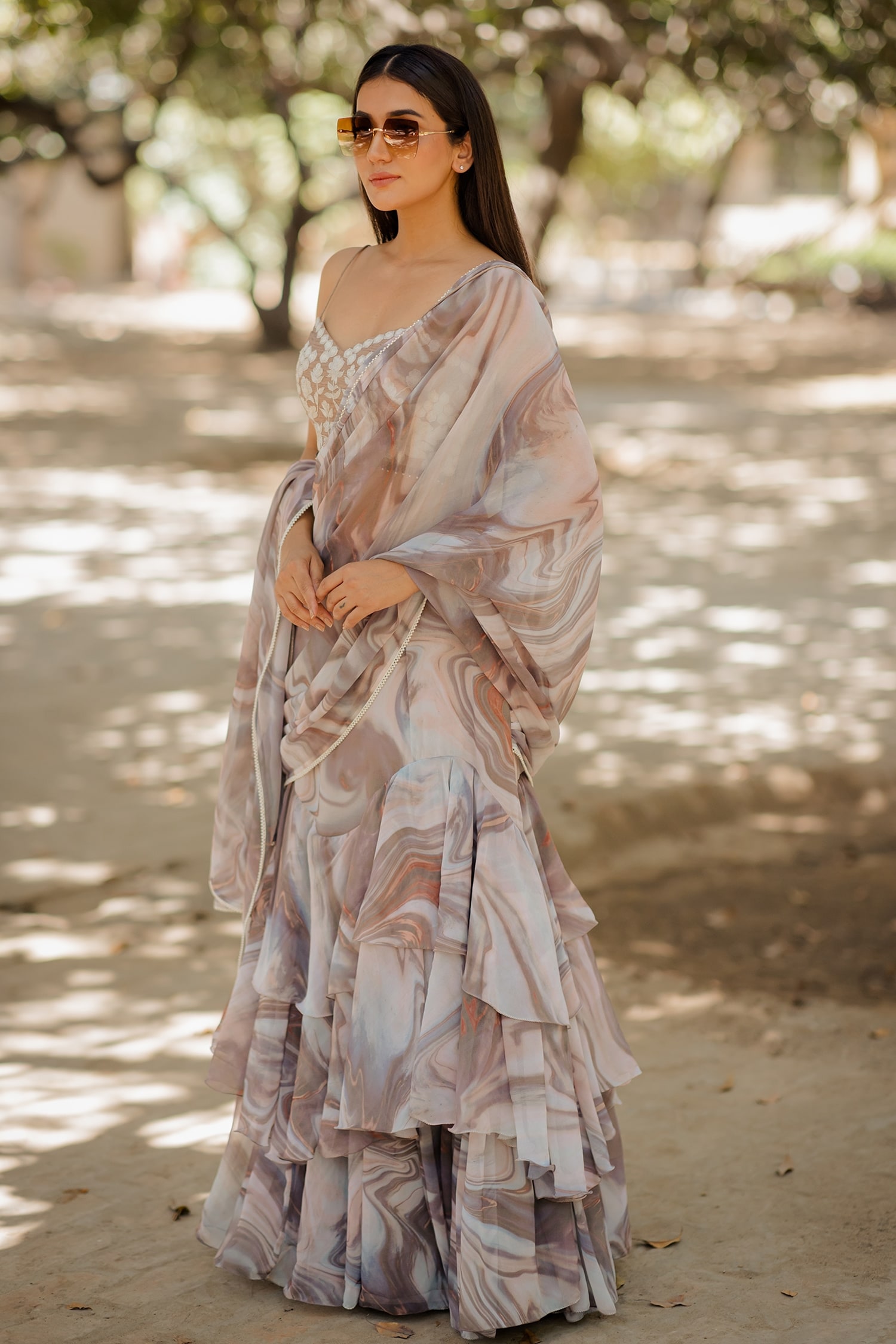 Skirt Saree
This is a unique category of designer sarees where the lower portion is not pleated like that in conventional sarees. This saree resembles a skirt towards the bottom and a traditional saree on the upper part. The free-flowing appearance of this saree enhances its beauty.
Pant Saree
One of the trendiest yet traditional saree types is the pant saree. It is the best choice for ladies who are more comfortable with trousers and yet want to fulfill their saree dreams. Different styles of the bottom portion of the saree are available, such as flared, straight, layered, etc.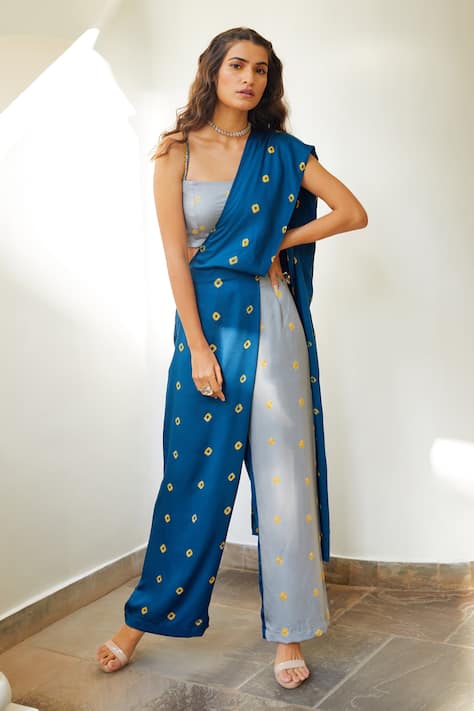 Saree Gown
The gown style is yet another fantastic amalgamation of modern and traditional looks on sarees. The designs on this type of saree include embellished, sculpted, feather-detailed, embroidered, etc. One can witness the ultimate talent of the clothiers and fashion designers from the magnificent assortment of this kind of sarees.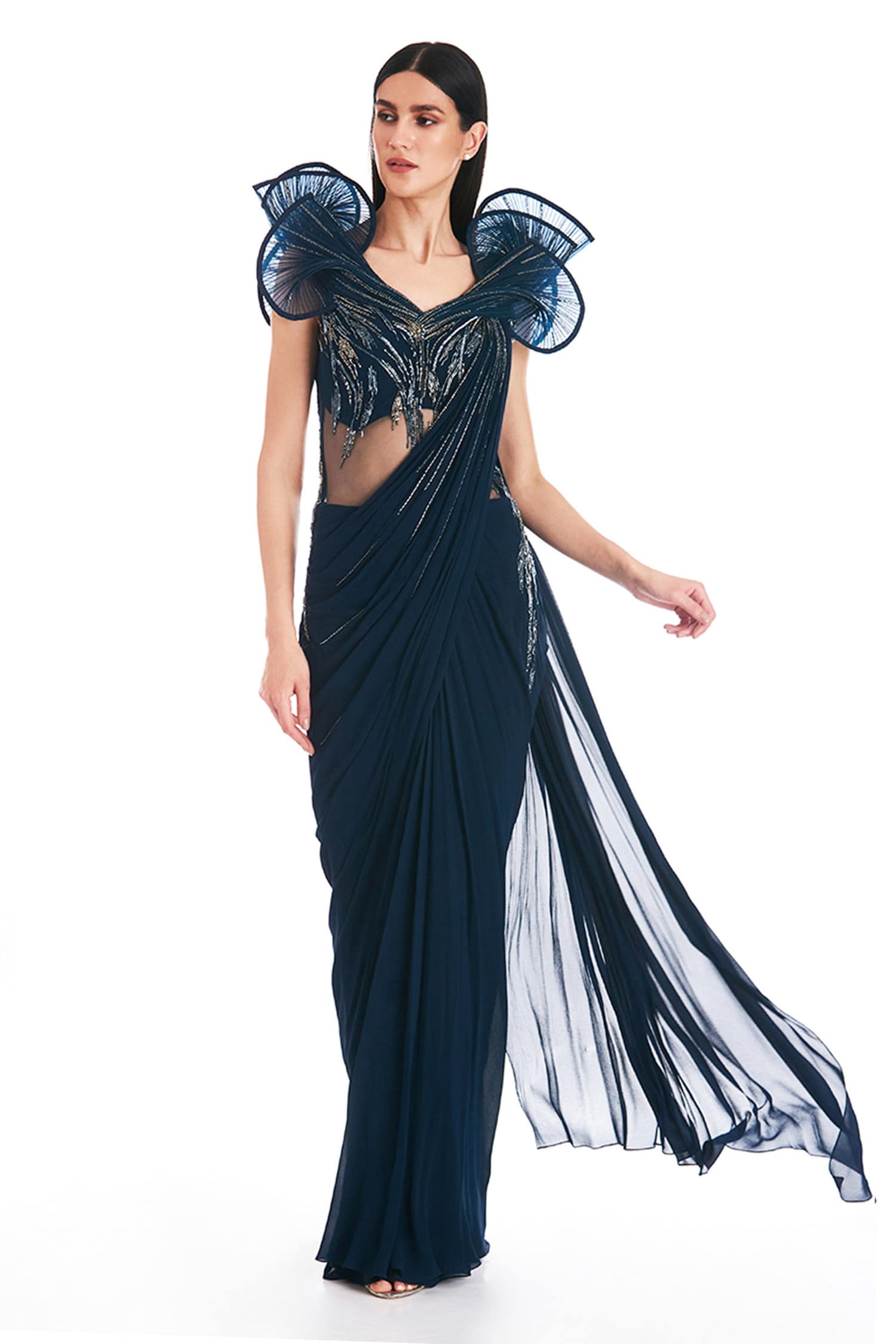 The sarees mentioned above are evidence of the skill and experience of the designers. One such brilliant portal is Aza Fashions, one of the leading portals in today's times with many modern designer sarees to select from their collection. In addition to the styles mentioned above, there are many pre-draped and open Designer Sarees at Aza Fashions that one can choose to shop. One can also find a wide variety of fabrics for these sarees, including crepe, cotton, georgette, satin, silk, etc.
Furthermore, the platform also provides printed or embroidered blouses with these sarees. The price of each saree is reasonable, and the product's detailing deserves that tag. You can visit the platform and browse its user-friendly interface to satiate your interest. All products on this portal have mesmerizing styles, patterns, and color combinations. The sarees available on this platform maintain the traditional appearance of this attire yet modernize the drapery incredibly.
Images source: AZA Fashions