Luxury Velvet Laptop Bag From Nestasia
Luxury Velvet Laptop Bag From Nestasia – A Must-Have Accessory For Modern-Day Women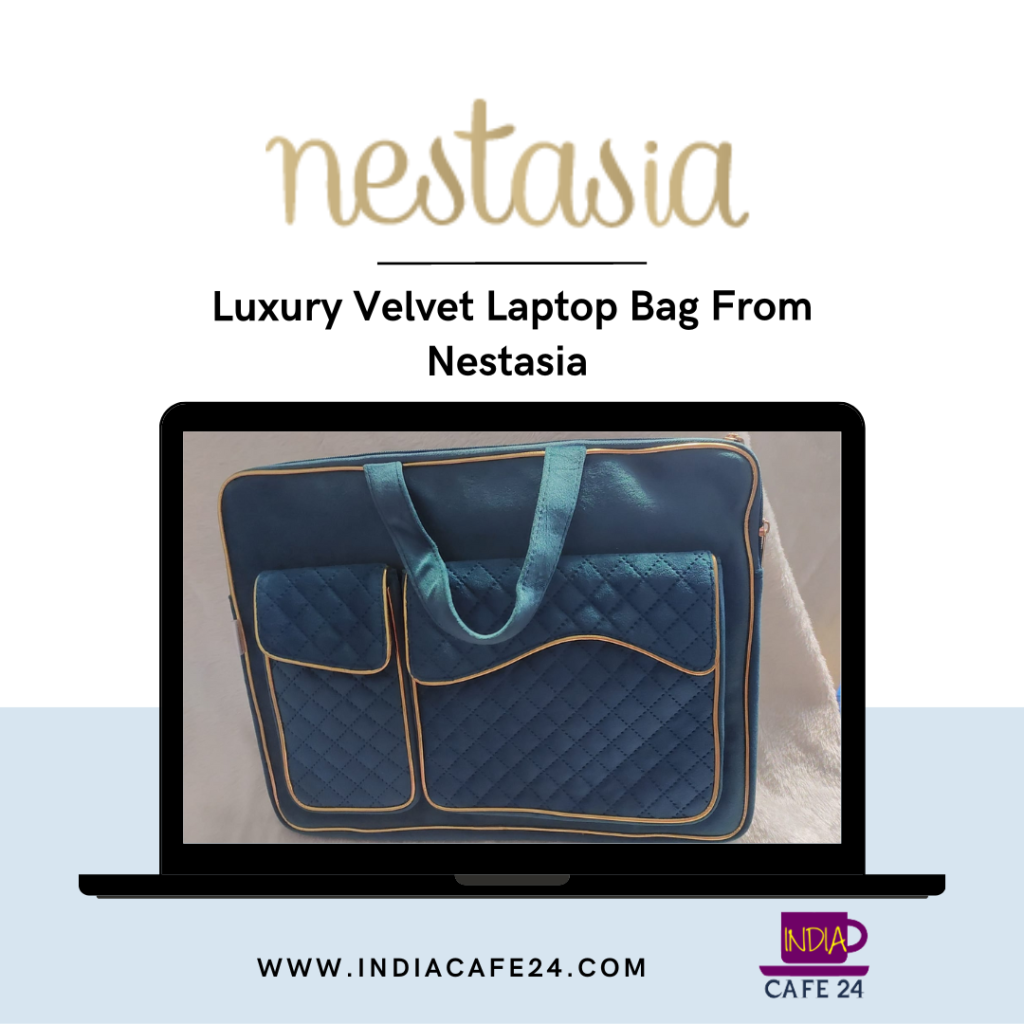 Laptops have become an integral part of the lives of quintessential modern-day women, including me. From exploring lifestyle options to performing a wide range of professional tasks, we use laptops in different ways and for different purposes. That is why ensuring the safety of these devices is often our top priority and the best way to do so is by investing in a good quality laptop bag.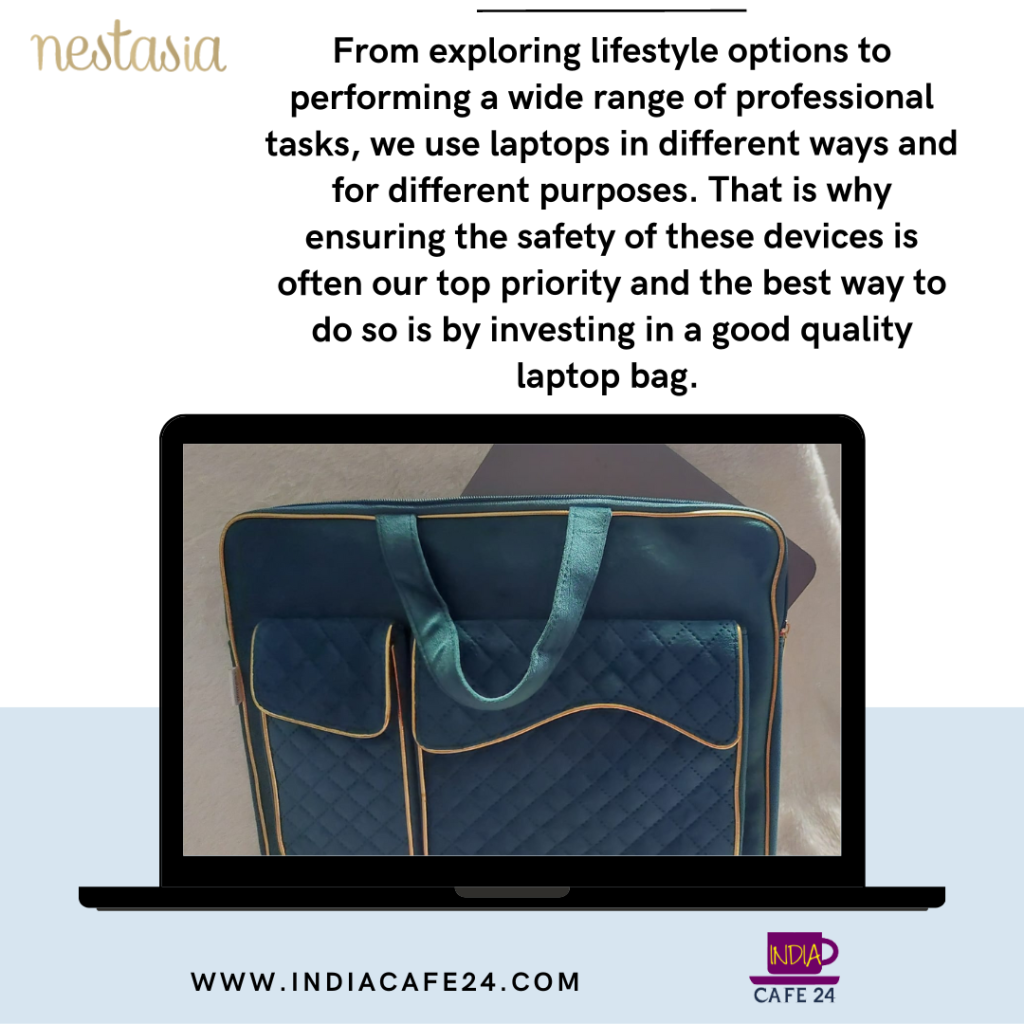 However, I was not too keen about the backpack-type laptop bags which are the usual choice for most people.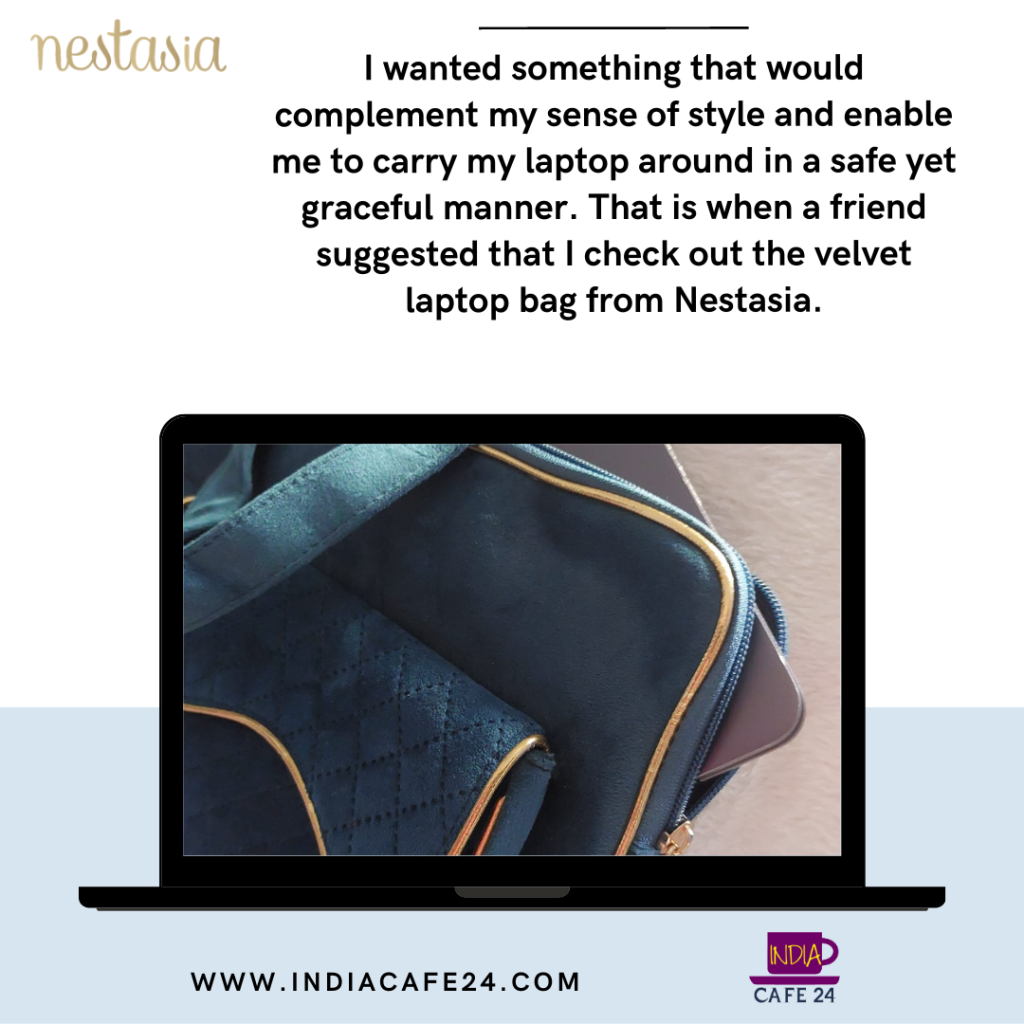 I wanted something that would complement my sense of style and enable me to carry my laptop around in a safe yet graceful manner. That is when a friend suggested that I check out the velvet laptop bag from Nestasia.
What Makes The Laptop Bag From Nestasia Special?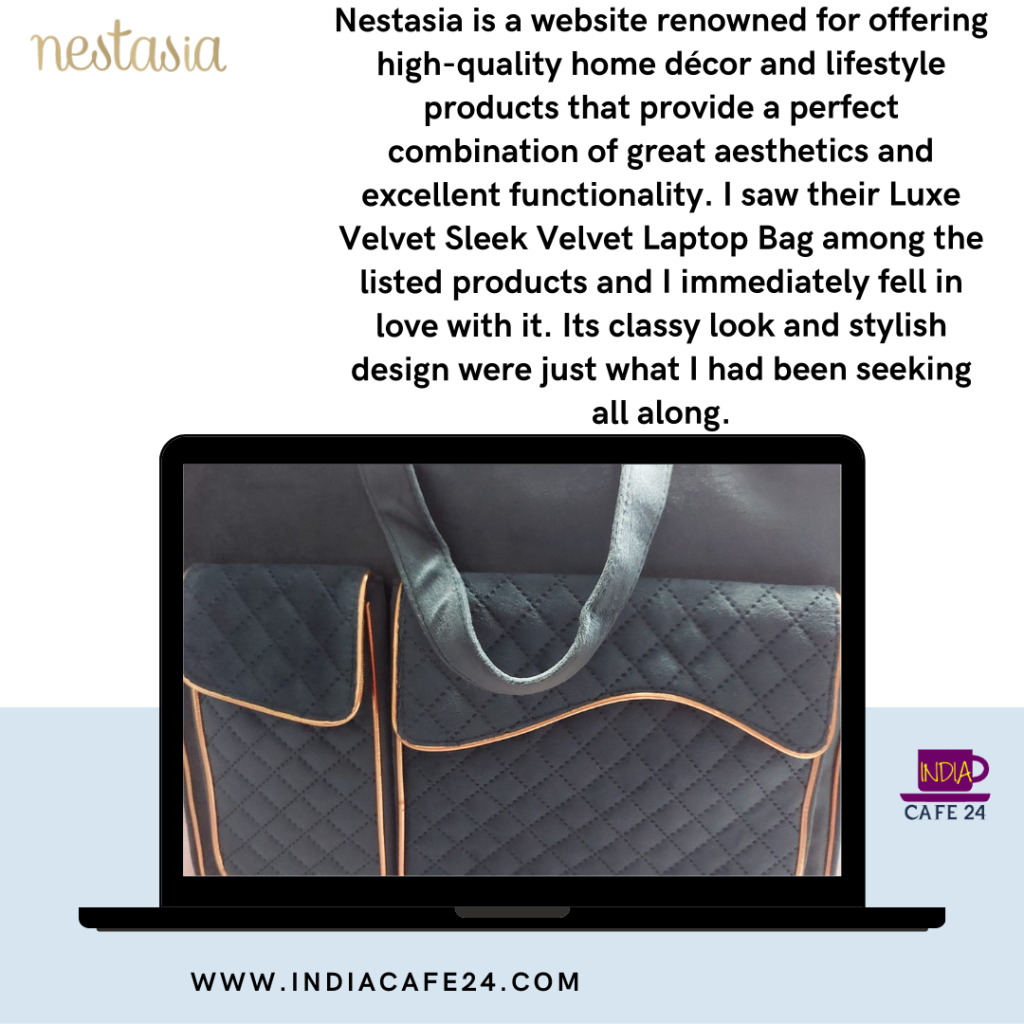 Nestasia is a website renowned for offering high-quality home décor and lifestyle products that provide a perfect combination of great aesthetics and excellent functionality. I had purchased a few products from the website and they turned out to be as promised. So, when my friend told me about their exclusive collection of bags and accessories, I was really excited to know what they were offering. Then I saw their Luxe Velvet Sleek Velvet Laptop Bag among the listed products and I immediately fell in love with it. Its classy look and stylish design were just what I had been seeking all along. It was nothing like the casual laptop bags that flood the markets.
Features Of Luxe Velvet Sleek Laptop Bag I Adore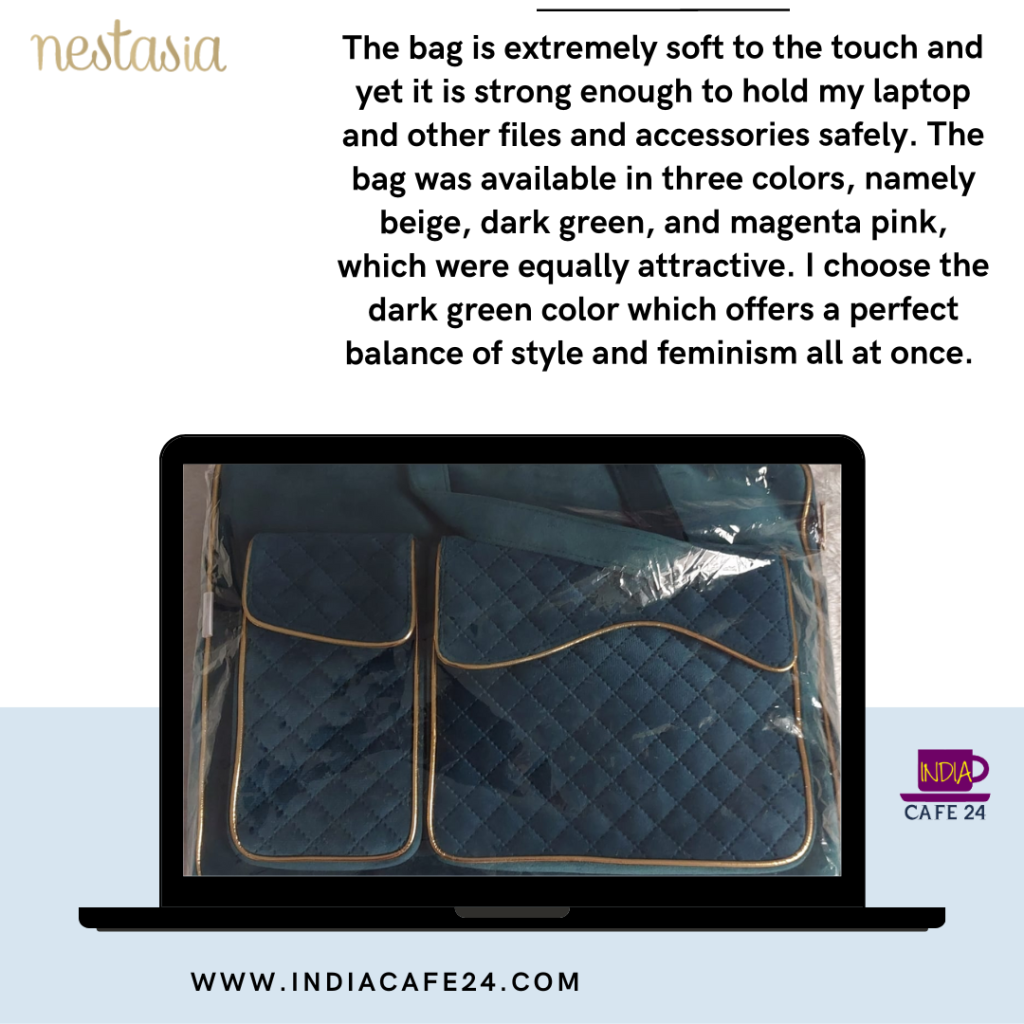 The first thing that drew my attention to the Luxe Velvet Sleek Laptop Bag was that it was designed in the shape of an elegant and beautiful handbag. Its cushioned and quilted body is perfect to keep my laptop safe from any bumps and scratches. It also features two pockets of different sizes with magnetic flaps on the front side where I can keep my mobile and other items of everyday use. The opulence and softness of premium quality velvet fabric enhance the appeal and glamour of the bag even further.
The lustrous gold piping that has been used on the border of the bag pockets and the main chamber adds to the splendor of the bag. Apart from its style and functionality, I also love the fact that the manufacturers have paid great attention to every detail while creating these bags. Be it the smooth zip opening or the sturdy handles or even the storage space that is big enough to hold a laptop and a couple of files. Every aspect of the bag has been designed to enhance the comfort and convenience of the users.
The bag is extremely soft to the touch and yet it is strong enough to hold my laptop and other files and accessories safely. The bag was available in three colors, namely beige, dark green, and magenta pink, which were equally attractive. I choose the dark green color which offers a perfect balance of style and feminism all at once.
Important Care Tips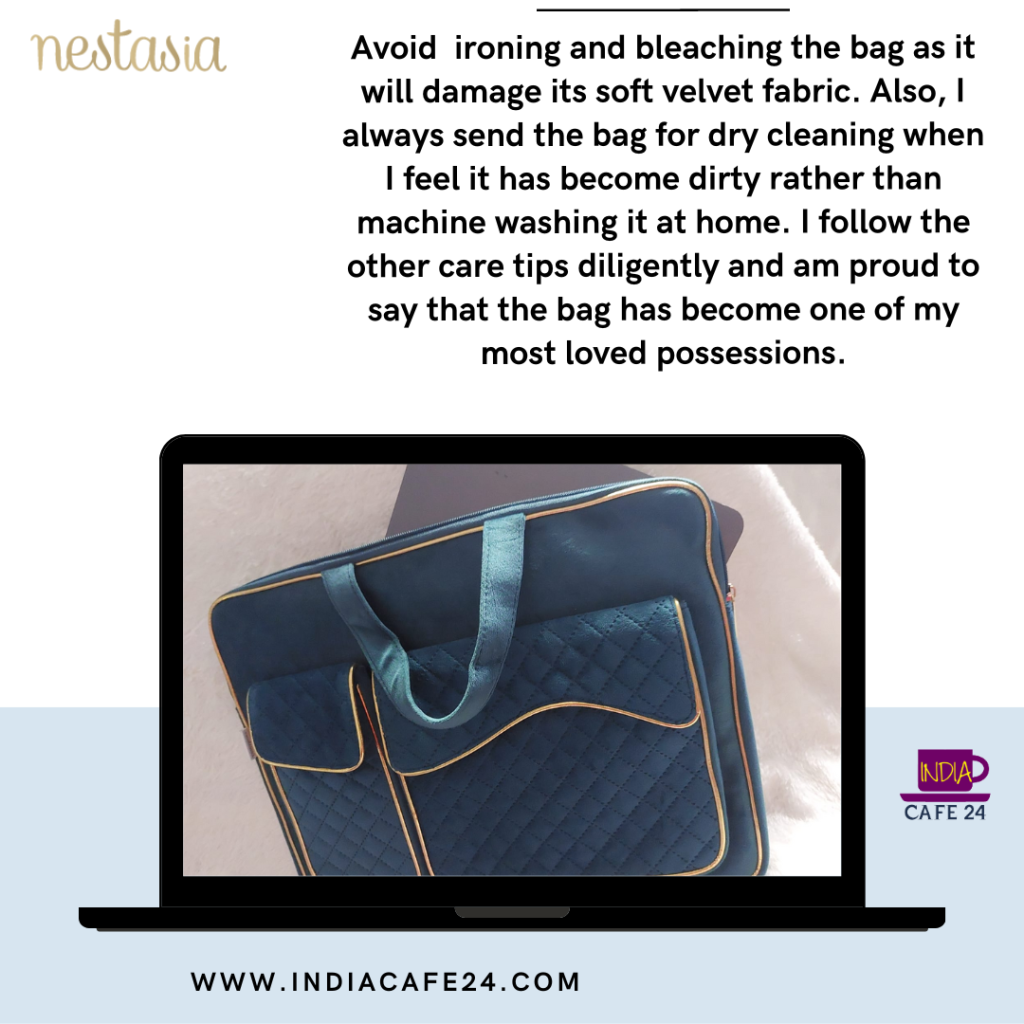 The care tips for the bag were provided on the product page of the website itself. These mainly include avoiding ironing and bleaching the bag as it will damage its soft velvet fabric. Also, I always send the bag for dry cleaning when I feel it has become dirty rather than machine washing it at home. I follow the other care tips diligently and am proud to say that the bag has become one of my most loved possessions.
I recommend The Nestasia Luxe Velvet Sleek Laptop Bag to every woman who loves to flaunt her unique style every time she steps out.