UnBroken Movie- A Review
Fragmented, Yet Stunning: Unbroken is a Good Start from Jolie, The Director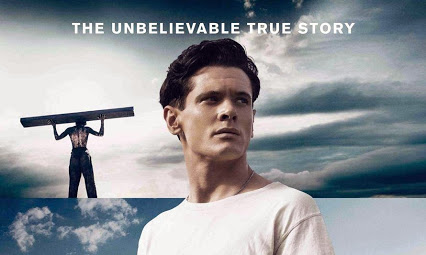 Unbroken
Genre: Drama
Cast: Jack O'Connell,  Takamasa Ishihara,Domhnall Gleeson, Finn Wittrock
Director: Angelina Jolie
Rating:
After so many films, that have stunned the audience with the biographical stories of famous or non-famous personalities during the World War II, such as, 'Schindler's List', 'The Pianist', Anjelina Jolie have come up with another World War biopic, Unbroken.
The film, is actually based on the best selling book by Laura Hillenbrand about the life of Louise Zamperini, an Olympic athlete whose survival for 47 days in the raft in the Pacific as well as in the Japanese detention camp as a prisoner of war, has enough element in it to stun the viewers. In fact, the very opening of the film in-medias-res in the air battle is a great opening for this biopic.
The narrative also successfully flows from the 'present' to the past, into the days of Zamperini's childhood. But then again when it comes back to the present and focuses on his mental change, his growing faith on God and the viewers might feel a little bored with a long and lengthy montage, a collection of different times.
This is definitely a fault that the film stumbles and many times go off balance. However, the fast pace of the film's second half do not let the viewer get disinterested. In fact, when the film focuses on the sadistic prison guard in Japanese POW camp, his tortures over Zamperini is truly evokes pity and sometimes one can remember of the torture scenes in David Lean's classic, The Bridge on the River Quai.
Jack O'Connell does his best in the film and becomes one of the main reasons the viewers feel interested to watch the film. However, his character, in many ways, is not developed properly which leads the audience to the confusion bout the true character of the hero and his journey towards faith and spiritualism. Nonetheless, as a debutant filmmaker Jolie does not fail to surprise us with her excellent choice of the story and some very adrenalin pumping sequences.