Pixels- Movie Review
Pixels' Lack Of Narrative Consistency Makes The Movie Slow And Dumb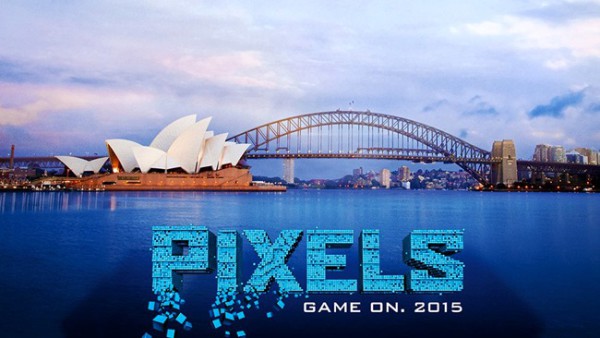 Movie: Pixels
Cast: Adam Sandler, Kevin James, MichelleMonaghan, Josh Gad
Director: Chris Columbus
Genre: Action, Sci-Fi, Comedy,Animation
Rank:

It does not come as a surprise for many that Pixels is just another of those hairbrained, teenage wish-fulfillment fantasy, which have come to be associated with Adam Sandler. Director Chris Columbus' latest offering is sadly nothing more than Hollywood's digital assault on the eyes and ears of the audiences. The movies starring Adam Sandler, Kevin James, MichelleMonaghan, Josh Gad was relased in theatres on 24th Jul 2015.
The plot is a based on the once too often repeated concept of aliens attacking Earth. Only this time the aliens turn out to be the digitized versions of the characters from the arcade games of 1980's. So as Pac-Man and Donkey Kong threaten to destroy Earth, President Will Cooper (Kevin James) seeks the assistance of gaming champion of the 80's, Sam Brenner (Adam Sandler) for saving the world. Sam leads a team of old-school gaming enthusiasts Eddie Plant (Peter Dinklage) and Ludlow Lamonsoff (Josh Gad)  to fight off the giant pixelated characters. They are helped in this war for survival by Lt. Col. Violet Van Patten  played by Michelle Monaghan, who provides them with unique weapons for fighting with the digital monsters.
Pixels is proves to be a real disappointment especially since it is so filled with pauses and lacks any real interaction between the main characters. Director Chris Columbus, who is known for delivering hits like Home Alone and the first to movies in Harry Potter series, seems to have lost his way. As for Adam Sandler, his repeatedly taking up roles where he plays a self-loathing guy disassociated from the world is becoming just too common. The most appalling thing about the movie is that it fails to seize any opportunity of using the animation for creating some truly funny moments based on nerdy visual jokes.
Overall, the movie is stupid and lifeless and IndiaCafe24 gives Pixels a rating of 3 stars.
Reviewed by Meetu