Masaan- Movie Review
Neeraj Ghaywan's Directorial Debut Is A Movie With A Fine Balance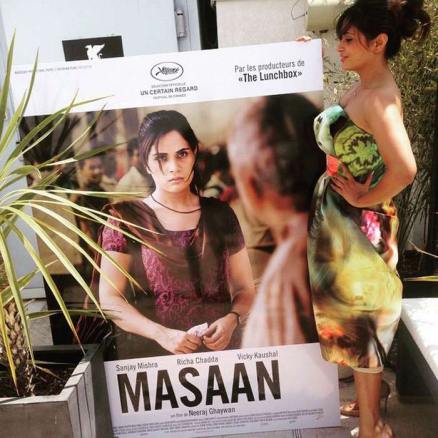 Movie: Masaan
Cast: Richa Chadda, Vicky Kaushal, Sanjay Mishra, Shweta Tripathi
Director: Neeraj Ghaywan
Genre: Drama
Rank:

Masaan does not boast of a dramatic or thrilling plot, despite which it is one movie that is sure to leave a lasting impressions on its viewers. Starring Richa Chadda, Vicky Kaushal, Sanjay Mishra, Shweta Tripathi in the main roles, the move tries to highlight the struggle of youth in the small towns of India as they try to break the shackles of the hypocritical society and embrace modern living. First time director, Mr. Neeraj Ghaywan, has created a perfect balance of passion and poignancy in Massan.    The movie has been released in theaters on 24th Jul 2015.
The plot has two parallel stories. The first tale is about the character Devi played by Richa Chadda, who ends up in a helpless situation after a furtive sexual encounter with her college friend ends with her father, played by Sanjay Mishra (Vidyadhar Pathak) being blackmailed by the local cop. Vidyadhar struggles to strike a balance between saving the honor of his daughter without comprising his moral values.
A parallel track, follows the budding romance which is between Shalu Gupta played by Shweta Tripathi and the character Deepak played by Vicky Kaushal, who despite being passionate and ambitious is marred by his birth in a lower caste. Masaan captures the rebellion, frustration, guilt and most importantly the fight for survival as the characters struggle against the archaic, traditional ways of the society in which they live.
Masaan is an emotional journey that takes the viewers from the free and modern world of Facebook and smart phones into one that is bound in the shackles of caste system, sexual morality, and suffocating corruption. What makes the movie stand out is that despite the seriousness of the plot it does not weigh down on the audience but rather ensures a soulful and lilting watch. Neeraj Ghaywan has done a really commendable job.
Overall, the movie is a real gem and IndiaCafe24 gives Masaan a rating of 4 stars.