Blue Jinx- Book Review
Book Review of Blue Jinx By Nisha Thakur
Publisher: White Falcon Publishing
ISBN-10: 1943438536
ISBN-13: 978-1943438532
Pages: 140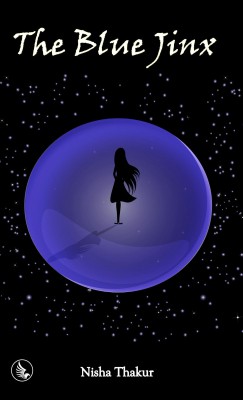 Have you Read "First You Plz" by Nisha Thakur? If yes, then do read her 2nd novel "Blue Jinx" too. By reading this novel you will get the feeling of a totally different flavor of writing from Nisha. Without any hesitation I can say that Nisha proved herself as a more mature author in comparison to her last contribution in literary world.
This time Nisha has come up with a suspense psychological thriller with a touch of romance. The central characters of this novel are Nikhil, a 30 year old interior designer and Samara, the beautiful young daughter of a successful businessman, who lost her mother 2 years back.Nikhil is highly anxious to create a niche for him and his newly launched interior designing company in the market. His complete family except his mother is absolutely against his decision of a career in interior designing. His mother stands up for him and rents her jewelry to provide his son the money required for investing in his dream company.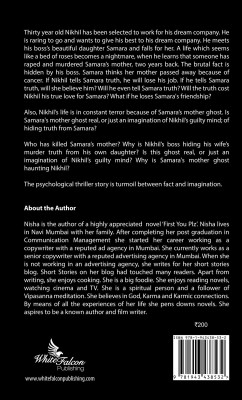 Nikhil gets the golden chance from a reputed company owner Mr. Hemant Saxena, who wants to get his villa renovated where he used

to stay with her loving and stunningly beautiful wife Shanipriya who was brutally murdered in this villa.
When Nikhil enters the Villa he feels the existence of a ghost, who is visible only to him. His life becomes brutally disturbed and he fails to impress Mr. Hemant, as one or the other unpredictable thing happens with him. This makes Hemant angry and disappointed with Nikhil. In such a scenario the only sign of happiness is the company of Samara, who stands by his side.
BUY Here
Hemant keeps the reason of his wife's death a secret from his daughter and Samara comes to know about it. Then both Nikhil and Samara decide to find the actual reason behind Shanipriya's death. Murli a faithfull employee of Hemant, makes every possible effort to keep Samara and Nikhil from the truth.
Will Nikhil manage to discover the truth behind Shanipriya's death or will he end up losing his project? Will Samara continue to be his friend in this journey? To know all this you need to read this novel and I am sure you will love it.
The end of the story will offer you some astrological view about Sapphire which is very interesting.
All in all, it is a completely entertaining Novel by Nisha Thakur.
Indiacafe24.com rates this novel with 4 stars
Reviewed By SD