Welcome To Karachi- Movie Review
Welcome To Karachi – A Political Satire By Ashish Mohan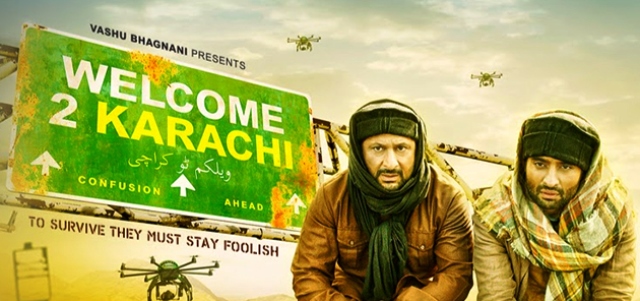 Movie: Welcome To Karachi
Cast: Arshad Warsi, Jackky Bhagnani, Lauren Gottlieb
Director: Ashish Mohan
Genre: Comedy /Drama
Rank:

India café 24 presents the review for the latest Bollywood movie Welcome to Karachi, directed by Ashish Mohan. The movie stars Arshad Warsi and Jackky Bhagnani in the lead roles with Lauren Gottlieb as the female lead. The film has been produced by Vahsu Bhagnani, a renowned producer and father of Jackky Bhagnani. The story has been written by well known comedian turned writer Vrijesh Hirjee and it was released nationwide on 28th May 2015.
This is the director Ashish Mohan's second movie, the first being Khiladi No 786, and is loosely based on the classic Jim Carrey- Jeff Daniels starrer, Dumb and Dumber. The film is a political satire set in the backdrop of the volatile situation in Pakistan. The story follows Shammi (Arshad Warsi) and Kedar Patel (Jackky Bhagnani) as the due hatches a plan to sneak in USA on a boat. However, after a freak accident, the duo finds themselves in the heart of Karachi in Pakistan, instead of the USA. The story now takes funny twist as the pair go through a series of some funny and some not so funny situations in their desperate attempts to get back to India.
The first half of the film is quite entertaining as the situations and the dialogs tickle a funny bone of the audiences and also keep them interested in the well-being of the two simpletons. However the post interval session seems to have been extended into an unnecessarily long climax. Overall the movie is a good pass time for people who simply love the usual Hindi masala comedy.
Arsad Warsi as usual has proved that he is a perfect comedian through his smooth act in the hilarious scenes. Jaccky has also proved a talent for acting through most of the film but sadly Lauren is not as good an actor as she is a dancer, which disappoints the audiences somewhat.
Inidacafe24 gives Welcome To Karachi 3 stars.