Wazir – Movie Review
Bejoy Nambiar's Wazir Is an Intelligent And Emotional Saga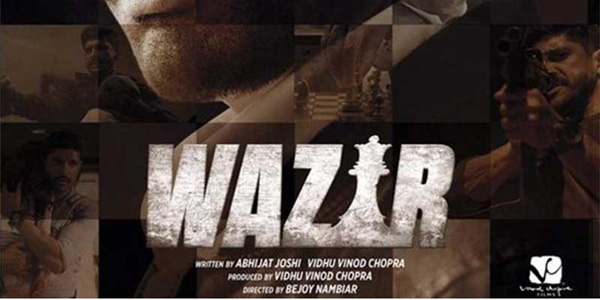 Movie: Wazir

Cast: Amitabh Bachchan, Farhan Akhtar, Aditi Rao Hydari, John Abraham and Neil Nitin Mukesh

Director: Bejoy Nambiar

Genre: Thriller/ Suspense/ Drama

Rating: 3.5

Wazir is the first release of 2016 which makes it extra special in terms expectations that people have from it. This emotional rollercoaster of a movie stars Amitabh Bachchan, Farhan Akhtar, Aditi Rao Hydari, John Abraham and Neil Nitin Mukesh in the lead roles. The movie directed by Bejoy Nambiar was released in theatres across India on 8th Jan 2016.
Suspended ATS cop Danish Ali played by Farhan Akthar is guilt ridden and traumatized by a personal tragedy, for which even his wife Ruhana played by Aditi Rao Hydari also blames him and distances herself from him. He meets the very interesting Omkar Nath Dhar played by Amitabh Bachchan, a former chess champion now bound to the wheelchair, and is fighting his own personal tragedies, one of which is the mysterious death of his young daughter Nina. As a kinship develops between the two men, Omkar Nath Dhar also known as Panditji, asks Danish to investigate the death of his daughter which leads to the multiple twists in the tale. It also introduces a mysterious character of Wazir, who seems to be somehow associated with the death of Nina.
Wazir is a complete entertainer with its well written script being its strongest aspect. Another fascinating aspect about the movie is its constant reference to the game of chess. The performances of both Amitabh Bachchan and Farhan Akhtar are beyond reproach. Bejoy Nambiar has also ensured that the plot does not stretch beyond a reasonable limit by keeping the plot fast paced and focused on the main storyline. The element of suspense and thrill has also been well maintained which further enhances the appeal of the movie.
Overall Wazir is a must watch for people who seek a substantial storyline and great performance in a movie and Indiacafe 24 gives it's a rating of 3.5 stars.
Movie Review By Meetu