Chauranga – Movie Review
Chauranga Is A Dark Film Reflecting The Black Realty Of Casteism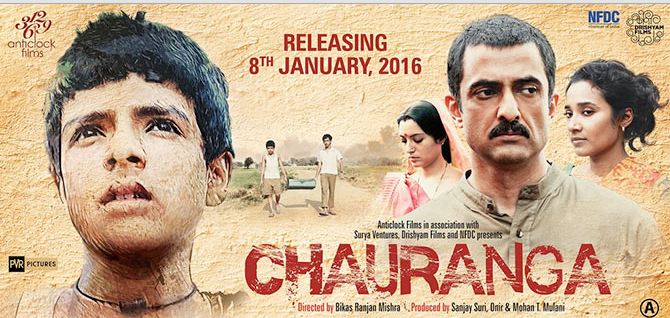 Movie: Chauranga

Cast: Tannishtha Chatterjee, Sanjay Suri, Riddhi Sen and Soham Maitra

Director: Bikas Ranjan Mishra

Genre: Drama

Rating: 3.5

Chauranga marks director Bikas Ranjan Mishra's debut as a director and based on one of the most sensitive matters of Indian society namely caste oppression. The movie stars Tannishtha Chatterjee, Sanjay Suri, Riddhi Sen and Soham Maitra in the lead roles. The movie, that exposes the dark reality of caste system which plagues our country even in the modern times, was released in theaters on 8th Jan 2016.
Shantu played by Soham Maitra and Bajrangi played by Riddhi Sen are two dalit brothers whose mother Dhaniya played by Tannishtha Chaterjee works for the local zamindar Dhaval played by Sanjay Suri. Shantanu wants to break free from the shackles of caste system and be able to gain education and love without the fear of getting punished for going against the ridiculous social traditions followed in his village for ages. Meanwhile, Bajrangi attends a school in another village for which the zamindar pays as favor in return for the time of Dhaniya.
Chauranga portrays the patriarchal and cast driven social system that exists in many parts of rural India in an unmediated manner and without the use of any add-ons. Director Bkas Ranjan needs to be praised for creating a realistic flick in his first attempt as a director, in which hope lingers even in the midst of deep despair. The actors have done a good job and special mention needs to be made of Soham Maitra, who plays the role of Shantu convincingly well. The film has been shot extremely well and it does not deviate from the focus on exposing the inequality and injustice prevalent in the society.
Overall Chauranga is a great social movie that is sure to stir-up its audience and Indiacafe 24 gives it's a rating of 3.5 stars.
Movie Review By M. Nadir