Waiting – Movie Review
 Waiting – A Journey of Two Hopeful souls and excellent presentation of Indian emotions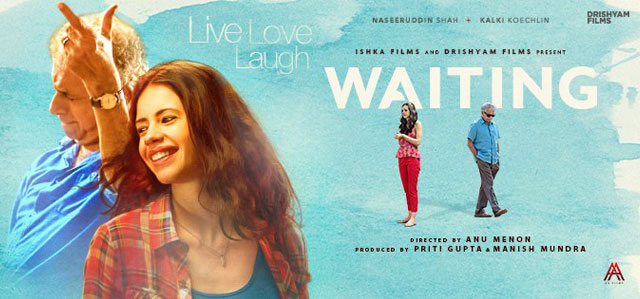 Movie:  Waiting 

Cast:  Kalki Koechlin, Naseeruddin Shah, Rajat Kapoor

Director: Anu Menon

Genre: Drama

Rank: 3.5
After last 2 weeks Biopic releases this week we have something different to watch out in the form of film "Waiting" Directed by Anu Menon. If you are looking to check out the real sentiments of middle class Indian families then Waiting is a definite watch for all. The movie was released in theatres on 27th May 2016.
The middle class society of India is not narrow-minded like the rich sophisticated people and they can do everything for their loved ones life. This movie managed to portray the real and genuine emotion of Indian families. Anu Menon definitely deserves a round of applause for film Waiting as it's definitely an unexpected work for a young and just a film old director of Indian cinema.
Kochi is the city where the story started. It's about the life of 2 individual people Shiv and Tara. Shiv is a retired person spending the lovely moments of life with his beloved wife Pankaja. All was going smooth till the time Pankaja faced massive stroke and went to coma.
On the other end, Tara is fun and, freedom loving girl, who showed courage to elope with Rajat, her boyfriend to get married.  She tasted the life of a married girl just for 6 months when Rajat faced an accident while on official trip and went to coma.
Right from here the actual story starts when Shiv and Tara meets for the first time in the waiting room of hospital and started discovering their life in a new way. Both of them found a new and dependable friend in each other, but will that actually save them from coping with the tension of losing their loved ones? To experience the roller costar and emotional journey of two hopeful people in this world you need o watch this movie.
We already mentioned about the excellent work of Anu Menon and now it's the turn of the star cast to get their share of appreciation. Starting with Naseruddin Shah, do we ever have any confusion about the acting talent of this amazing star? Hope so No and even if it yes, for some – Just go and watch this movie you will get the chance to see acting talent of this actor. He presented the role of a helpless yet hopeful loving partner in such a flawless manner that it will surely hit your heart emotionally. While Kolki, another gem of Indian cinema depicted the character of a fighting against all odd and emotional newly wedded wife so brilliantly that you will surely fall in love with her acting skill. Other supporting actors of this film, Rajat Kapoor, as doctor and Suhasini Maniratnam as Pankaja, surely deserve due recognition for their contribution in the film.
You can find the perfect presentation of every emotion of a middle class family in India right under one roof in this film. Be it anger, sorrow, and hope, frustration or even sufferings, all are presented in a complete flawless manner.
Waiting is a marvelous and very close to reality of Indian sentiments film and IndiCafe24 gives it a rating of 3.5 stars.