Traffic – Movie
Traffic Is An Edge Of The Seat Tale Of Triumph Of Humanity Against All Odds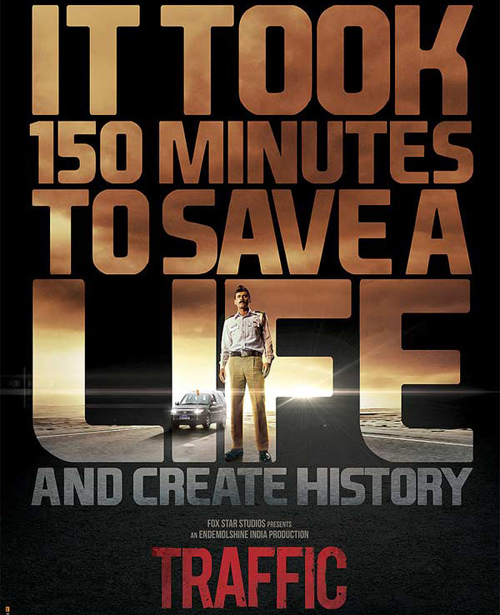 Movie: Traffic

Cast:  Manoj Bajpai, Jimmy Shergil, Divya Dutta, Prosenjit Chatterjee, Amol Parashar, Parambrata Chatterjee, Richa Panai

Director: Late Rajesh Pillai

Genre: Thriller, Drama

Rank: 4.5
There are very few movies that remain with the audiences long after they have been viewed and Traffic is definitely going to be one of them. The movie is based on a Tamil flick of the same name released in 2011 and stars Manoj Bajpai, Jimmy Shergil, Divya Dutta, Prosenjit Chatterjee, Amol Parashar, Parambrata Chatterjee, Richa Panai. Directed by late Rajesh Pillai, the movie was released in theatres on 6th May 2016.
Rehan Ali (Vishal Singh) meets with an accident in Mumbai while on his way to interview a superstar Dev Kapoor (Prosenjit Chatterjee). At the hospital, he slips into a comma and is declared brain dead. Meanwhile, in Pune, Dev's daughter becomes seriously ill and is in need of a heart transplant. Rehan's heart is just perfect for her, only his parents are not willing to give the heart of their still living son.
After much persuasion and a call from Dev's wife Maya(Divya Dutta), they agree to donate the heart. But another problem arises as the heart cannot be airlifted due to low visibility. So, the joint commissioner of traffic police, Gurbir Singh (Jimmy Shergill) seeks volunteers who can shoulder the responsibility of taking the heart by road over a distance of 150 kms in less than 3 hours during peak traffic. The one man who presents himself for the task is Ramdas Godbole (Manoj Bajpayee), a constable driver who wants to erase the dark spot of taking a bribe.
Traffic is a movie worth a watch for several reasons the most important of them being the power packed performance of Manoj Bajpayee and other lead actors. It reaffirms the belief in humanity and the fact that goodness wins at all costs and against all odds. IndiCafe24 gives it a rating of 4.5 stars.
Reviewed By Meetu