TE3N – Movie Review
TE3N Is A Must Watch Thriller That Showcases Amitabh In One Of His Best Roles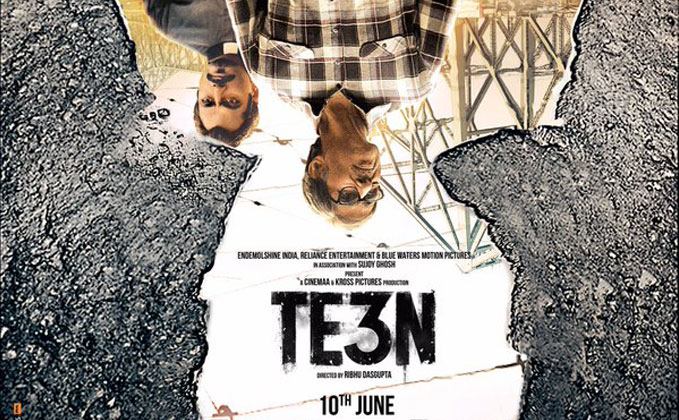 Movie: TE3N

Cast:  Amitabh Bachchan, Vidya Balan, Nawazuddin Siddiqui, Sabyasachi Chakrabarty

Director: Ribhu Dasgupta

Genre: Thriller

Rank: 3.5
TE3N is one of those movies whose release was eagerly awaited for by millions of fans across India and the world. This is only natural as the movie starts crème de la crème of Bollywood including, Amitabh Bachchan, Vidya Balan and Nawazuddin Siddiqui, besides Sabyasachi Chakrabarty. This whodunit thriller, directed by Ribhu Dasgupta, was released in theaters worldwide on 10th Jun 2016.
John Biswas (Amitbh Bachchan) has been fighting tirelessly for the past eight years to get a clue about his kidnapped granddaughter, Angela Roy, who was only eight years old at the time. Despite grieving for the loss of the beloved child, John is not willing to accept defeat and begins to probe the crime on his own. However, a similar kidnapping puts the focus back on Angela's case. Martin Das (Nawazuddin Siddiqui), the sarcastic inspector, who handled Angela's case, has left the job to become a priest. However, he is motivated by the new inspector Sarita Sarkar (Vidya Balan) into helping crack the new kidnapping case which seems to have the same modus operandi as Anjela's kidnapping.
TE3N is an edge of the seat thriller that keeps the audiences engaged from the word go. Even though the movie is based on a Korean film, it has been executed superbly by packed performances by the three leading actors further add to the appeal of the movie that is able to maintain the suspense right till the end. Even though Amitabh Bachchan shines through as the traumatized grandfather relentlessly seeking justice, both Nawazuddin and Balan have to be applauded for their flawless performances. T3EN is definitely a must watch movie not only because of its actors but because it presents a simple plot in a highly engaging manner. Overall the movie is a great entertainer and IndiCafe24 gives it a rating of 3.5 stars.
Reviewed By Meetu