Pyaar Ka Punchnama 2 – Movie review
Luv Ranjan Comes Out With A Super Funny Sequel Of His Sleeper Hit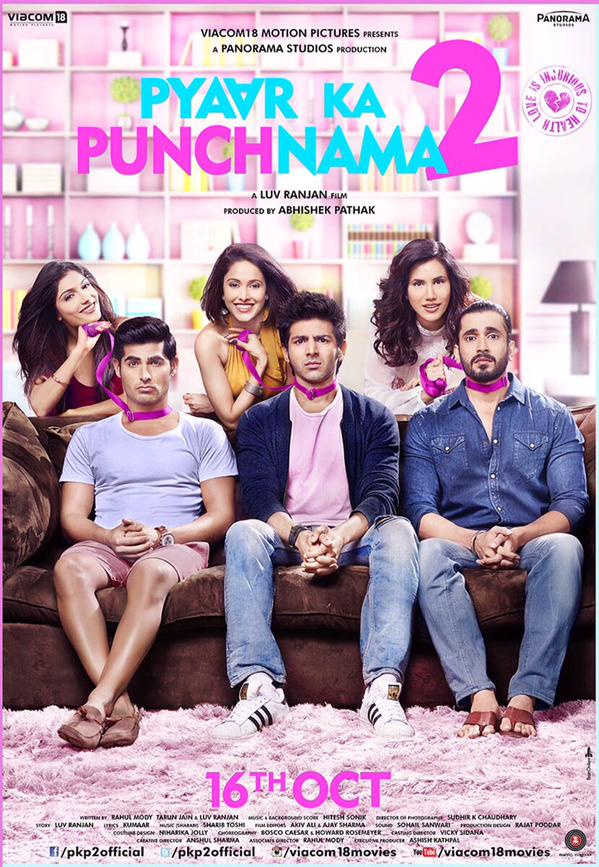 Movie: Pyaar Ka Punchnama 2
Cast:  Sunny Singh Nijar, Sonalli Sehgall, Omkar Kapoor, Ishita Sharma, Karthik Aaryan, Nushrat Bharucha
Director: Luv Ranjan
Genre: Romantic Comedy
Rank: 

Pyaar Ka Punchnama 2 is the sequel to the unexpected hit comedy of the same name released nearly 4 years back. PKP2 stars the original cast of PKP including Sonalli Sehgall, Omkar Kapoor, Ishita Sharma, Rai Bachchan, Nushrat Bharucha plus the two new of Sunny Singh Nijar and Karthik Aaryan. The film directed by Luv Ranjan has been released in theatres on 16th Oct 2015.
The story tells the tale of three boys Siddharth aka Chauka played by Sunny Singh Nijjar, Tarun aka Thakur played by Omkar Kapoor, and Anshul aka Gogo played by Kartik Aaryan. The trio falls in love with Supriya played by Sonalli Sehgall, Kusum played by Ishita Sharma and Ruchika Khanna played by Nushrat Bharucha respectively. However, soon the girls start controlling the lives of their respective boyfriends, which makes the three men realize that befriending them was the biggest mistake. The boys also become aware of the fact that the girls are simply taking advantage of them to fulfill their whims and fantasies and hence decide to break up with them. But, as the girls suspect the intentions of the three friends, they start wooing them back and request them to forget the past and start afresh. Whether or not the boys heed to their requests is what forms the rest of the story.
Just like its prequel, PKP2 presents the narrative from a man's point of view. The film is deemed to be a lot funnier than PKP as it backed by strong one-liners. Director Luv Ranjan has managed to create a smarter and sexier flick that is quite enjoyable. Even though the actors have still to learn much, the movie manages to win the heart of the audiences.
IndiaCafe24 gives Pyaar Ka Punchnama 2 a rating of 3.5 stars.
Reviewed by Meetu