Poorna – Movie Review
Poorna Is A Soulful Film Based On The Life Story Of A Young Braveheart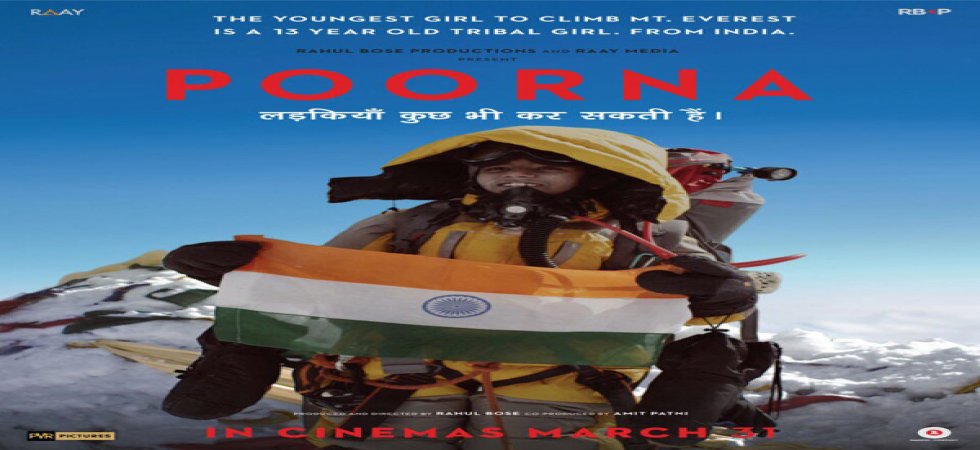 Movie: Poorna

Cast:  Rahul Bose, Aditi Inamdar, Dhritiman Chaterjee, Heeba Shah, Harsha Vardhan, Arif Zakariya, Manoj Kumar

Director: Rahul Bose

Genre: Biopic

Rank: 4.0
Poorna is the second directorial venture of actor Rahul Bose and is base on the real life story of Malavath Poorna, a young Indian tribal girl who became the youngest female to climb Mount Everest. The movie stars Rahul Bose along with Aditi Inamdar, Dhritiman Chaterjee, Heeba Shah, Harsha Vardhan, Arif Zakariya and Manoj Kumar. The movie has been released in theatres on 31st March 2017.
Poorna (Aditi Inamdar) has been living a life of deprivation in a small tribal village in Telangana. While she cherishes a dream of getting a decent education and achieving something big in her life, her parents try their best to get her married. A desperate Poorna is forced to run away from her home to study in a government school. Meanwhile, an IPS officer Pradeep (Rahul Bose), who intends to work for the welfare of under-privileged kids, seeks to be transferred in the area where Poonrna is getting her education. Once there he meets Poorna and learns about her dream of becoming a mountain climber. Sensing her talent and commitment, Pradeep sponsors Poorna to get trained in Darjeeling for climbing Mount Everest and thus begins her journey towards becoming the youngest girl to conquer the peak.
Poorna is a heartwarming film that stands tall with its message of self discovery. Rahul Bose has poved his acting skills time and again and now he has shown that he is equally capable and competent behind the camera. Aditi Inamdar has given an extremely superb performance as the innocent yet completely determined Poorna. Rahul Bose has ensured that this straightforward tale is told in the simplest manner without adding any complications. Overall, Poorna is one movie that is worth watching for everyone just to feel inspired and we at IndiaCafe24 give it a rating of 4.0.