Phillauri – Movie Review
Anuskha Pleases The Audiences With Her Portrayal Of A Friendly Ghost In Phillauri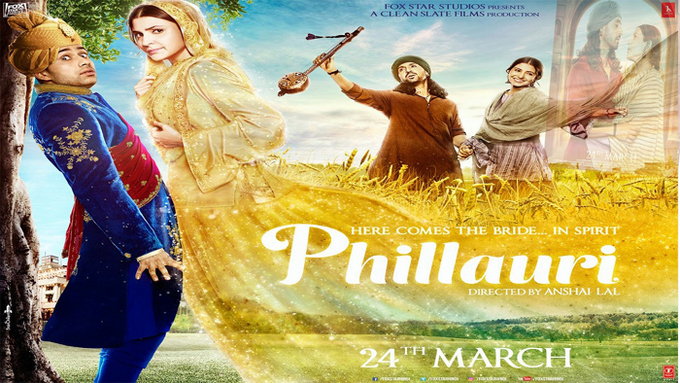 Movie: Phillauri

Cast:   Anushka Sharma, Diljit Dosanjh, Suraj Sharma, Mehrene Kaur Pirzada

Director: Anshai Lal

Genre: Fantasy Drama

Rank: 3.0
Phillauri had created much buss even before its relazse primarily due to the fact that it is the second movie to be produced by Anushka Sharma. The movie stars, Diljit Dosanjh, Suraj Sharma and Mehrene Kaur Pirzada along with Anushka Sharma in the main roles. Anshai Lal directed this movie and was released in theatres on 24th March 2017.
Kanan (Suraj Sharma) is a 26 year old Punjabi boy who has just returned from Canada and is all set to marry Anu (Mehrene Kaur). A confused Kanan becomes even more bewildered upon learning that he needs to get married to a tree before tying the knot with Anu as he is suffering from Mangal Dosh. However, the tree Kanan gets married to, is haunted by the ghost of Shashi (Anushka Sharma), who claims to be his wife. It is then revealed that Shashi has been living in spirit form on the tree for the past 98 years and is still trying to understand as to why her fiancé Phillauri (Diljit Dosanjh) left her waiting at the altar. Whether, Shashi gets answers to her questions and how Kanan and Anu end up is what remains to be seen.
Phillauri is a light hearted movie that focuses on the love stories of the two lead pairs and seamlessly moves across different time frames. All the main actors have given a convincing performance while director has made good uses of special effects to make the fantasy seem real. However, the movie suffers from two major drawbacks, namely its extremely slow pace and its predictable storyline. Despite that, the move provides good entertainment and is worth watching at least once. We at IndiaCafe24 gives Phillauri a rating of 3.0.