Neerja – Movie Review
Neerja Is Extraordinary Movie That Highlights Love, Honor And Bravery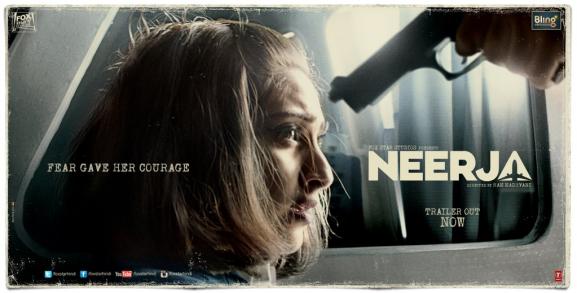 Movie: Neerja

Cast:  Sonam Kapoor, Shekhar Ravjiani, Shabana Azmi, Yogendra Tikku

Director: Ram Madhvani

Genre: Biopic, Thriller

Rank: 4.5
Based on the life brave flight attendant Neerja Banhot, the movie has generated quite a buzz to become one of the most awaited releases of the month. The movie stars Sonam Kapoor in the title role and also has Shabana Azmi, Yogendra Tikku and Shekar Ravjiani in the supporting roles. The movie was released in theatres on 19th Feb 2015.
The movie details the events in the last couple of days of the life of Pan American flight attendant Neerja Banhot played by Sonam Kapoor. As Neerja is celebrating with her parents and other members of the society the night before her departure, four terrorists are in the final stages of the preparations for high jacking her plane. The next day, Neerja boards the flight, not knowing that she will never return from this journey. As the plane gets hijacked during a stopover at Karachi, the air hostess uses her wit to quickly inform the pilots, who leave the plane immediately forcing it to remain stranded on the airport. During the next 17 hours, Neerja uses her intellect and presence of mind to save life of more than 350 passengers on board and even sacrifices her life in the process.
Neerja is an engaging film and a lot of credit goes to director Ram Madhvani for not falling into the trap of overdramatizing things. The tight script and fast pace of the movie help to enhance its power and value further. Care has been taken to build each of the characters well and the raw performance of the main characters, especially the two ladies is definitely the biggest highlight of the movie. Neerja is a movie, which will bring even the toughest people to tears.
Neerja is an intense and emotional drama that is a must watch for every movie lover and IndiaCafe24 gives it a rating of 4.5 stars.
Reviewed By Meetu