Direct Ishq – Movie Review
Direct Ishq Is a Love Saga That is Simply Too Predictable and Localized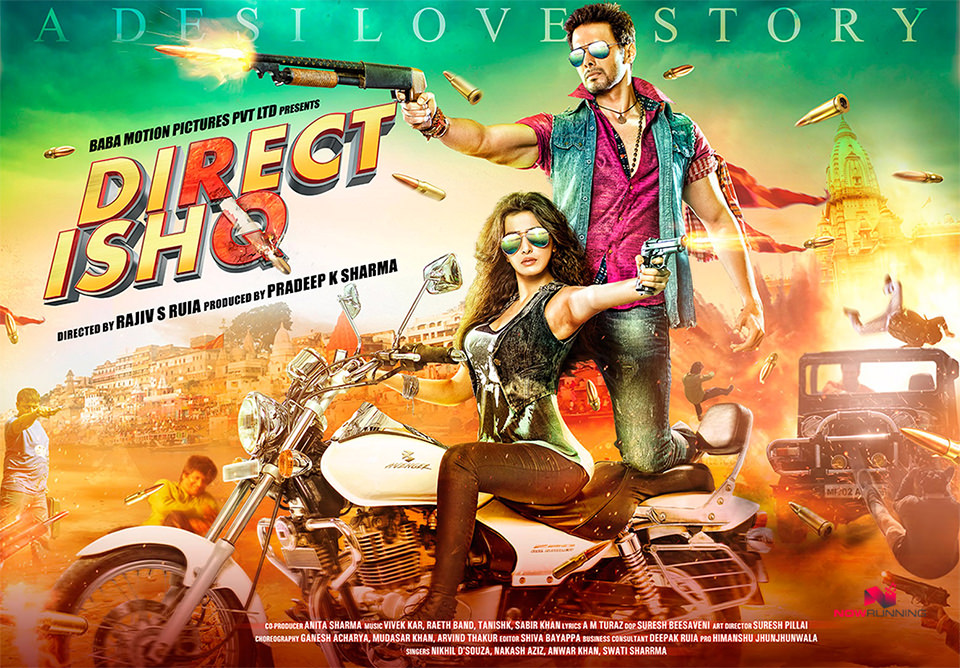 Movie: Direct Ishq

Cast:  Rajneesh Duggal, Arjun Bijlani, Nidhi Subbaiah and Hemant Pandey

Director: Rajiv S. Ruia

Genre: Romance, Comedy

Rank: 1.5
Direct Ishq is a romantic comedy that is based in the holy city of Banaras. The movie stars Rajneesh Duggal, Arjun Bijlani, Nidhi Subbaiah and Hemant Pandey in the main roles. The movie has been directed by Rajiv S. Ruia and was released in theatres on 19th Feb 2016.
Bubbly and mischievous Dolly Pandey (Nidhi Subbaiah) aspires to make it big as a singer, to make the whole city of Banaras and especially her Dad might feel proud. But her life takes an unexpected turn when she meets Vicky (Rajneesh Duggal) and Kabir (Arjun Bijlani), two guys from entirely different backgrounds. Vicky is a rough, tough and aggressive local boy who is always ready for a fight. But all his machismo evaporates when he needs to interact with Dolly, the love of his life. At the same time, Kabir is a handsome boy from an elite family of city, educated in Mumbai, and works there as an event organizer. Kabir too falls for Dolly, as he tries to help her realize the dream of becoming a professional singer. Who finally wins Dolly's heart is what the film is all about!
The film is targeted primarily at the audiences of single screen theatres and which is evident from the fact that it is a simple love triangle that uses too much localized language. Apart from having a weak storyline, the film ends abruptly which is not something that the audiences might like. The characters are simply too loud for the metro and large city audiences to relate to. The actors have performed well but the overall effect is not actually amazing.
Overall Direct Ishq is a movie that only masala flick lovers will appreciate and IndiaCafe24 gives it a rating of 1.5 stars.
Reviewed By M. Nadir