Meri Pyari Bindu – Movie Review
Meri Pyari Bindu Is A Lighthearted, Bittersweet Modern Day Love Story That Reminds The Audiences Of The Bygone Cinematic Era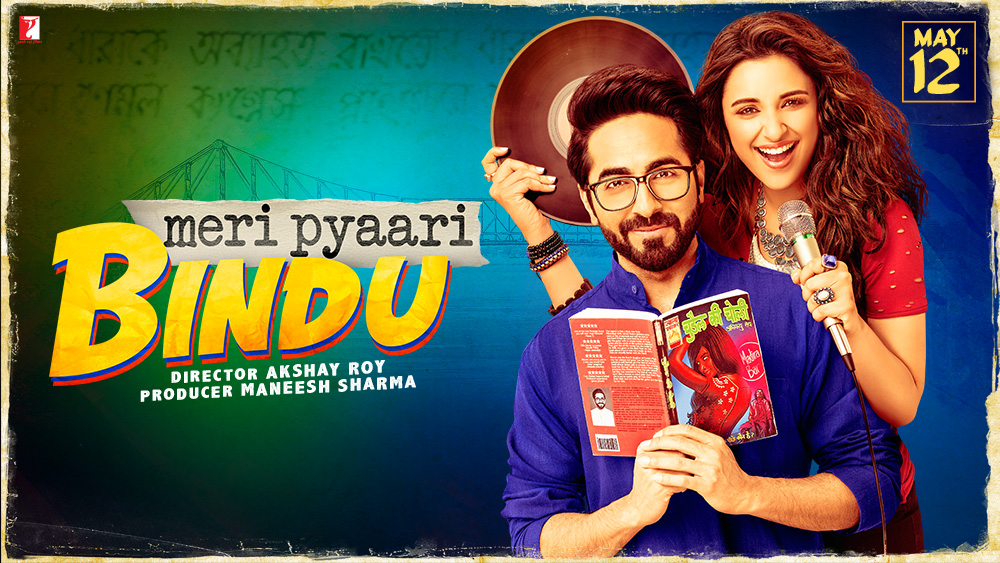 Movie: Meri Pyari Bindu

Cast:   Ayushmann Khurana, Parineeti Chopra, Abish Mathew, Aparajita Auddy, Malvika Sitlani, Rajatabha Dutta

Director: Akshay Roy

Genre: Romance, Drama

Rank: 3.0
The promos of Meri Pyari Bindu were unconventional in that they themselves built on a story of two children bonding over samosa and music. No wonder then that the audiences were holed to this magical little love story that promised enough drama. The movie featuring Ayushmann Khurana, Parineeti Chopra, Abish Mathew, Aparajita Auddy, Malvika Sitlani and Rajatabha Dutta marks the directorial debut of Akshay Roy. It was released in theatres across the globe on 12th May 2017.
Abhimanyu Roy, also known as Bubla ( Ayushmann Khurana), is a corporate type guy, who has somehow taken up writing pulpy horror books full of sex. He lives in Sovabazar and is deeply and madly in love with his beautiful and bubbly neighbor, Bindu Swami Narayan (Parineeti Chopra), who aspires to be a singer. However, Bindu does not reciprocate Abhi's love, although the two share a passion for film songs, football,noisy get-together and samosa with green chutney. What follows is a magical tale of friendship that soon turns into love steeped in the free-flowing nostalgia of romantic songs that so full of wistfulness and longing.
Meri Pyari Bindu is in no way a perfect movie, but it has a appeal that slowly grows upon the audience and leaves them spellbound. Ayushmann and Parineeti share a wonderful chemistry on screen which further adds value to this charming love story. The story is pretty well written and the direction is also quite good. But the best aspect of the movie apart from its lead pair is definitely its awesome music.  Overall Meri Pyari Bindu is a nice love story of the modern times told with a touch of nostalgia of the romantic 80's making it a good entertainer. We at IndiaCafe24 give Meri Pyari Bindu a rating of 3.0.