Sarkar 3 – Movie Review
The Latest Chapter Of Cult Movie Sarkar Offers New Twists and Shocks To Keep The Audience Captivated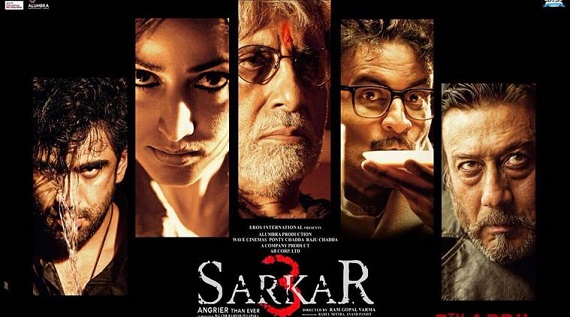 Movie: Sarkar 3

Cast:   Amitabh Bachchan, Amit Sadh, Yami Gautam, Jackie Shroff, Manoj Bajpaye, Ronit Roy, Rohini Hattangadi

Director: Ram Gopal Verma

Genre: Romance, Drama

Rank: 3.0
The highly awaited third chapter of the cult movie Sarkar is finally out and as the promos reflect, it s as power packed and as intriguing as the first two versions of the movie. The latest installment of Sarkar features Amitabh Bachchan, Amit Sadh, Yami Gautam, Jackie Shroff, Manoj Bajpaye, Ronit Roy, Rohini Hattangadi in the main roles. The movie which has been directed by Ram Gopal Verma was released in theatres on 12th May 2017.
Subash Nagre aka Sarkar  played by Amitabh Bachchan, despite having aged had changed his style and modus operandi, continues to maintain his stronghold over the city of Mumbai with the help of his two trusted lieutenants, Gokul (Ronit Roy) and Raman (Parag Tyagi). However, the entry of the estranged grandson,  Shivaji Nagre aka Cheeku (Amit Sadh) turns the already tense situation volatile as Cheeku both loves and hates his grandfather in equal measures, considering him to be responsible for his father's death. In addition, Sarkar also faces life threat from external foes which include the seemingly violent politician Govind Deshpande (Manoj Bajpaye), a greedy businessman from Dubai, Michael Vallya (Jackie Shroff), a power broker Gandhi (Bajrangbali) along with Cheeku's friend Annu (Yami Gautam) who is also seeking revenge for her own father's death.
Sarkar 3 has the all familiar setup of a perfect play of shadow and light that further add to the mystery aspect if the movie as does its trade-mark chant of Govinda in the background. Amitabh is speelbinding in his portrayal of the all powerful Godfather, while the other actors further add value to the storyline with their strong performances. Although the movie lacks strong dialogues, it is definitely worth a watch mainly for its great performances and we at IndiaCafe24 give Sarkar 3 a rating of 3.0.