Ki &Ka – Movie Review
Ki &Ka Fails To Exploit The True Potential Of A Strong Subject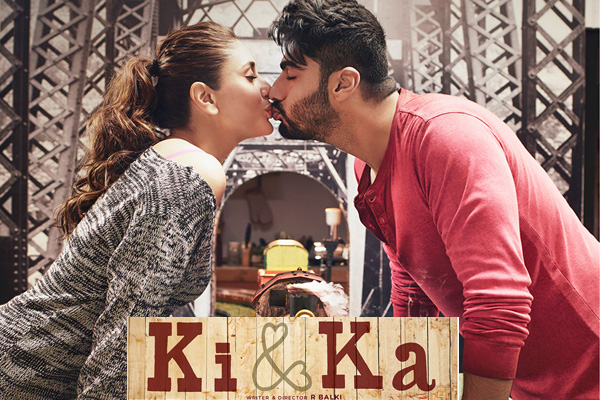 Movie: Ki & Ka

Cast:  Kareena Kapoor Khan, Arjun Kapoor, Sawroop Sampat and Rajit Kapoor

Director: R. Balki

Genre: Romantic Comedy

Rank: 3.0
Ki & Ka generated much buzz with its unique storyline about gender role reversals in marriage in Indian society. The movie stars Arjun Kapoor, Kareena Kapoor Khan, Sawroop Sampat and Rajit Kapoor in the main roles while Amitabh and Jaya Bachchan make cameo appearnces. The movie has been directed by R. Balki and was released in theatres on 1st April 2016.
Business tycoon, Mr Bansal (Rajit Kapoor) is unhappy about his son, Kabir Bansal's (Arjun Kapoor) idea of becoming a home maker like his mother. His disinterest in taking over the multi-crore business conglomerate and the mis-treatment of his late mother by his father ensures that Kabir shares a strained relationship with Mr. Bansal. On the other hand Kia is an over-ambitious career oriented women, who has been brought up single handedly by her mother (Sawroop Sampat), who runs multiple NGO's. So when Kabir aka Ka meets Kia aka Ki, love happens after some initial hiccups and the two tie the knot with Ka assuming the role of the househusband. But will the age old social traditions and deep rooted concept of fixed gender roles make it possible for these modern day lovers to lead a happy married life?
Ki & Ka is based on one of the most burning topics of modern times, namely gender equality. However, it has failed not only to exploit the full potential of the subject but also to highlight the issues that are at the heart of this problem. In terms of performances, Arjun and Kareena have done a fantastic job, but the limelight is stolen by Sr. Mr & Mrs. Bachchan, whose short but powerful cameo raises some serious questions about gender equality.
Overall Ki & Ka is a good entertainer but fails to relay and important social message. We at IndiaCafe24 give it a rating of 3.0 stars.
Reviewed By Meetu