Kaabil – Movie Review
Kaabil Is An Out And Out Hritik Film Who Takes It To Another Level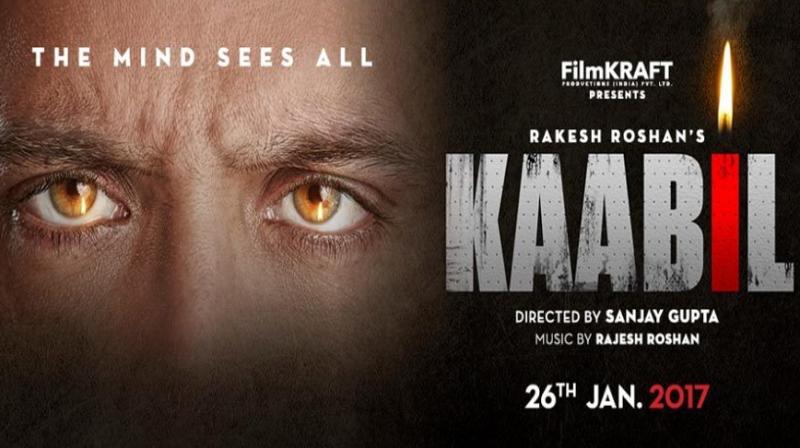 Movie: Kaabil

Cast:  Hrithik Roshan, Ronit Roy, Yami Gautam, Rohit Roy, Girish Kulkarni, Narendra Jha

Director: Sanjay Gupta

Genre: Action Thriller

Rank: 4.0
Kabbil is another of the most awaited releases for 2017 and its promos have generated quite a buzz about the flick. The movie sees Hritik Roshan pairing with Yami Gautam for the very first time while the other star cast is bought up by Hrithik Roshan, Ronit Roy, Yami Gautam, Rohit Roy, Girish Kulkarni and Narendra Jha. The movie, directed by Sanjay Gupta hit the theaters on 25th Jan 2017.
Rohan Bhatnagar (Hritik Roshan) is an amazing dancer while Supriya Sharma (Yami Gautam) is a gifted musician, and the two also share the pain of being blind. Love blossoms between the couple as they brighten up each other dark life. However, their happiness is destroyed when Supriya gets raped by Amit Shellar (Rohit Roy), the younger brother of Madhavrao Shellar (Ronit Roy), a local corporator. Two corrupt police officers (Girish Kulkarni, Narendra Jha) investigate the case just for the sake of completing the formality. Meanwhile Supriya, gives up her life, when the humiliation faced by the couple becomes too much to bear. With his world completely shattered and his blindness notwithstanding, Rohan is determined to get revenge.
Kaabil despite its great storyline proves to be an extremely predictable movie. The chemistry between Yami and Hritik is good enough, although the actress does not get to display her full potential. Hritisk gives a commendable performance both as the lover boy to Yami in the first half and as the mean killing machine in the second half. The Roy brothers are quite convincing as the baddies but the movie lacks the appeal to keep the audiences engaged. Another major highlight of the movie is its music which is already quite popular. Overall Kaabil is a good one movie to watch, especially to see Hritik in action and IndiaCafe24 gives it a rating of 4.0.
Reviewed By M. Nadir