Junooniyat – Movie Review
Junooniyat Disappoints The Audiences With Its Predictable Story And Weak Direction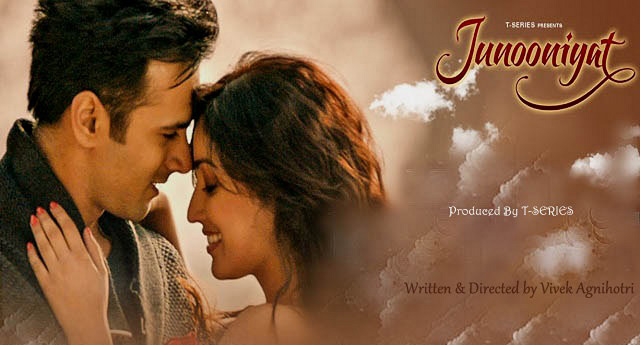 Movie: Junooniyat

Cast:  Yammi Gautam, Pulkit Samrat , Hrishita Bhatt, Harry Tangri

Director: Vivek Agnihotri

Genre: Romance, Drama

Rank: 2.0
Although Junooniyat was expected to be released on 17th June, the release was delayed by a week to avoid the strong competition from Udta Punjab. The film starring Yami Gautam, Pulkit Samrat, Hrishita Bhatt and Harry Tangri, has been promoted as a romantic saga. Directed by Vivek Agnihoti, the movie, whose music has been composed by Meet Bros, Jeet Ganguly and Ankit Tiwari, was finally released in theatres on 24th June 2016.
Jashaan Bakshi (Pulkit Samrat) is an army officer, who meets Suhani Kapoor(Yami Gautam), a chirpy Punjabi girl, when he saves his life in an incident. The two become friends, but soon have a fight over some petty issue. Later the two reconcile and their friendship turns into deep love. However, the happy romatic tale takes an unexpected turn when the love reaches the point of obsession and Jashaan and Suhaani part ways. Will this be the end of their love story or are the two destined to meet again, is what forms the rest of the story.
Junooniyat is just another poorly written romantic tale that does not have anything new to offer to the audiences. The story is too predictable which makes it quite boring and dull. The fact the movie features the same lead pair of Sanam Re released only a few weeks back also makes the audiences lose interest in the movie. Even though the chemistry between Pulkit and Yami is great, it does not help the poor script and the weak direction of the movie. However the music is surely pleasing, with some of the songs becoming chart toppers due to their pleasing tunes and great lyrics. Junooniyat is nothing more than an average one time entertainer worth watching only for the lead pair and IndiCafe24 gives it a rating of stars.
Reviewed By Meetu