Ittefaq -Movie Review
The Revised Version Of Ittefaq, A Hit Of Yesteryears, Proves To Be Equally Thrilling And Intriguing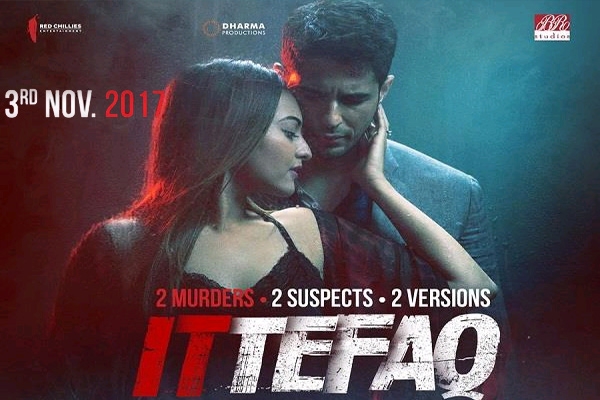 Movie: Ittefaq

Cast:  Akshaye Khanna, Sidharth Malhotra, Sonakshi Sinha, Manoj Joshi, Parul Gulati, Mir Sarwar

Director: Abhay Chopra

Genre: Thriller

Rank: 3.5
Ittefaq is a whodunit double murder mystery, inspired from the 1969 hit movie of the same name, which featured superstars Rajesh Khanna and Nanda in the lead roles. The latest version has Akshaye Khanna, Sidharth Malhotra, Sonakshi Sinha, Manoj Joshi, Parul Gulati, Mir Sarwar playing pivotal roles. The movie has been directed by Abhay Chopra, grandson of the veteran B. R. Chopra, who directed the earlier version of the movie. The movie has been released in theatres 3rd Nov 2017.
Dev (Akshaye Khanna), a tough cop, faces the difficult challenge of solving a double murder mystery, whose only two witnesses are also the prime suspects of the case. The first of these suspects is Vikram Sethi (Sidharth Malhotra), a famous writer from UK, who is already wanted for two murders, including that of his wife Catherine. The second witness is Maya (Sonakshi Sinha), a young housewife, whose husband has been murdered. Both Vikram and Maya have their own completely different versions about the events of the fateful night. Even though both the versions seem true, it is up to Dev, to find the actual truth and solve the mystery.
Ittefaq is a perfect edge of the seat murder mystery that has all the necessary elements to draw the audiences to the theatres. The sizzling chemistry between Sidharth and Sonakshi combined with perfection in which AKshaye Khanna has potrayed his tough cop character are add to the entertainment value of the movie. In addition, the perfect background music and lighting effects to create the aura of thrill and suspense complete the over sense of mystery and crime. Most importantly, despite being the near remake of an earlier mystery film, the current version of Ittefaq is capable of holding out on its own and we at IndiaCafe24 give it a rating of 3.5.