Hate Story 3 – Movie Review
Vishal Pandya's Directorial Debut Is A Story Of Love, Turning To Hatred And Hatred To Betrayal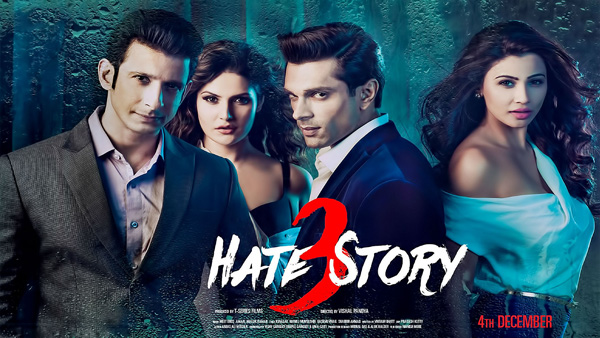 Movie: Hate Story 3
Cast:  Daisy Shah, Karan S. Grover, Zarine Khan and Sharman Joshi
Director: Vishal Pandya
Genre: Erotic Thriller
Rank: 3.5

With the promos of the film promising a steaming hot revenge movie to the audience, Hate Story 3 was definitely one of the most awaited releases of the month. Starring Daisy Shah, Karan Singh Grover, Zarine Khan and Sharman Joshi in the main roles, this is the third installment of the very successful Hate Story franchise. The movie directed by first time director Vishal Pandya, was released in theatres on 4th Dec 2015.
Aditya Singh played by Sharman Joshi and his wife Siya played by Zarine Khan are handed the responsibility of managing the business of the family after the sudden death of Vikram who was Aditya's brother and elder to him. Things go smoothly until businessman Saurav Singhania who is completely unknown to them played by Karan Singh Grover comes into their life. Saurav, who seems keen about taking over Aditya's business, proposes that Siya spend a night with him. Meanwhile, Aditya's secretary Kavya falls in love with Saurav who seems to like her back. However, Kavya is unaware of the fact that Saurav is just using her as pawn in his grand plan to demolishing Aditya. Will Saurav succeed or not is what remains to be seen!
Hate Story 3 has a good storyline that takes the audiences through an emotional journey of love, vengeance and hatred. Unlike the earlier installments, this chapter of the franchise also boasts of a more popular and stronger star cast. In addition, the fact that the movie is about revenge from a male perspective also makes it different from the previous two flicks. Vishal Pandya has done great job of bringing out the various emotions without making the movie too dramatic or dull.
Overall Hate Story 3 has everything that makes it a perfect successor of the earlier two movies and IndiaCafe24 gives it a rating of 3.5 stars.
Reviewed By Meetu