Ek Paheli Leela- Movie Review
There Is No Puzzle And Only Cleavage Revealing Leela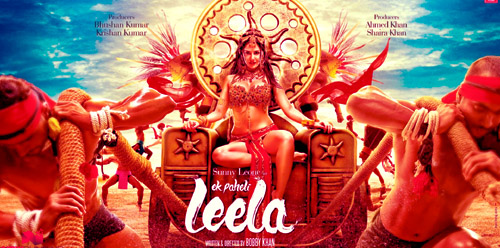 Movie : Ek Paheli Leela
Cast: Sunny Leone, Jay Bhanusali, Mohit Ahlawat, Rajnessh Duggall, Jas Arora
Director: Bobby Khan
Genre: Drama/Romance
Rank: *
Jay Bhanusali portrays the character of a music composer who faces trouble over getting sleep. He keeps on drawing images related to some facts in his past; the images lead him to his past life in Jaisalmer. He meets her reincarnated partner, Leela, in Jaisalmer. And from there, the story goes slower than ever with time.
Director Bobby Khan, like all other filmmakers, ended up making some sort of an adult movie with Sunny Leone again. The only difference is that the adult actress had some clothes on in this movie. The film is nothing but an overdose of cleavage song after song with the camera zooming in and out of Leone's chest. One sighs in relief after a song ends but to be followed again into another one.
The screenplay is utterly disgusting, scenes are preposterously gross, and too weak dialogues that were apparently written after the shooting was over. To top it all, the dubbing did not synchronize with the lips movement.
The love making scenes in a hot desert, the trying out of some love making positions from adult movies, and a full cladded Leone did not go too well with the film critics and their reviews. Sunny has 3 reincarnations in this movie. And ironically, she has the same face in her 3 re-births and her men of love interest have a different look with their every birth. But like all the other films of Sunny Leone, this movie too is reported to be a money collector movie on its first day itself. If you have nothing better to do over the weekend other than watching Sunny bathing in milk, then you could easily spend a fortune over this movie. This movie failed to make its place in the list of highly appreciated latest Bollywood movie reviews.