Dear Zindagi- Movie Review
Dear Zindagi Is A Deeply Internal And Thoughtful Film That Will Help You Do Some Introspection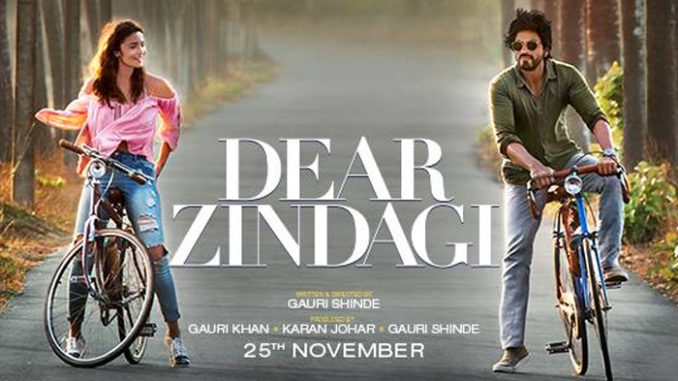 Movie: Dear Zindagi

Cast:  Shah Rukh Khan, Alia Bhatt, Kunal Kapoor, Aditya Roy Kapur, Angad Bedi, Ali Zafar, Ira Dubey and Yashaswini Dayama

Director: Gauri Shinde

Genre: Romance, Drama

Rank: 3.5
Despite not being promoted much, Dear Zindagi managed to create quite a buzz for two reasons. The first of these was the unusal pairing of SRK with Alia Bhatt and the second the fact that the movie has been directed by Gauri Shinde, the lady who gave us the brilliant English Vinglish. Apart from the above two stars, Dear Zindagi features Kunal Kapoor, Aditya Roy Kapur, Angad Bedi, Ali Zafar, Ira Dubey and Yashaswini Dayama playing pivotal roles. The movie has been released in theatres across the globe on 25th Nov 2016.
Despite being a talented choreographer, Kaira (Alia Bhatt), still awaits that big break in her profession. To complicate things further, she is struggling with the various relationships in her life, including those with her parents and her current boyfriend Rumi (Ali Zafar) as well as her former boyfriends Raghuvendra (Kunal Kapoor) and Sid (Angad bedi). But when life becomes too stressful and messed up for her to handle, she seeks the help of a professional therapist, Dr. Jehangir Khan (Shahrukh Khan), who very carefully ties together the pieces of her fragmented past to help her cope with the present and prepare for the future.
Dear Zindagi is a lovely and straightforward movie that tells the tale of a scarred young woman trying to hide her fears and psychological issues behind a mask of great confidence and happiness. Alia Bhatt has portrayed the character of the affable and deeply disturbed Kaira to the hilt, while Shahrukh Khan looks adorable in his relaxed role. The film does have its weak moments though, but is still quite thought provoking in some area although it seems a bit slow and laid-back at some point.  IndiaCafe24 gives Dear Zindagi a rating of 3.5 stars.
Reviewed By Meetu