Shahid And Mira Tie The Knot In A Private Punjabi Style Ceremony
Congratulations Shahid Kapoor & Mira Rajput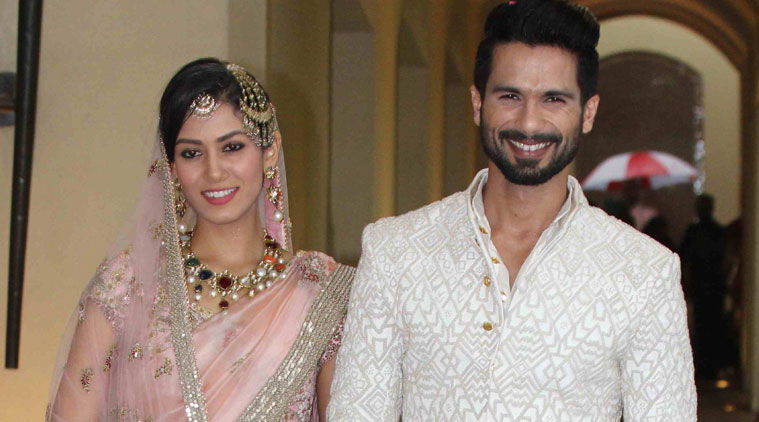 Image Source: Indian Express
The much awaited wedding of Shahid Kapoor with her fiancée Mira Rajput finally took place in Delhi on Tuesday, 7th June 2015. According to reports, the wedding, which was performed as per the Punjabi traditions and customs, was organized at a farmhouse in the Chhatarpur area of Delhi. Attended only by close friends and family members of the couple, the marriage was followed by an after-party at The Trident in Gurgaon.
During the ceremony, the groom was seen wearing a white kurta-payjama which was perfectly complimented by his red turban. The bride was seen in the traditional Punjabi wedding attire of a green and pink salwar-kameez along with a heavily embellished duppata that she had wrapped around her head. Unlike the usual brides, she was seen wearing minimal jewelry and makeup even though she adorned her forehead with a really big maang tikka.
Although the details of who attended the wedding from the film fraternity were not revealed, pictures of Shahid's dad, Pankaj Kapoor, mom Supriya Pathak and younger siblings Sanaah and Ruhaan looking happy on the occasion have been released online. It has also been reported that while only 40 guests attended the wedding, the after party was a gala affair with around 500 invited guests. And once the festivities in Delhi are over, the couple is to hold a reception in Mumbai for the filmy friends of the groom, on 12th July.
Shahid, who has won millions of hearts with his cute smile and innocent looks, considered his wedding to Mira Rajput a normal affair which did not need much media attention. He kept the plans of his arranged wedding under wraps, stating that it was something personal and hence he refused to delve into the details of the same for public entertainment. We surely respect that sentiment and now that the couple has been united through holy matrimony, we wish them both a happy and long life together.
By Meetu