Dilip Kumar- The Legendary Star Bid Adieu To His Fans and Indian Cinema At The Age Of 98
Dilip Kumar- The Legendary Star Bid Adieu To His Fans and Indian Cinema At The Age Of 98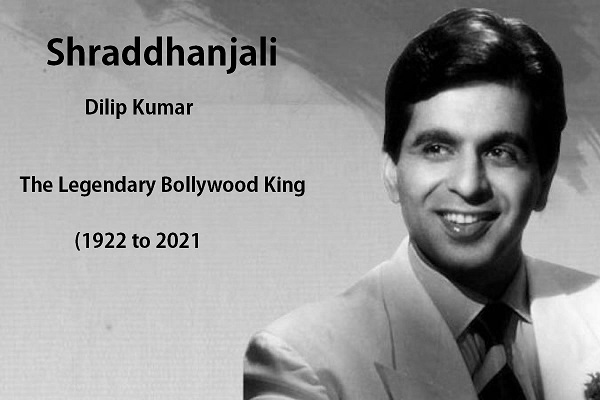 Legendary actor Dilip Kumar bid adieu, at the age of 98 on 7th July 2021 and left his fans heartbroken. He was suffering from prolonged illness and breathed his last at Hinduja hospital. Dilip Kumar Ji moved in and out of hospitals for the last couple of years because of multiple health issues. He remained the first superstar of the Bollywood Industry.
If we look back at his origin, we will find that this veteran actor was born as Yusuf Khan, and there is a story behind the transformation of Yusuf Khan to Dilip Kumar. He wished to enter the film industry with a new identity and that many of us know. But once giving an interview to Mahendra Kaul way back in the year 1970, he said that his name change happened because he was scared of his father's beatings. His father was not in favor of the movie industry, and so Dilip Ji made an entry with a name change.
Jawar Bhata was his first film. It was directed by Amiya Chakravarty, in the year 1944. He grabbed the attention of many in the industry with his acting skills. The surprising fact is that Dilip Kumar did just a handful of 60 films only in his career spanning five decades. Yes, he was a choosy actor and picked a script only if that offers him the opportunity to bring out his acting potentials.  Each role of him remained memorable in the pages of Bollywood cinema. Well, the tragedy roles he did establish him as the tragedy king of the silver screen, but the reality was that he was also a sad man inside. His tragic roles created a serious impact on his mind which led to depression. He got advised to take some light characters to overcome the depression, and he did that and came out as a different Dilip Sahab on screen. Just like his acting,  his films remained adorned with melodious and memorable music.
In just eight years of his career since the beginning, he managed to carve a niche for him in the industry, and we got some gem deliveries from him like:
Devdas (1955)

Azad (1955)

Naya Daur (1957)

Madhumati (1958)

Paigham (1959)

Kohinoor (1960)

Mughal-E-Azam (1960)

Ganga Jamuna (1961).
 In the first decade of this career, Dilip Kumar Ji remained an actor. Well, for the remaining decades, the industry got a superstar in him. He got 8 Filmfare awards in addition to other nominations. Stars like him will never fade away, and the industry will remember him for decades. His historical movie Mughal-E-Azam remained the highest-grossing film of the industry.
 Indiacafe24 offers a heartfelt tribute to this legendry star of Indian Cinema. Rest in peace Sir, and will be remembered in our prayers.