"Once Lost found Forever" By Jitender Rishi Parmar – A Book Review
"Once Lost found Forever" By Jitender Rishi Parmar – A Book Review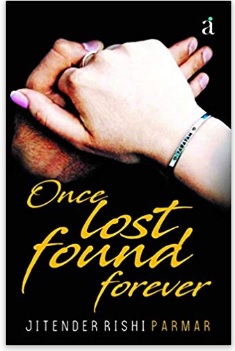 Publisher: Author's Ink Publications

Publication Year: 2018

ISBN-10: 8193827112

ISBN-13: 978-8193827116

Rating: 4.5 on 5
I read so far many romantic novels so far but I must say that "Once Lost found Forever" By Jitender Rishi Parmar is not just a different romantic story but also a modern time love story. These days youngsters are very freckle minded and consider a mere liking towards opposite sex as love which in reality is nothing more than just infatuation.  The main protagonist of this novel is a Female character Shagun and the story centered around her.  The story started off with a scary dream which Shagun was dreaming lying on the hospital bed. When she woke up from her dream she realized that somehow she survived and found Rishi, her true love by her side. Right from here the story moved to flashback on how the love story of Rishi and Shagun began even when Rishi knowing the fact that Shagun was HIV positive. A question poked my mind; in this complicated selfish world is such selfless love possible? Exceptions are always there, I too believe this.
Life of Shagun was not at all simple since childhood being a daughter of an Indian Army soldier. She lost her mother at a very early age to cancer which forced her father to take VRS for taking care of his daughter.  Tragedy increased when her father remarried and Shagun found it hard to accept her new mother. She was looking for some relief in life to move out of the disciplined and strict atmosphere created by her father just for the fact that she is a girl. Her first infatuation was her tuition teacher which ended because of her friend's act of reporting to her father.
In 12th Standard, she had an encounter with one of her classmate who intentionally targeted her as she earlier refused to give importance to him.  But that story also came to a drastic end when she realized the evil motive of her classmate just to have physical relation with her and no love. She fled from the spot somehow but didn't dare to return back home being scared of her father who warned her earlier and threatened to disown if such report comes to him.
In such a scenario, her only savior was her father's business partner who was a father figure for her.  He promised to save her without letting her father know and gave shelter at his place. But Shagun Luck was hard again as after days she realized that she is in a cage and her master is this man who used her physically and mentally enjoying her completely. Somehow she got permission to appear in the 12th exam under his strict supervision and did well.   She accepted her life with her father's friend somehow as there is no other hope of survival visible to her.
But the nightmare is never-ending for her and she was brutally raped and enjoyed by another person, that person's friend in a hill station hotel. He offered her to his friend just to pay off his debt. Somehow she managed to flee from there and got shelter in an army camp where a young Army captain helped her to free from that bastard and get her admitted in a college in Gurugram for further studies investing his money.  But there also things turn different as the Captain mistaken that she likes him. She refused to accept the proposal and he demanded back the money he invested for her admission.  Going for a one night stay with one of the past males in her life she paid of the dues.
New men kept coming in her life till the time Rishi arrived in the story. In between, she again united with her family and later came to know that she is pregnant and underwent an abortion without letting anyone know. Just that moment she came to know she is HIV positive. When her parents came to know about this she was forcefully married to a person, but he also disowned her when he was also found HIV positive.  The story continues as Rishi gave her undue love knowing everything about her life. But her repeated encounter with different men even when Rishi was there in her life badly hurt him and his ego. They separated only to meet again but by that time another girl Girija made an entry in Rishi's life.
Shagun came to know about Girija's life while getting into a conversation with her at Rishi's place. Girija's life was no simple and was a complete roller coaster ride but she was not Rishi's girlfriend. How difficult was her life and how Shagun came as a ray of hope to light up new possibilities in Girija's life for a happy beginning, forms the remaining part of the story.  How Girija and Shagun got emotionally connected and how Rishi and Shagun took the step forward in their life of togetherness is something really interesting which should not be disclosed by me or else the charm of the beautiful story will be lost. Read it and I challenge you will love it. A Round of Applause for Jitender Rishi Parmar for narrating such a lovely story centering on love and its different approaches in our lives.