A Book Review Of Book 1 Of Narasimha – The Mahaavatar Trilogy By Kevin Missal
A Book Review Of Book 1 Of Narasimha – The Mahaavatar Trilogy By Kevin Missal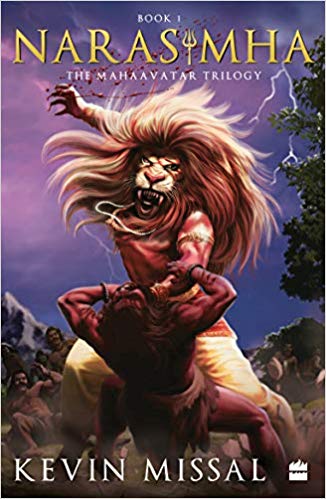 Publisher: Harper Collins India
Publication Year: 2019
ISBN-10: 935357076X
ISBN-13: 978-9353570767
Pages: 320
Rating: 4 on 5
According to mythology, Narasimha was one of the earliest avatars of Lord Vishnu, who was born the rid the earth of evil. So, I naturally felt intrigued by the title "Narasimha – The Mahaavtar Trilogy", which apparently is a  series of three fictional novels penned by well-known writer, Kevin Missal. Upon receiving the book, the first thing that appealed to me was its front cover, featuring a colorful image of an angry Narasimha in an attacking mode. I started reading the book with great expectations and am proud to say that it did not disappoint me.
The book tells the well-known mythological tale of Prahlad, Hiranyakashipu, Holika and most importantly Prahlad from an entirely different perspective. It delves into the multiple personalities of each character, especially Narasimha, as the fate of the world rests on his decision to return to being a warrior or continue living the life of a peaceful physician. It is a tale of finding the right path, of war, emotional turmoil as well as revenge and betrayal. I was greatly impressed by the fact that the book tries to tell a story, which is generally seen as a tale about the victory of good over evil, in a more humane and empathetic manner.
Despite being a retting of an oft-repeated mythological legend, Narashima – The Mahaavatar Trilogy stand truly apart. The author has made great efforts to build every character and give a reason for why they are as they are. The language and flow of the story, even with its various sub-plots id quite good. It even features a map of Illavarti, the place where the story has been set, making it easier for the readers to relate the various characters and events of the book. Overall I found the book to be extremely refreshing and am eagerly awaiting its next installment.