Jangshersingh.com By Vishal Bhatia – Book Review
Jangshersingh.com By Vishal Bhatia – Book Review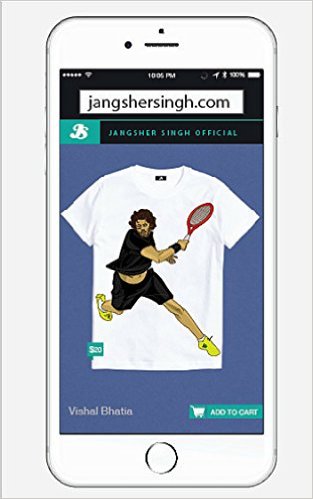 Publisher: Quixotic Options Pvt Ltd

Publication Year: 2015

ISBN-10: 9352358104

ISBN-13: 978-9352358106

Pages: 337

Rating: 4 on 5

Not being much of a sports person, I have rarely read or reviewed any books related to this field. So, when I was asked to review Jangshersingh.com, which is essentially a sports fiction, penned by the talented Vishal Bhatia, I was not sure how to go about it.  Then I thought of reading the book just like any other manuscript of my liking. I was really impressed by the cover of the book, which gives a fair idea of the subject matter.
Jangsher Singh loves a village girl and as the two young lovers are enjoying some intimate moments together, they are spotted by the girl's orthodox brothers. They take their sister away but not before beating up Jangsher Singh to the extent of leaving him almost lifeless. Years later, a scarred and headstrong tennis player, Jangsher, enters the Grand Slam being held in Australia as a wild card entry from India.  At the same time, a pair of cousins from India, named Yug and Aman goes out on a weekend, taking Yug's boss's audi named "Flame", to watch the Grand Slam final. However, they meet and get robbed and the Audi is stolen. Will the cousins be able to retrieve the car and how will Jangsher fare at the tournament? How are the lives of Yug, Aman and Jangsher linked? To find the answers to these questions, you need to read the book.
Jangshersingh.com made me realize that sports fiction does not necessarily have to be boring or completely focused on the activity. I loved the twists and turns that Vishal has integrated into the storyline to keep the readers engaged. I for one was looking forward to reading every new page in the book till the very end and this definitely is proof enough of the skill and creativity of the writer. I wish Vishal all the very best for his future endeavors.