It's My Love Story By Ajitabha Bose – A Book Review
It's My Love Story By Ajitabha Bose – A Book Review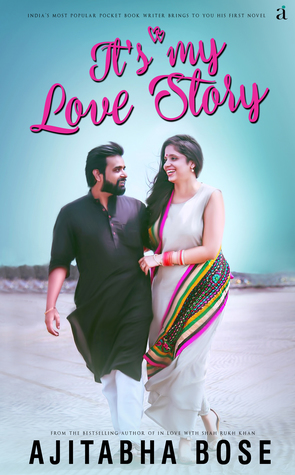 Publisher: Author's Ink Publications

Publication Year: 2018

ISBN-10: 8193650115

ISBN-13: 978-8193650110

Pages: 184

Rating: 3.5 on 5
I have been reading and reviewing the pocketbooks of Ajitabha Bose for quite some time now. So when I was offered the opportunity to review his first novel, I was really excited and started looking forward to reading it. The first thing that struck me, when I received the book was it beautifully designed cover page. It immediately sent a feeling of love and happiness throughout my entire body. The joyful celebrity couple depicted on the cover page seemed to so alive and totally smitten. With much difficulty, I stopped staring at the picture and began a wonderful journey of love captured within the pages.  There was one more surprise just after opening the book and that is the cartoon illustrations of the characters of this story. The illustrations are so lovely to look at and for that Karan Gupta, the man behind this creation surely deserves a round of applause.
Aditya Mukherjee, a slightly overweight and introvert young man possessing a great talent for filmmaking, gains admission in IMC Delhi. While pursuing his Diploma in Mass Communication, he soon befriends Sushant Singh, Vinay Kumar, Imran Khan, Janvi Kapoor and Smita Sharma. Being conscious about his below average looks and low self-esteem, Aditya considers himself unsuitable for all girls, including the very beautiful and extrovert, Janvi. However, Janvi is quite impressed by Aditya's talent and soon both fall in love. But a twist of fate turns Aditya's world upside down and brings the story to an exciting climax.
Its My Love Story is a book about ambitions, emotions, fulfilled and unfulfilled dreams and the various successes and failures that one faces in life. But most importantly it is a tale of love and happiness. The simple, soft and lucid language makes reading the book a truly pleasing experience. Although the pace slows down a bit somewhere around the mid of the story the beginning and end are extremely exciting. The climax could have been a bit more elaborate and even though there are some editing issues, the beauty of the story overrides them. I wish Ajitabha great success with his debut novel.