Monika Thakur- Her Journey as an author
Monika Thakur just entered the world of authors with her very first book "Secret of Sculptures " We had a chit chat session with her and here is the session for your all the lovely readers.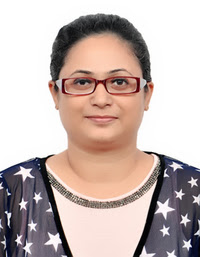 Welcome Monika Thakur . It a pleasure to have you on this platform of Indiacafe24.com. Our readers would surely want to have a sneak peak on your background. Kindly share a brief about you, your education and your family.
I share some background similarities with the protagonists of my story as I have grown up in various different places due to my parent's work. I have been working in the corporate sector for a decade. Alongside my professional work, I wanted to do something creative and as a result, I wrote my first novel.
Which Indian authors inspired you the most?
Some of the famous Indian authors' names that were familiar while growing up were those of Vikram Seth and Arundhati Roy. However, it was the more recent writers of commercial Indian fiction that encouraged to take up writing. This is because I had always imagined myself as writing something lighter, something fun to read on long summer days or the plane and train journeys.
Share few words about your latest book
I started writing this book a few years ago but was able to write only intermittently, during the weekends or holidays. It was only recently that I was able to take the time to complete it. The plot revolves around stolen sculptures and supernatural powers, but underlying that is the fun and innocent friendships that we have in our childhood and late teens and the adventures that we have then or wish we had.
Who is the one who for the first time noticed the spark in you to become an author?
 Once a friend suggested that I make a book out of some letters I had written to her, which was encouraging. Another friend once said that some phrases or sentences, she could identify immediately as being mine. No one else would say it quite just so. So such instances helped to bolster the idea that I put pen to paper, when I finally decided to do so.
 The conflict between the publishers and authors is very common. Have you faced such problem while finding a publisher for your books?
 I have self published. This is my first book and first publishing experience. I tried to find out about various self publishing platforms/options and then finally selected one that seemed suitable. From the very first, my dealings with my publisher were very smooth. They delivered on everything they promised and there were no surprises. They were also very helpful and accommodating during the whole publishing and editing process and their post publishing support has been very prompt till date.
When you first realized that you can too be an author?
I think I am still realising it.
What are your other passions in life?
I like various forms of arts and culture such as music & dance (tradition/modern/ western/classical), painting etc. I love the outdoors and nature, though living in a city limits the opportunities for it sometimes. Of course I enjoy reading and keep trying to widen my horizons.
What are your future plans?



The future is a mystery yet to be unravelled. I will continue writing and pursuing my other interests.
What next in pipeline  and of what genre?
Well, the people who have read my first book The Secret of the Sculptures have expressed a wish to read a sequel, so that will be next.
Define  Monika Thakur the Author in 1 line ?
As an author, I am now on an adventure of my own.