Book Review Of A Closetful Of Skeletons By Tanushree Poddar
Book Review Of A Closetful Of Skeletons By Tanushree Poddar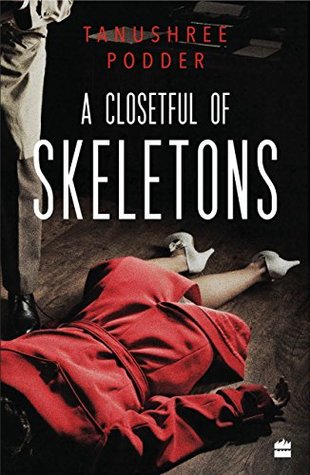 Publisher: Harper Collins India

Publication Year: 2017

ISBN-10: 9352774418

ISBN-13: 978-9352774418

Pages: 296

Rating: 4.0 on 5
I simply love books that belong to the mystery and thriller genre and hence the idea of reviewing A Closetful of Skeletons was quite appealing for me. Given that the book is penned by seasoned writer, Tanushree Poddar, made the idea even more exciting. My (im)patience was rewarded when I received a copy of the book a few days back. I eagerly opened the package to be greeted by one of the most interesting cover pages for a thriller novel. This seemed to put an end to all my speculations and started reading the book with great eagerness.
Ramola, who once was the reigning queen of Bollywood, now leads a life of anonymity in the company of retired couples. Having given up her glamorous life at the peak of her career, she now enjoys an idyllic lifestyle where most of her rime is consumed by gardening and gossiping. Then on the night of her birthday party she makes it known that her tell-all memoir will be released soon. The book that tells her journey of success and fame, also threatens to expose and spoil the careers of her ex-lovers. This leads her to get sucked back into the web of lies and deceit that she had escaped from a long time back. Adding to the complexity of the situation is murder that her neighbor and retired army officer, Col. Arjun, intends to solve.
A Closetful of Skeletons has all the ingredients to make it a good thriller novel. The crime and suspense that form an integral part of the storyline are sure to give the readers goosebumps. The pace is good and the language is simple which makes the book a truly good reading experience. While some portions do have a sour taste, the overall impression is really good. I wish Tanushree great success with this exciting thriller novel.