Book Review Of Jukebox – A Short Story Anthology From Writersmelon
Book Review Of Jukebox – A Short Story Anthology From Writersmelon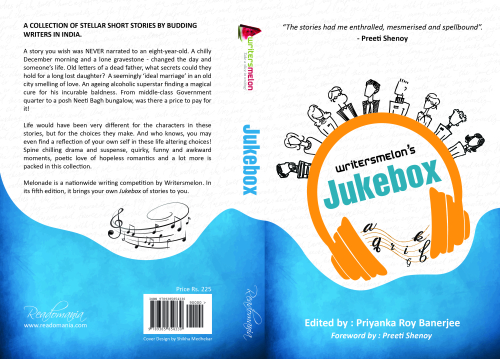 Publisher: Readomania

Publication Year: 2017

ISBN-10: 938585433X

ISBN-13: 978-9385854330

Pages: 176

Rating: 4.0 on 5
Even though I love anthologies, I have been able to review only couple of them before I was offered the chance to review Jukebox.  This book contains a collection of short stories by some of the most promising writers from across India. The first thing that impressed me about the book was its cover page, which conveys the concept of an anthology in an interesting and appealing manner. As I started reading the book, I was convinced of it being an interesting collection.
The stories in the book have been categorized into three different genres, namely suspense, humor and romance. Each story focuses on how the choices made by the characters change their lives for better or for worse. The stories also highlight the strength shown by these characters to follow their heart or simply opt to do something that has for long been considered a taboo in society. The stories bring to life the everyday happenings which may seem commonplace but tend to leave deep impact. In fact, it would not be wrong to say that every single story in the book proves to be a truly enriching experience.
Jukebox weaves a magic that continues to haunt the readers for days and weeks. Despite each story having been penned by a relatively inexperienced writer, it takes you on a journey that sometimes lights up your face with a smile and sometimes brings tears of sorrow to your eyes. The language is simple and the flow of the stories is excellent ensuring that the book turns out to be truly engaging and interesting. Apart from the authors themselves, the readers need to thank Writersmelon, for providing the right platform to enable such beautiful tales from these talented people to be published. Overall I found Jukebox to be a truly great cocktail of literature and wish great success to every single author featured in it.