An Engaging Session With Talented And Inspiring Director Sanjivan Lal
To be successful in life you need to be disciplined, dedicated and a true dreamer. We love watching films and surely makes comment about what is good and what is bad in it. No doubt being audience it's our right but we actually forget to analyze the effort the director and producer along with the cast and crew do at the back. This time we made an effort to understand this world behind the screen and the hard work the team needs to undergo to taste success. We have with us this time eminent director Mr. Sanjivan Lal. The session was very interesting and we got to know a lot about him and the world of creativity he is part of.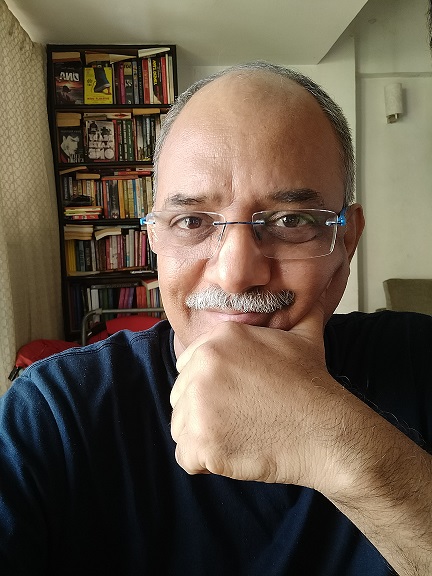 1) Welcome to Indiacafe24.com. Sanjivan Sir we are glad to have you with us. We know you as a film director and writer…… But now we want to know something more than that about you as a human being. Plz share something about your background.
Well- it difficult to talk about myself. But just to tell you briefly– I originally belong to Jamshedpur from where I did my schooling. Then for my further studies after my tenth – I moved to Delhi when I spent good eight years doing my plus two, my graduation from Kirorimal College under University of Delhi, then joined Chartered Accountancy there itself doing articleship for good two and half year before chucking it all up for six months documentary filmmaking workshop which I suddenly discovered was happening in Delhi at that time. While attending the workshop – I came to know of Film & Television Institute of India [FTII] at Pune- and filled up the form for the entrance exam. By the time my workshop got over – I got selected for a three years course in Film Direction from there.
I'm a simple logical person with very strong sense of right and wrong. I value honesty and truthfulness. I try to be fair to the other person holding opposite / diverse views from me – but when I realize that there is common ground for the two to meet and have a healthy discussion- I just switch myself off otherwise – I am an easy person to deal with.
2) Academically you were a good student then what exactly provoked you to take the risk of moving into filmmaking?
I was an average student. Back in school then in Jamshedpur I was more interested in extra-curricular activities. I used to write stories, poems and had a very happening childhood. Once I shifted to Delhi- I carried on with my writing & theatre activities till my college days at Kirorimal. Somewhere I always wanted to be in films but did not know how. Those were the days when we had no internet, no computer, no mobile etc. There was no one to guide us about how to go about making a career in films.  I just kept drifting from one thing to the other. I appeared for Bank exams, MBA, TISS while doing CA. My heart was never into CA but still continued till I got lucky with the documentary filmmaking workshop and then with FTII. Honestly – I never thought of filmmaking as a risk! I just wanted to follow my heart! And I am happy- I did ! .
3) You worked both for movies and television…. So what is the work culture difference observed by you in both categories?
I got into TV by default. After my graduation from FTII, Late Producer Gul Anand –who had produced movies like Khatta-Meetha, Jalwa, Chasmebaddoor, Hero Hiralal – saw my diploma film at Calcutta – IFFI 94 and offered me to make a sequel of Jalwa – called 'Jalwe pe Jalwa' with Naseer and Nana Patekar but unfortunately we couldn't get them on board together. The project didn't happen. By then Gul and I were getting along fabulously as a Producer- Director team. He offered me a 13 episode Romantic Thriller called MACHAAN – a very ambitious project with big Stars like Mohan Agashe,Saeed Jaafri, Amol Palekar, Johhny Lever, Peenaz Masani, Tinu Aanand and so on. The making took two years. By the time we were ready to sign the agreement with STAR TV – Gul suffered a massive attack and passed away. The New Producers along with ABCL on board tried making the project happen but couldn't. The vision for the project had changed. At that point – TV was interesting. I started doing episodic stuff like Star Bestseller, Rishtey, Saturday Suspense etc. It gave me good money as well as we were getting enough freedom to tell our stories the way we wanted.  The moment daily soaps came into vogue – I quit the TV industry completely as I felt it had become a medium more for the actors and the writers. It did not need Directors. From then on I went on to make Documentaries while working on my feature film scripts on the side. So I never really settled down in TV. I always wanted to make feature films – hence I am here. It remains satisfying so far. Ys- Web series these days are promising excitement but I think people still need to understand the format and the quality that platforms like Netflix expects. There's time for that.
4) Behind the sizzling and attractive silver screen….. how exactly is Bollywood life?
Not at all glamorous from what you see on the screen or in the news. It's all superficial and artificial.  Lot of backbreaking years of hard work goes into it. It is a big game with heavy investments involved – thus one needs to be careful. You chose wrong reason to make a film – you are bound to be doomed. Even if you chose the right reason – it still needs to be made well – the way it should be made with the right team and with the right people. Even if it gets made – one needs to know how to promote & market the film. Today releasing a film well is a bigger challenge than making one. This is one area – most get lost as they either run of money by this stage or they run out of ideas to market their film. Today a good producer is one who knows how to ensure a good visibility for the film, for the crew and its actors. Everybody's future / career depend on him. You choose wrong producer – then nobody benefits. This industry is all about BRANDING. People need to know you. If you are not known – then they have a problem figuring you whether to trust you with their money or not. There are a lot of actors who are terrific but are not a brand- hence invites lesser roles and money. Those with lesser talent often get lucky becoming a brand but beyond a point – as we all know- sooner or later- water always finds it level. The talented stay on– the lesser one fade away.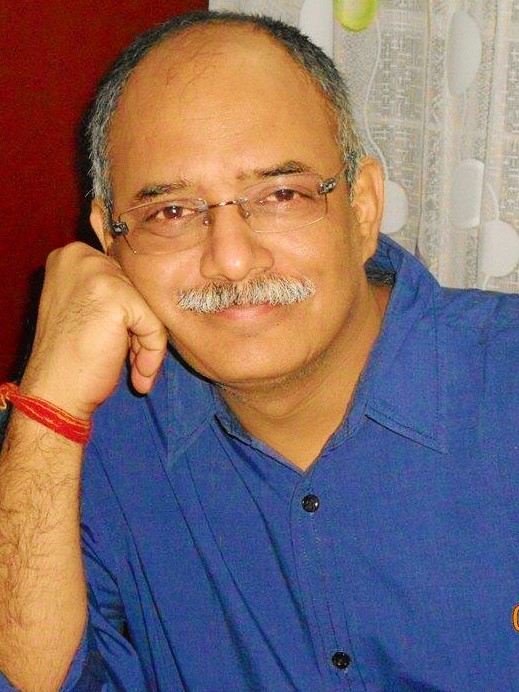 5) How Eclectic Films was born?
Eclectic Films is a private limited company which I floated recently for an International project I am producing / directing titled 'OPERATION SCUTTLE'. It will be formally announced soon. I wish to continue producing / directing films trying to have more control over the creativity and finally the product the way it should be. As a filmmaker – I realized my responsibility doesn't end with getting a married print out but also go beyond– helping  collaborators understand my product better and help them ensure a good visibility so that your product reaches its destination well and safely. This is only possible if you have your own company. Otherwise too professionals like to deal with a company and not some fly-by-night operators.
6) Who are all the inspirations in your life and career?
In Life – my dad – who was known for his honesty / integrity and fair play. He was a very logical and a balanced man. Always thought of others' wellbeing and never harmed anyone.  He devoted his life to the cause of hearing impaired children. He was a good human being. I want to emulate him. Professionally- I would not like to say anyone in particular inspired me or is my favourite- for these terms are too strong. Instead I can say that I have some favourite films which continue to inspire me again and again even after years and has left a major impression on me. Among them are Shekhar Kapoor's MASOOM, Akira Kurowasa's RAN. RAN was the first film of Kurosawa that I saw on big screen and had blown me away. Then another film that I cannot forget is Saji Karun's PIRAVI. Then 'Shawshank Redemption', 'The Scandal' and some more that I can watch again and again. Give me Kurosawa films any day –there's always something new to see in his films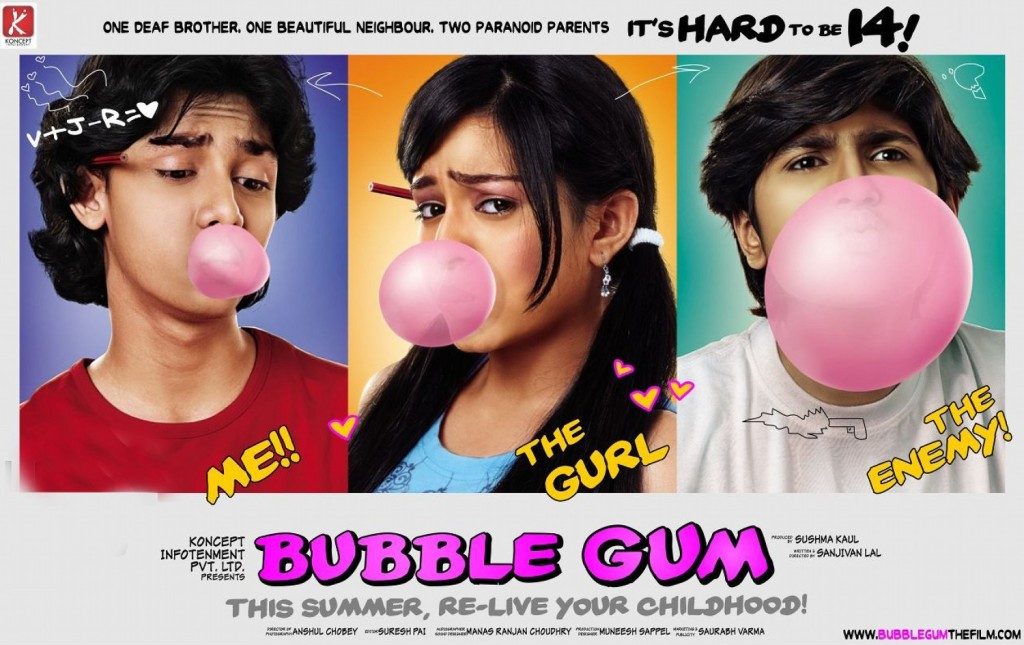 7) Bubble Gum…. is one of your finest works so far by you. Share some experience about the journey while making this film.
BUBBLE GUM was born out of frustrations. It was not the first script I wrote. I had a subject which I wanted to make with Irrfaan Khan, KK Menon and Manoj Bajpai- all three actors together but at that time Manoj was going through a lean phase and nobody wanted to touch him.so I had to put the project aside and reworked another script with Irrfan ,KK Menon and Vidya Balan. Vidya was just one film old. She had consented but my producer being a first timer could not make the film happen. After that I wrote BUBBLE GUM which did not require any Star and would get made at a realistic / actual cost. I entered it for a competition where NFDC was inviting scripts under Co-Production scheme. Kundan Shah was heading the Script Selection panel there. They received some 65 scripts from all over India. Out of 65 NFDC was to select 5 scripts for Co-production but they could select only two. Mine was one of them. The other was in Malayalam. With the selection –NFDC committed 70% of the fund and I still had to look for 30% of the fund. That was crazy. Some 17 producers came in and went out. Meanwhile NFDC too underwent some policy changes. Finally another company fell in love with my script and decided to invest 100% in the film without others' involvement. Unfortunately even that company was new. They could not ensure the visibility that was required. Though it got me very good reviews from all but very few people could get to it. IMDB still rates the film at 7.3 but it remains a case of "Jungle mein mor nachaa – kisney dekha" [ When the Peacock danced in jungle with gay abandon- not many could see it]. Maybe someday when I am through with my present lot of stories for films– I will remake it and get the release it deserved.
8) What measures the parameter of success for a filmmaker…. as per you
Not all commercially successful films are good. Similarly not all critically appreciated films are good enough. Why can't the two be married? My cinema is to combine is two. I do not believe in catering the two extremes – Box Office and Awards. No, my whole struggle is to tell never before told stories within the mainstream parameter with global sensibilities so that it caters to audience not only in India but beyond too. For me a good film is one that promises commercial as well as critical success. This is possible when you are able to touch your viewers emotionally for emotions are same everywhere.
9)  Say something about your journey so far in the industry and your plans ahead?
Well, the journey has been good so far. Very enlightening and enriching. Filmmaking is not only about knowing your craft! You have to know yourself; you need to understand the industry well, how it functions, its politics, the kinds of stories that need to be told and how. You also need to know which story / script to work on. Not all stories are films. Even I have made mistakes of working on stories / scripts for years without really knowing how is it going to happen? When to stop scripting? How is good enough? Whether it's feasible enough? Viable enough? Do we have actors enough to play the characters I am writing? And this is a mistake most writers / directors make. They write a story without knowing / understanding the ground realities. It takes time and experience to mature. Even the technology keeps changing and one has to keep himself updated with changing times and changing sensibilities. I feel it's now that I am ready to take off with my career!
As far as my plans as concerned- I think I am not required in the industry if I have to tell the same stories others are telling for others are telling it well. Most of my subjects are original & researched based. I take my time to do my own research and work out my stories – my script. That's the USP of my scripts. I have some scripts ready and some identified some couple strong concepts / subject that has not been touched up on and can be made well within the mainstream parameters of Hindi cinema for global audience. Well my march has just begun.
10) What are your next projects?
I have three film scripts ready which I am trying to make it happen either with branded producers or known actors. I will announce both my next feature film and the documentary – together in coming months.
11) What are the key features in a story which you look for to shape the script for your movie?
See, basically through movies – we trying to create / tell somebody's life for others to peep into and find connect- Maybe learn a lesson or two for themselves or just make it an enriching experience or enthralling them. In one life that you get – you cannot live, see and experience thousands of lives others live across the globe. So it's here I step in looking for positive, inspiring heart-warming human stories / drama which besides entertaining also makes some sense to people.
12) What qualities do you want to see in the star cast to be a part of your film?
Stars have an advantage. They make themselves so endearing with their stylish acting that they build up a loyal following which comes thronging the day their film releases. But they also have a strong limitation. They do not get to play too many characters as they tend to get the Characters in themselves where the actors are able to get into characters making them come alive but their limitation– no guarantee of initials at the box office. No major fan following. Hence I prefer designing my cast in a way to have the best of the both that it evokes curiosity for the film and draw the audience to the theatre but for that one has t o have a very strong marketing team. For me how I design my cast is extremely important keeping the budget feasibility / viability in mind.
13) What are your other passions in life?
There are several issues plaguing our society that gets me angry.  I try to channelize my anger in my stories or at times rant on the social media. The day I stop reacting to the issues- I don't think I will be alive!
14) Anything you want to say to the newcomers in the film industry?
Well I do not need to give advice to anybody! If they have strong urge to do something – they will fall and rise again to finally find their way out for this is one industry that doesn't believe in spoon feeding!
15) Define Mr. Sanjivan Lal —–
I am honest and loyal – but only towards my projects – rest everything comes second.