Dawn At Dusk By Gaurav Sharma – Book Review
Dawn At Dusk By Gaurav Sharma – A Book Review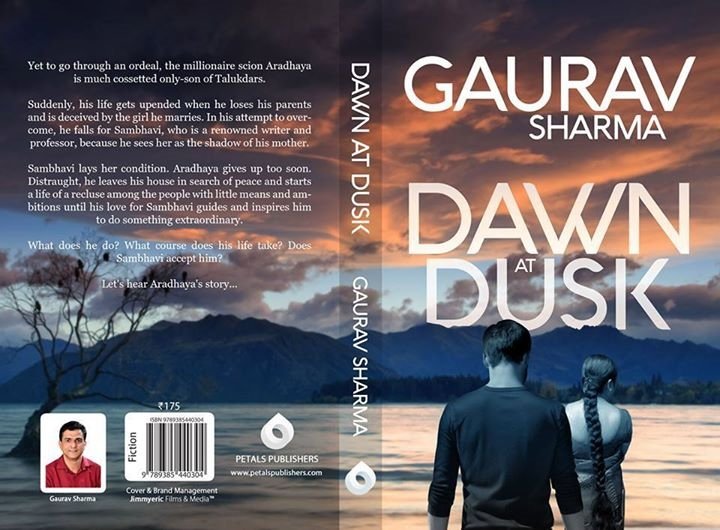 Publisher: Petals Publishers

Publication Year: 2016

ISBN-10: 9385440306

ISBN-13: 978-9385440304

Pages: 200

Rating: 4.5 on 5
Contemporary love stories often tread the same path in terms of plot and character development.  However, Dawn At Dust penned by Gaurav Sharma, begs to differ and I certainly did not get this feel upon setting my sight on its cover page. Although the image   gives an idea of the kind of story that is encompassed in its pages, it does not provide any indication about what a pleasant read it will turn out to be.
Aradhaya, the Talukdars' much loved only son and heir of their riches, has yet to face any disappointment in life. But this scenario changes when his parents die all of a sudden and soon he is also betrayed by his wife. During his attempts to overcome this depressing phase, Aradhaya meets Sambhavi, a well known professor and writer. Aradhaya immediately falls in love with Sambahvi, whom he considers to be the reflection of his mother. However, Sambahvi proves quite difficult to win over as she puts up a condition before Aradhaya, who feels disappointed and leaves his home seeking peace. As he begins to live the life of a recluse amidst people with limited means and dreams, Shambavi's love motivates him to do something unusual.
Gaurav Sharma presents a well developed tale with inspiring characters projected in a simple and easy language. The flow of the book is extremely engaging and makes for an interesting read. That is something to say for an author who teaches mathematics to earn his bread and butter.  Unlike the other romantic tales by modern day writers, Dawn At Dusk offers the readers much to think about and is undoubtedly one of the best literary creations of contemporary era. I thoroughly enjoyed reading this novel and wish Gaurav great success for this book as well as other writings that he plans in the future.