The Allegorical Expedition by P Satyadeep – Book Review
A Book Review Of The Allegorical Expedition by P Satyadeep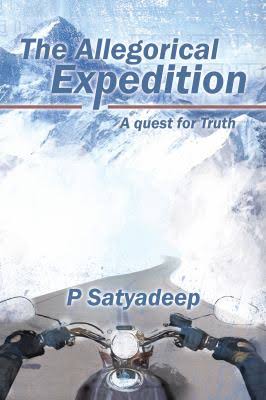 Publisher: Partridge India

Publication Year: 2016

ISBN-10: 1482884186

ISBN-13: 978-1482884180

Pages: 210

Rating: 4.0 on 5
The first time I held the book The Allegorical Expedition penned by P Satyadeep in my hands, I was quite sure that it was going to be a travelogue kind of novel. I gained this impression from the image that formed the front cover of the book and although I was not completely right, it was not the kind of travelogue I expected. As I started reading the book, I was really impressed by the unique manner in which the author took me on a journey of self exploration.
Despite being an extremely successful movie director, known for creating grand and over-the-top family dramas full of romance, Satyajit is highly disappointed deep within. He is unable to find balance his relationships and his desire to create something meaningful. In his quest to find the answers to his queries, he learns that his anger is the reflection of his innermost frustrations that he vents on the people who love him the most. Then he gets a chance to fulfill his dream in the form of a perfect script but first he needs to venture out on a road trip to fill in the missing details by meeting new people and experiencing new things.
Coming from an HR Professional, I was not really surprised at the insight that the book offers into human mind and soul. However what sets it apart is the manner in which Stayajeet has described the everyday scenarios in a casual and uneventful way. This made me feel related to the happening in the books rather than experiencing them as an onlooker. The simple language and the interesting flow kept me bound till I finished the entire novel and still left me craving for more. I truly feel in love with The Allegorical Expedition and its open ending has given me reason to hope for further continuation of the journey soon.
I won a review copy from The Tales Pensieve as part of Reviewers Programme. Register on #TTP for lots of #book fun and activities.