Cafe Latte By Amit Shankar- A Review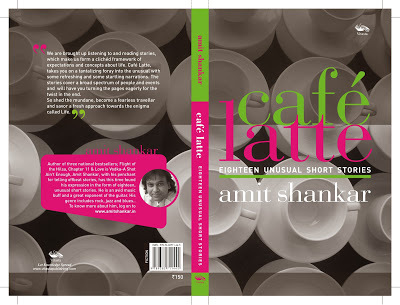 Beyond any doubt Amit Shankar is one such writer of India, whose every piece of work surprises you. He knows well the art of storytelling so as to reach the heart of readers. Every piece of work delivered by him has proved him to be a writer with absolute perfection. This time Amit delivers an awesome collection of short stories "Cafe Latte: 18 Unusual Short Stories".
Pick up any story from this collection and you are sure to feel impressed by the flow of story, the plot, the character and the emotion. He is a true magician who can do real magic using his power of words.
Listed here are the names of the awesome collection of 18 short stories of Cafe Latte:
Temple of the King
26 Down express
Code of Honor
The Jazz Player
Let Me Help you Die
The Black Widow
The Lion, The leopard and The Hyena
A Rose for Her
A Highway called life
The chosen one
Home Sweet Home
The Other Side
The Dream Chaser
The Guardian Angel
Every Mouse Ain't A Mickey Mouse
Smart TV
True Lies
Writer's Block
One of the amazing stories in this collection is The Jazz Player. What a story, what expression and it will surely make any reader feel spellbound. There are many other stories in this collection which will help you to experience different shades of life. Every story comes with simple narrations and that is what makes it easy for readers to get a feel of it. It is guaranteed that the percentage of readers who will love this collection will be huge.
This amazing collection is a definite read for all short story lovers. Amit Shankar you are just excellent in your work. Lot more is expected from this author. Keep Going.