Book extract of 'An Afternoon in My Mind' by Sonnet Mondal
Book Extract of 'An Afternoon in My Mind' by Sonnet Mondal
Sonnet Mondal! He is a young vibrant poet with whom my first interaction happened way back in 2015. That time, I asked him about his inspiration to choose poetry as his medium of expression. His answer impressed me. He said, "Poetry itself is my inspiration." His recent book release is 'An Afternoon in My Mind'. Today I am presenting the extracts of the book to share with you a glimpse of this literary beauty.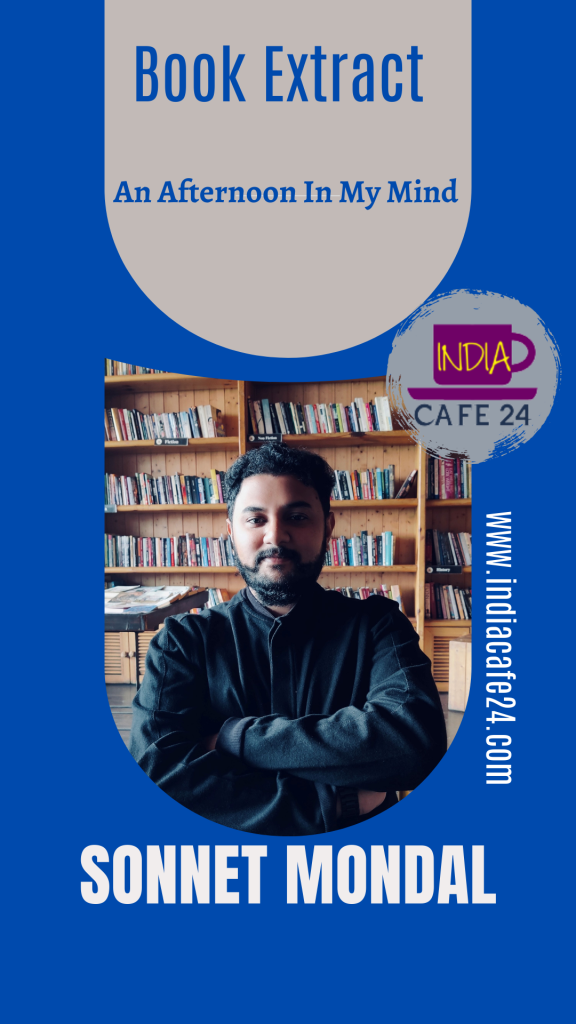 Book Brief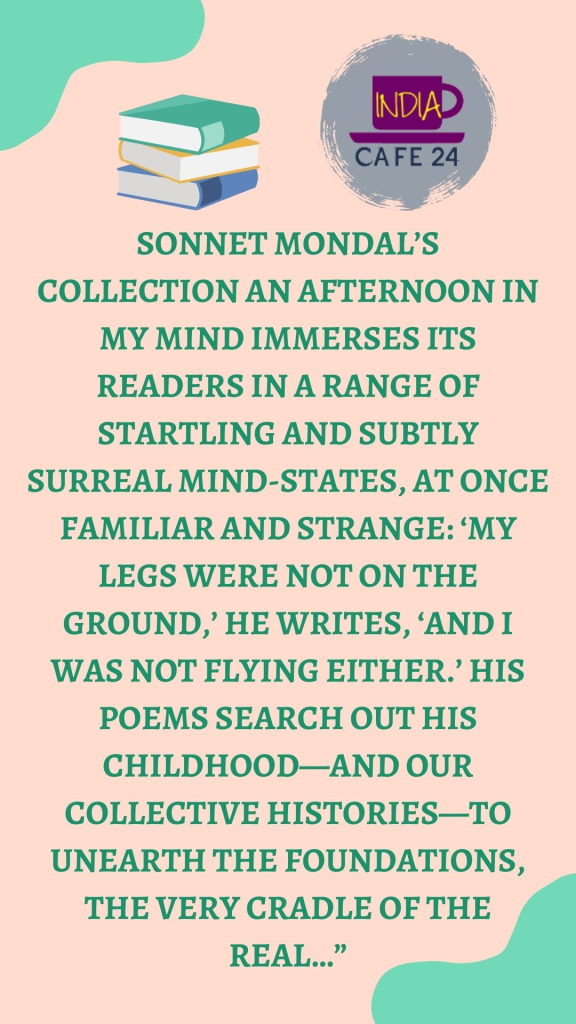 American poet and curator of the Woodberry Poetry Room, Harvard University, Christina Davis says, "The American philosopher Stanley Cavell once observed that 'for a child to grow requires the familiar, for an adult to demands strangeness.' Sonnet Mondal's collection An Afternoon In My Mind immerses its readers in a range of startling and subtly surreal mind-states, at once familiar and strange: 'My legs were not on the ground,' he writes, 'and I was not flying either.' His poems search out his childhood—and our collective histories—to unearth the foundations, the very cradle of the Real…"
Here's an excerpt from the book:
The Answer
A dry land seeking liberty
to get drenched wonders
about the quiet after this storm.
The roads are familiar to it.
The smell of the air isn't.
The trees no longer liaise.
Their commitments are done.
Does the new rephrasing require us?
An empty bowl falls on the floor—
the sound seems familiar.
It was there in the quiet
before the storm.
Thoughts on a Highway
As my car raced down the road
I could feel moments flying past
like the lamp posts of the flyover—
part of me staying back
with insects circling around bulbs.
If I could travel like the smoke from a chimney,
I would have had no moments
but an unending void all around
and a late moon subsiding
in a soul-stretched dawn.
Rubble
The books no longer smell of paper
the papers no longer smell of education
education loiters like withered leaves
and the leaves fall as tears on flames.
The rubble looks like a failed mutiny.
By the tables, chairs and books.
They seem like the skeletons of a sketchy mankind
clattering in a slapdash rhythm.
I already feel my bones beating the drums—
I don't recognize the beat they belong to.
The poison is propagating its own agendas.
The ears are being sent into a trance.
Let me go now.
If the rubble ever shapes up into a school again
and not a museum, call me back to this land.
Book Details:

Publisher ‏ : ‎ Copper Coin Publishing Pvt Ltd (2022)
Language ‏ : ‎ English
Hardcover ‏ : ‎ 88 pages
ISBN ‏: ‎ 978-938410978