A Book Review Of Waves In The Sky By Rakhi Jayashankar
A Book Review Of Waves In The Sky By Rakhi Jayashankar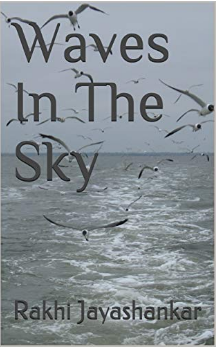 Publication Year: 2019
Pages: 218
Rating: 5 on 5
Type: EBook
Friendship is one of those special relationships which we make on our own and don't have since birth. There are several shades which we get to experience in this relationship when we grow older with time. "Waves in the sky" is one such interesting story about friendship which you will surely love to read and enjoy. It's the story of 6 friends and their equation with each other in the worst and best periods of life.  Charu, Neha, Ananya, Avantika, Raihana, and Yami are these 6 friends centering whom the story developed.  The Canaries is the name which they gave to their gang and their group was very popular in school. Love, anger, compassion, care, and affection are just a few of the many shades of friendship which you will get to see in the members of Canaries. They all are different but still, they are one.
Somehow a crack developed in the group when it was the last year in the school. Here the readers will get to see the shade of jealousy and competitiveness among friends. Finally, the separation happened which cut all ties they developed so far as friends. Each one of them started moving in their respective path of choice and some achieved huge success while a few lagged.  After several years a moment arrived when they again met. The expression and emotions of each character in this circumstance are so well portrayed that Rakhi Jayashankar, the author of this book deserves a round of applause for the same.
The story is a complete emotional ride and will make the readers recall the time they spend with their friends in school. This story is a page turner for sure and will keep the readers engaged until the time they reach the climax. Each character developed and presented with care and patience and that's the USP which made me fall in love with the work of Author Rakhi. Every character is unique and possesses own ideologies. The flow of the story is perfect and I personally loved it from the core of my heart.  For me, it's an absolute 5-star story and strongly recommended to readers who value friendship. I wish to read many more such good books by Rakhi.