A Book Review Of Done With Her – Debut Novel Penned By Chirasree Bose
A Book Review Of Done With Her – Debut Novel Penned By Chirasree Bose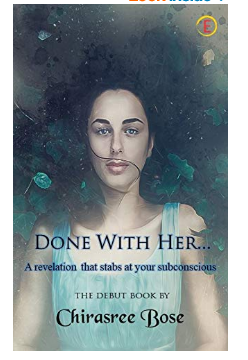 Publisher: Self Published

Publication Year: 2019

ISBN-10: 9388855515

ISBN-13: 978-9388855518

Pages: 98

Rating: 3.5 on 5
I was so intrigued by the title of the book Done With Her that I could not resist the temptation of reviewing it. Being the debut novel of Chirasree Bose, I did not know, what to expect. However, when I received the book, my excitement was further enhanced by the design of its cover page. The blurb also gave an idea that the book is a dark romantic thriller which further increased my eagerness to read and review the books.
Spreeha, a girl with a seductive personality and a mysterious charm, works in a multinational company based in Pune. Her colleague Avesh is horror-struck by the fact that Spreeha resembles a girl from his past, which he wants to keep hidden. He is, however, convinced that Speerha is not linked to the girl from his past and this assuages his fears of feeling attracted towards her. Spreeha, meanwhile has a boyfriend and even though she feels drawn towards Avesh, who also happens to be his neighbor, the sultry Spreeha is not willing to give up on her boyfriend. However, there is a twist to the tale as Spreeha seems to have a hidden agenda of her own. To know what is in store for Avesh and will Speera fulfill her hidden objective, read the book.
Done With Her is a story that highlights the emotions of love, lust, and obsession and weaves in a murder into the tale. The writer has placed enough twists and turns in the storyline to keep the readers hooked until they finish reading the book. The premise is well thought conceived and character development is also very good. Despite being Chirasree's debut novel, her passion for writing and her hold on the plot shines through. Overall, I found the book truly entertaining and gripping and wish Chirasree great success with it.