A Book Review Of They Go To Sleep By Saugata Chakraborty
A Book Review Of They Go To Sleep By Saugata Chakraborty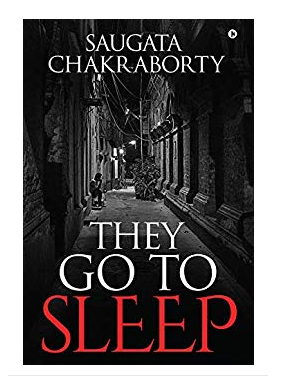 Publisher: Notion Press

Publication Year: 2019

ISBN-10: 168466361X

ISBN-13: 978-1684663613

Pages: 116

Rating: 4.5 on 5
When I was asked to review They Go To Sleep penned by Saugata Chakraborty, little did I know that I was in for a great reading experience. The book is a collection of short stories which are both entertaining and come with a message. The cover page of the book has been well designed and reflects the concept of taking a journey into the somewhat familiar yet unusual world. In fact, the cover reminds one of the narrow bylanes of an old city which seem to harbor a sense of secret and mystery.
The book comprises of 12 short stories each set in a different background and belonging to every possible genre. The stories are unpredictable and totally unique and different from each other. They are well conceptualized and go beyond the imagination of an average reader. While most stories have a touch of the culture of Kolkata, there is also a significant presence of numerous words from foreign languages. The best aspect of the book is that every single story featured in it has the potential of being turned into a full-fledged novel. By the time the readers are through its over 100 pages, they feel an unusual sense of satisfaction.
Despite its slightly difficult language, They Go To Sleep is a beautiful and engaging book. The stories keep the brains of the readers running and their hearts thumping with every page they turn. The level of thrill, suspense, humor, and emotional upheavals is perfectly balanced to ensure a great read. The book is slightly fast paced, which is expected, given that the stories have to deliver much within a limited number of words. Saugata has really emerged as a palpable writer with They Go To Sleep, which I feel has been a great addition to my collection. I wish Saugata all the best for its success.