Indian Football Legend, Chuni Goswami, Passes Away At The Age Of 83
Indian Football Legend, Chuni Goswami, Passes Away At The Age Of 83
Football lovers across India were saddened to learn about the demise of legendary footballer Subimal Goswami, known more commonly as Chuni Goswami, on 30th Apr 2020. The iconic sports star was renowned for captaining the Indian Football team in 1962 at the Asian Games to win the gold medal. He also held the distinction of being the only footballer to have played for a single club, namely Mohun Bagan, throughout his club career. This was despite the numerous offers he received from other clubs. Despite being one of the biggest stars of the country's national team, Goswami bid farewell to international football in1964, when he was only 27 years old.
Image source: Khaleej Times
Goswami's passion for sports became evident when he was still a young boy. In 1946, he joined the Mohan Bagan Junior Team when he was only 8 years old and continued to be a part of the team until 1954 when he secured a place in the club's senior team. He was a part of the senior team until his retirement in 1968 and even captained it five times, from 1960 to 1964.
He made his international debut as part of the Indian National team in 1956 and went on to represent the country in 50 international matches. He was a part of the national teams selected for the Olympics, Asian Games, Asia Cup, and Merdeka Cup. Apart from the win at 1964 Asian Games, the Indian National Football team also bagged the silver medal at the Aisa Cup held at Tel Aviv in 1964 as well as Merdeka Cup. He scored a total of 9 goals in 30 international matches.
Image source: Man's World India
In addition to being an amazing footballer, Goswami was also an excellent cricketer who played Ranji Trophy for Bengal and even captained his team to reach the finals in the tournament held in 1971-72. However, versatility as a sportsperson was not just limited to football and cricket as he also took interest in hockey and even played for his club hockey team occasionally. He even played lawn tennis besides serving as a boxing coach for a very short duration.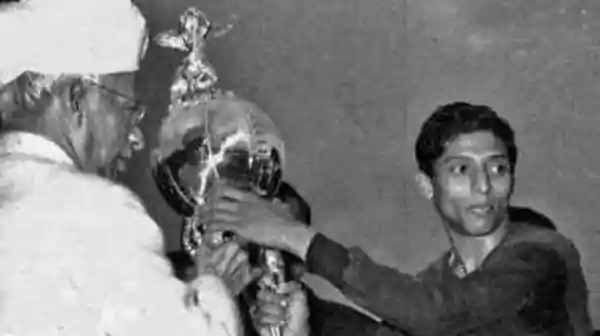 Image source: Livemint
Goswami was conferred with Arjuna Award in 1963 and in 1983 he was awarded the Padma Shri. He was honored with the Mohun Bagan Ratna in 2005 for his exceptional contribution to the sport of football and services to the club. He also became the Sheriff of Kolkata in the same year and the Postal Department issued a stamp in his honor on his birthday on 15th Jan 2020. Such was his appeal and charisma that Shri S. Radhakrishnan, the second President of India, was counted among his fans.
Goswami had been struggling with multiple health issues related to age and was admitted to a hospital in Kolkata on 30th morning itself. The veteran suffered a cardiac arrest before he breathed his last at around 5 pm. He left behind his wife Basanti as well as son Sudipto. His demise has drawn the curtain on the Golden Era of Indian football and has left football lovers across the country in a state of despair.