Photographer Preskha Chhajer- A Casual Session With A Talented Star
Capturing the emotion of a Child at the right moment behind camera is not all a job which can be easy for any photographer. The young talented bubbly Preksha Chhajer actually made the concept easy with her absolute dedication towards photography. She even decided to give a kick to her well established profile of a Brand manager to enter this world of photography completely.  She mastered this art so well that she can even capture the glow of happiness of a would be mother pretty well. Yes, she is not just a photographer – But a photographer who understands the emotion of an individual well. Meet the very talented and gorgeous Preksha Chhajer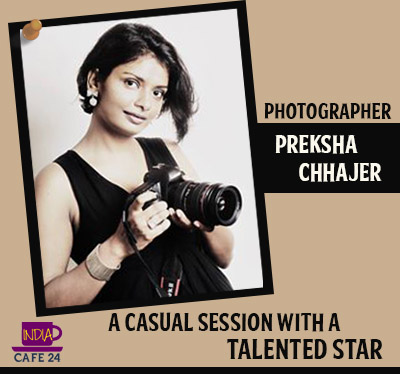 Welcome to the Platform of Indicafe24.com and we are happy to have you with us. Before we take this session forward will request you Preksha to introduce you to our readers?
Thanks Samata. I am a Maternity & Kids Photographer, specializing in creative concept based photography.

Being an MBA and that too with a successful career in Marketing what provoked you to take this step to start a career altogether in a field which is far away from your educational background?
I was primarily into Brand Management, which involved creating advertising campaigns.
Photography, Visual art, printing are something every Brand manager deals with on daily basis. So actually my job only helped me acquire more knowledge of this field.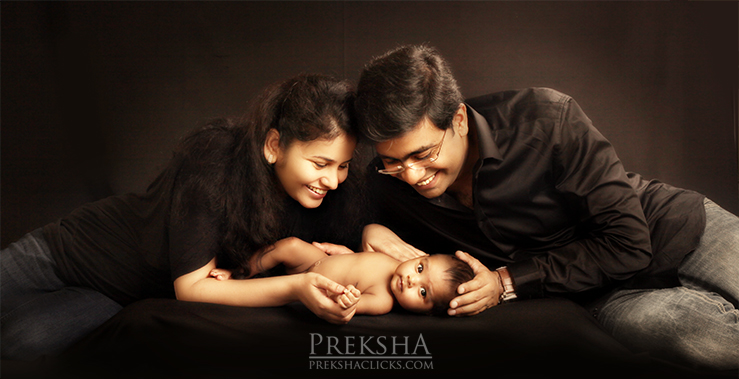 Photography was an active hobby ever since I borrowed my Uncle's manual SLR, some 15 years back. I would buy those boxes of Kodak rolls and get my friends to pose for me. But I took it seriously only after my husband; Gaurav gifted me a DSLR on our first night! Gradually I was spending more time on photography compared to my corporate work.
When you first realized the fact that yes, you are having the spark in you to become a photographer of quality?
Probably after my first baby shoot. It was of Moksh when he was 6 months old. Some of his images are still my favorite.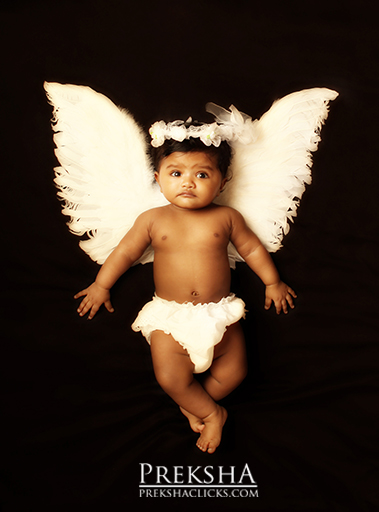 Any special training you did before starting career in photography world?
Mostly my training has been through following my favorite photographers like Anne Geddes. Before starting on my own, I did work with some of the best photographers of Bangalore, though it was just for a few weeks.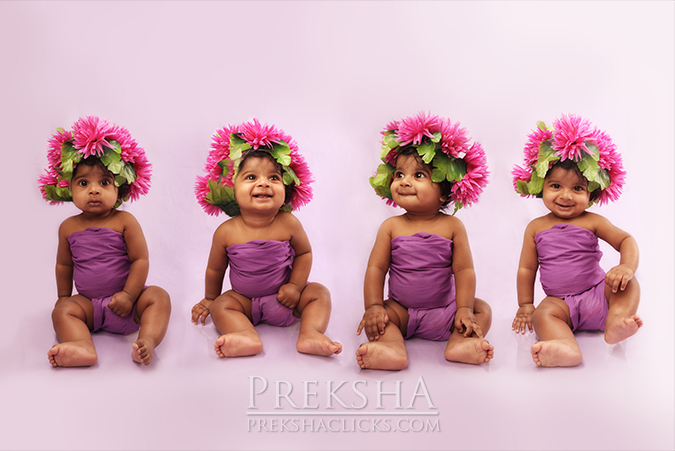 Quitting your job was a risky decision, who stand by your side at this point to be your support and help you open your own studio?
Yes, it was. My family members were not happy about this decision. Except my husband, who had much more conviction in my talent than myself. He believed that I was the best. Every morning while dropping me to office, he would ask me this question : Are you putting down your papers today?
When you first launched http://www.prekshaclicks.com/?
It was in year 2011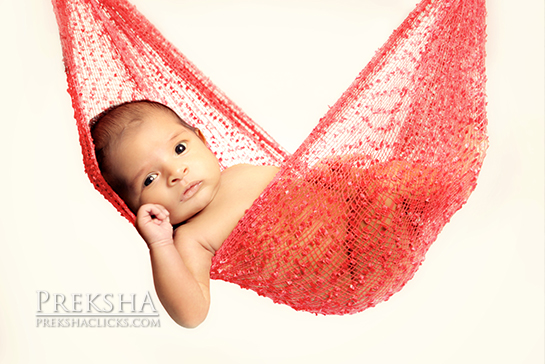 What sort of barriers you faced while launching you and your studio in the industry?
4 years back when I started , people were not even aware of such services.
The most difficult was to justify pricing, as people were used to the cheap services of local studio, where you just walk in & walk out with pics in 15 mins. The kind of effort, skill & time goes into my style of photography is not imaginable by an outsider.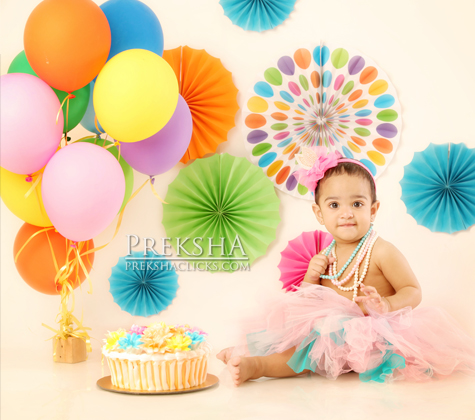 How is your life as a photographer?
It's very fun meeting new parents, knowing their love stories, playing with cute little souls. I couldn't ask for more.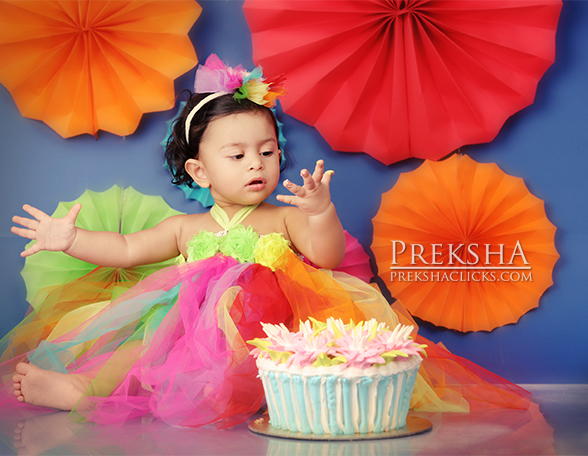 What is your favorite genre in photography?
I am most attracted to images that have a bit of fantasy world or surrealism in them.
And if they have babies or pregnant women as subjects, it's perfect!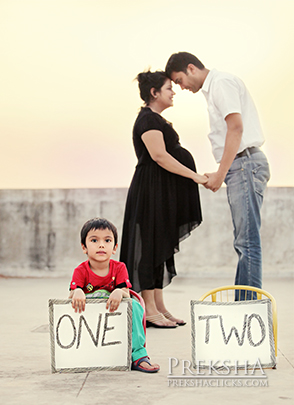 Apart from your favorite genre what other genres you are good at?
Fashion Photography, since that involves women and creativity.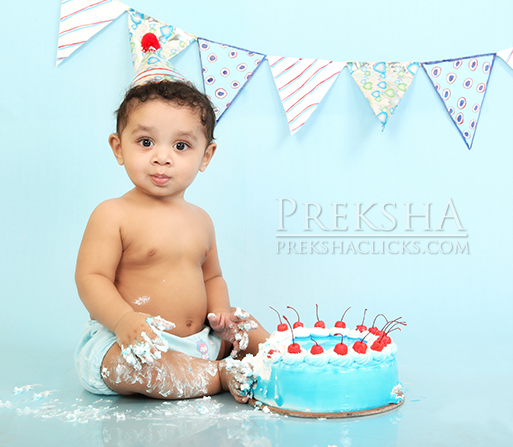 Wedding Photography, There is so much fun, love, colors & happiness.
Who is your favorite photographer or you can say whose photography inspired you the most?
Anne Geddes all the way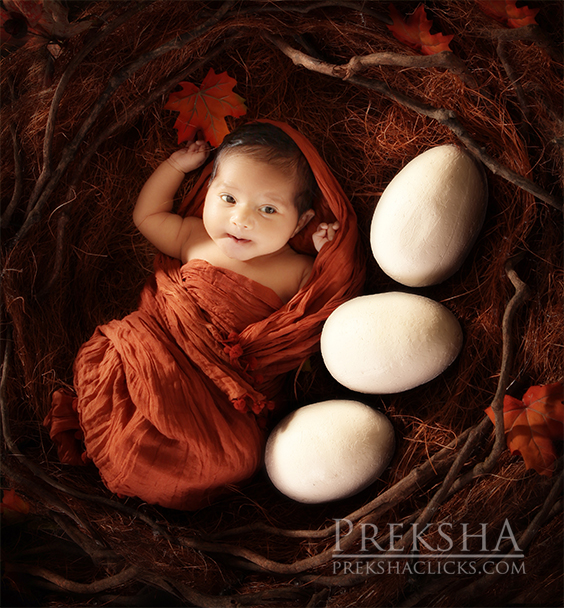 What exactly is Conceptual Photography?
A concept takes the viewer to an imaginative world. Most of the times , we would use a combination of props, setup, and costumes to achieve it.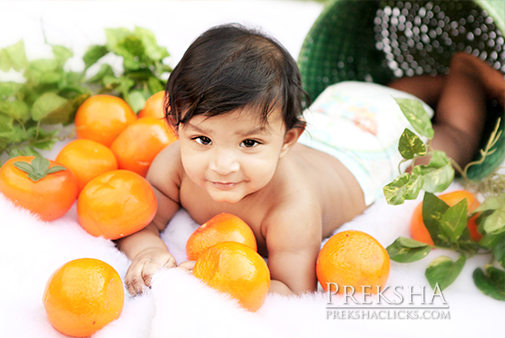 When you meet any client for photography projects then what are major points which you try to understand to get an idea about the exact requirement of client?
Firstly I ask them to view the vast collection of concepts on my Facebook page – fb.com/prekshaclicks. They then come back telling me which concepts they have liked. That gives me a sense of their taste. I also have a detailed discussion on what the kid likes to play with, their personalities, outfits etc. In case of expecting couple I spend a lot of time knowing their individual story & pregnancy experience. Accordingly , I suggest the concepts , show sample images if possible and finalize.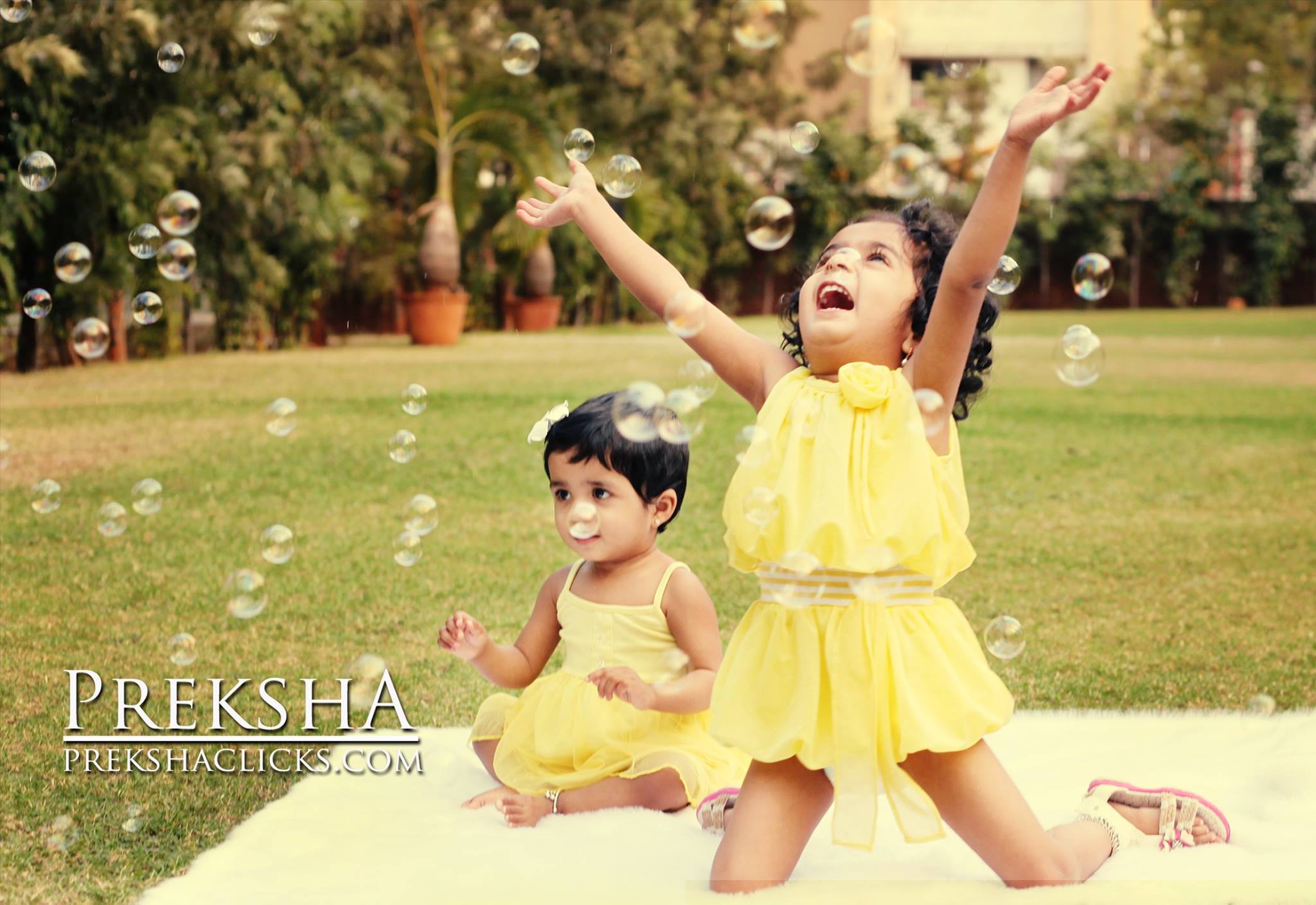 What are the key features of your studio which is far different from the ones which are/. Already doing business for a quite long time now in the industry?
Mine is a studio designed for babies & pregnant women. Extremely clean, hygienic & spacious. There are 2 special things which I doubt any other studio would have.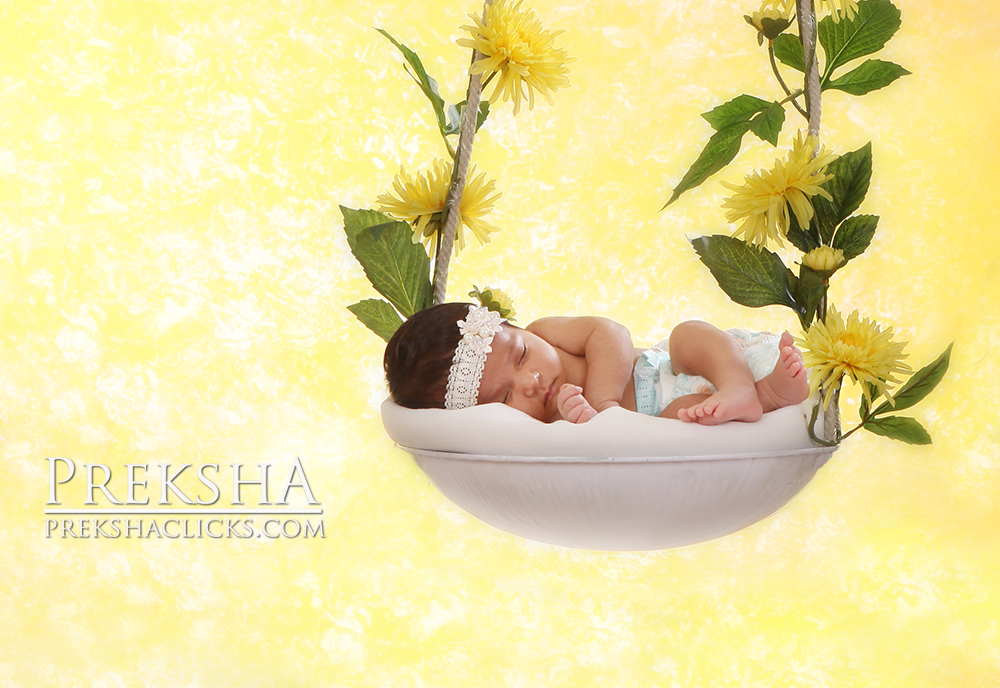 It has a private room with attached bathroom. Where mothers can relax & feed their baby in privacy. Babies can take a nap. Pregnant mother can relax in between shoot etc.
it's surrounded with acres of landscaped greenery, which enables me to give natural light shots also to my clients, in the same session. There is no hassle of travelling with small babies. I can easily shuffle from an outdoor concept to a studio concept.
What is the USP of Preksha Photography and reason of popularity?
Creative concept based photography. Parents love the creativity I do with their kids.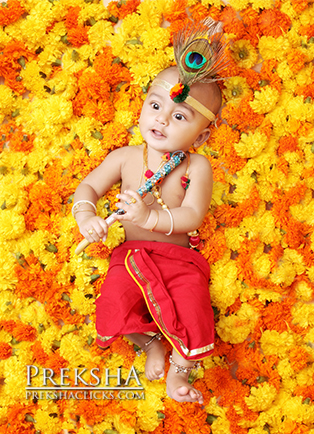 And I manage to get the smiles from their little ones all along. My creative concepts for pregnant women are also very popular!
How it feels when your clients send you thank you messages for you great clicks?
Oh! I have got so many of them, but still every new message makes me feel immensely happy & satisfied. Most importantly it's seems so worthwhile to do what I do.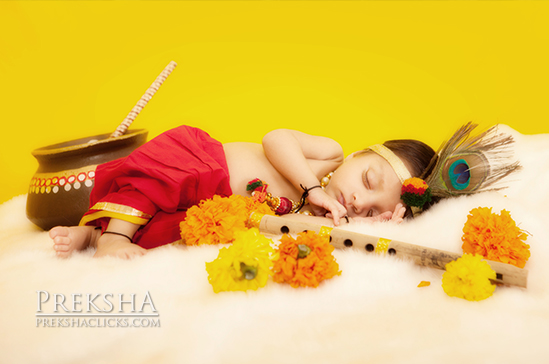 How you rate yourself as a photographer?
That is for others to do. For me, if I do not love a picture I have created, I do not let it go out of my computer.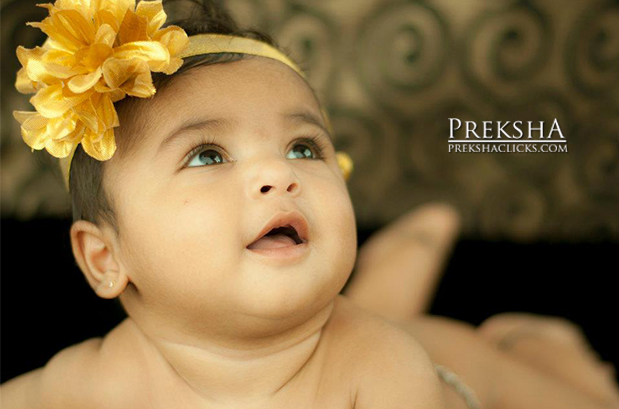 What you feel are the areas you need to still work on?
I need to build a bigger team. With no. of assignments increasing, I have to work a lot during nights!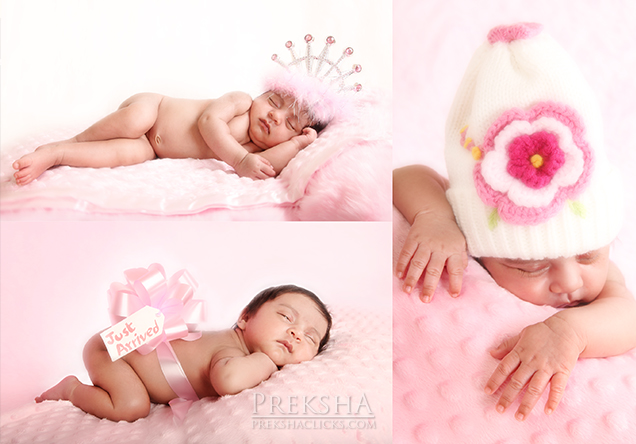 What are the instruments which you are presently using for your shoot?
More than anything I am proud of the collection of Props & creative Set up I have.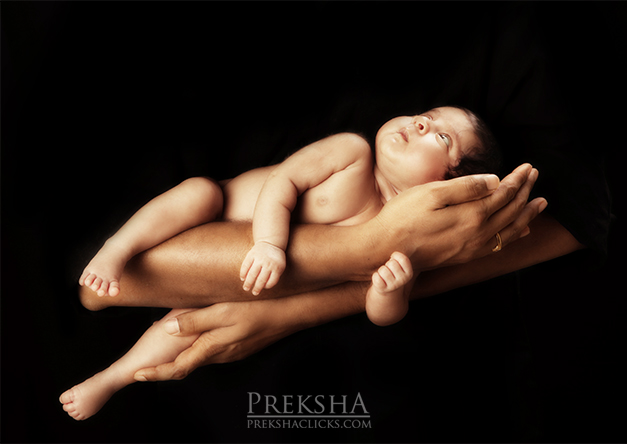 Camera – Canon 5DMark II, Lenses: 24-70mm f2.8, 50mm f1.8, 70-200mm f2.8, 12-24mm f3.5-5.6.Studio set up with lights, backdrops & floor drops.
What is the average time you invest per shoot?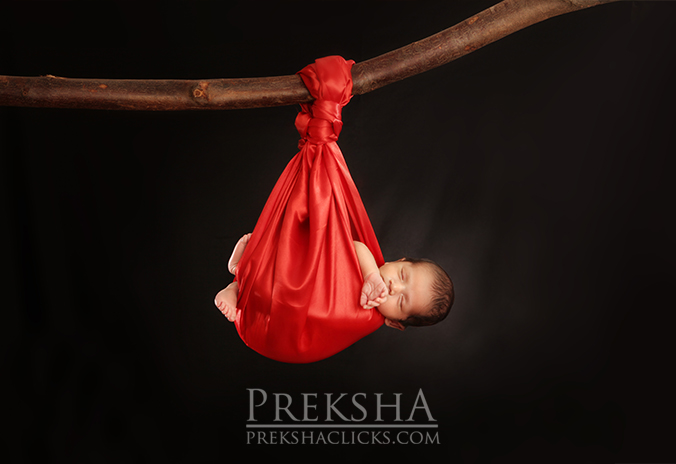 Shoot time can fluctuate from 1hour to 6hours. I like to pace my shoot as per baby's mood. If they feel sleepy , I insist they sleep & sleep until they wake up on their own. If hungry, I do not proceed until they are fed. I communicate this to the parents before the shoot & ask them not to keep any other engagements on that day.
If anyone wants to hire your services how will they contact you?
Email : contactpreksha@gmail.com , Facebook page – fb.com/prekshaclicks ; website: www.prekshaclicks.com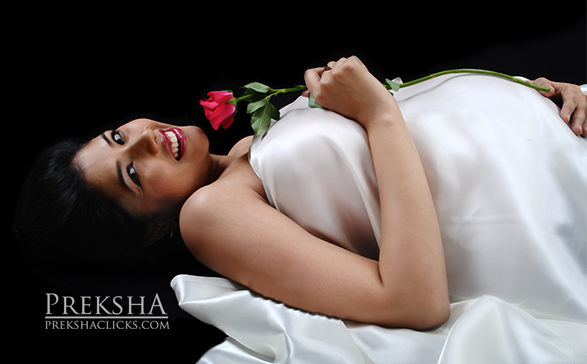 Are you taking project out of Hyderabad?
I do. I carry my entire studio set up & relevant props with me so that I give the same quality output as it would be shot in my Hyderabad studio. Yes, I get that look of curiosity from my fellow travelers, who see me travelling with a pile of stuff.
What are you other passions in life apart from Photography?
I am most passionate about my life partner – Gaurav. Everything else comes later.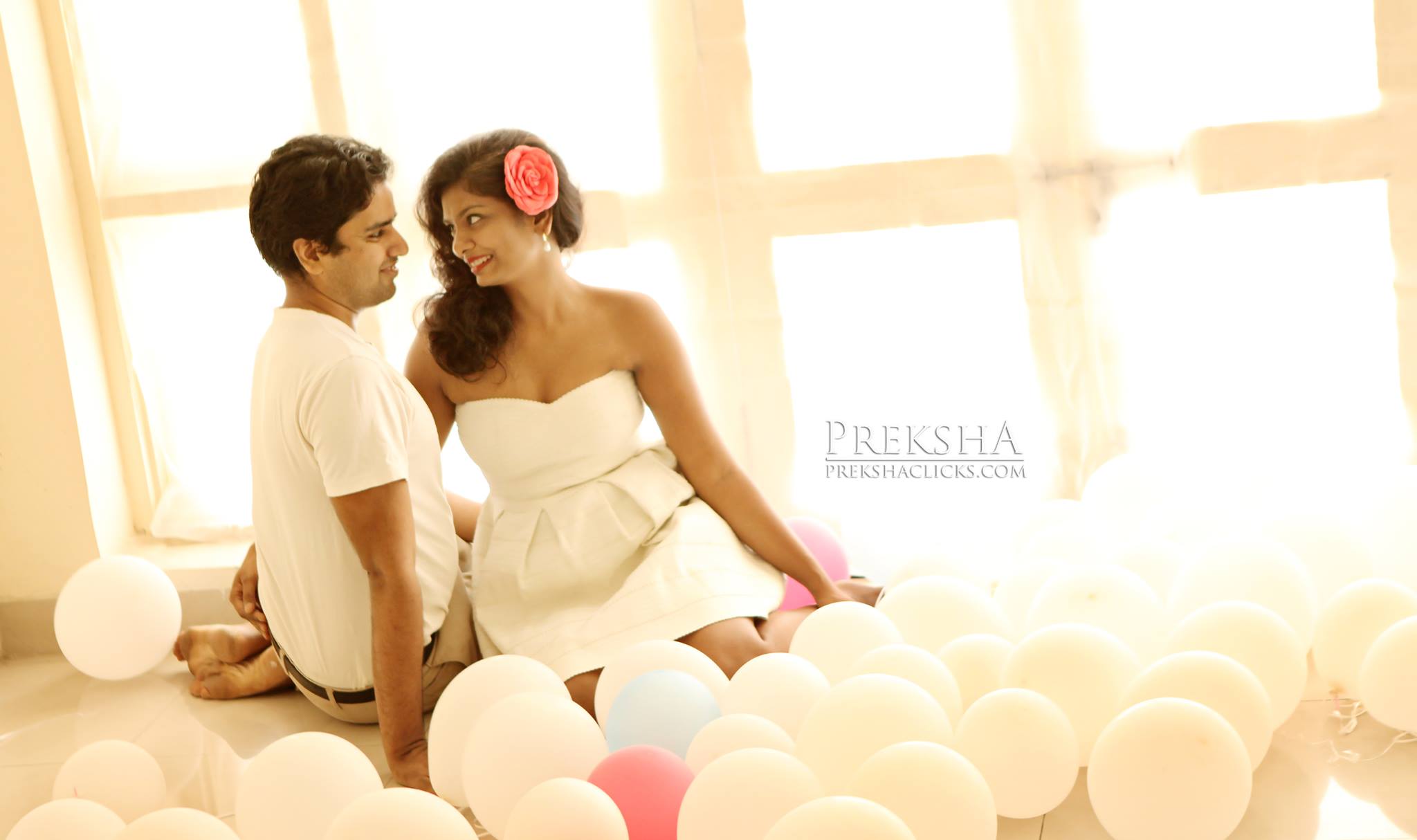 What is your team size helping you in your shoot?
I can single handedly manage most of my shoots. When I am attempting something new which requires complicated light set up or prop set up, I get assistants. However, in a kid's shoot, I involve the parents in making the kid laugh, or getting a certain pose etc. they become pretty much part of my team!
Who is your biggest critic?
Some of my friends, who call me only when they feel the image are getting more appreciation, than what it deserves, ha-ha!!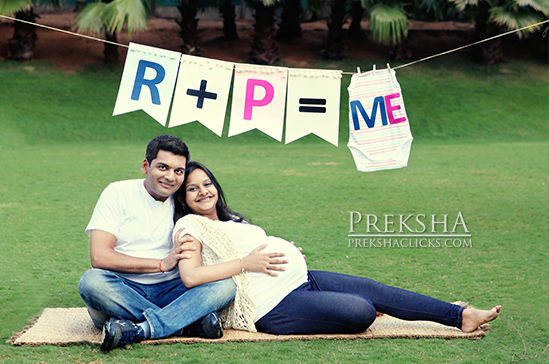 Share some WOW moments in your career?
Every time I am able to execute a new creative concept, I get a feeling of wow. The more exquisite the concept, the bigger the WOW 🙂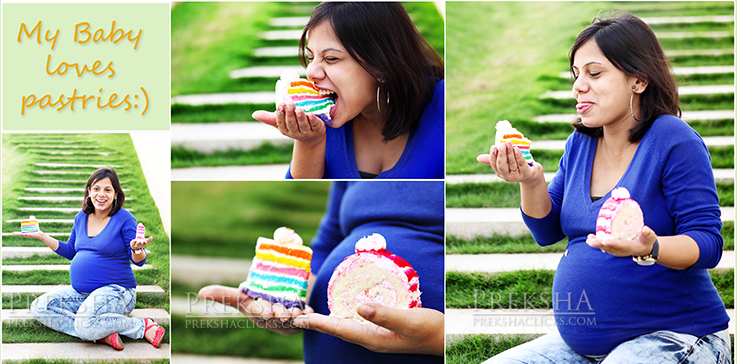 Define Preksha the Photographer- In one line?

An artist who is always trying to show a glimpse of her world of imagination & fantasy through her pictures.