The Jewellery World Of Madhumita
This Bong lady experienced in her early ages that there was some spark in her which can help her to stand out of the crowd. Her strong belief about her creativity helped her in making of Treazzure go HEART. We had a quick Chit Chat session with this amazing lady in this festive season of DurgaPuja. Check out what she said…………………………..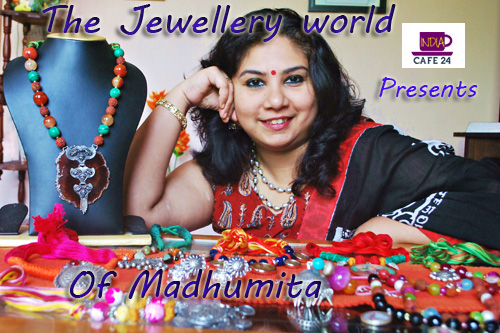 1) Welcome to the platform of Indiacafe24.com. Its a great honour for us to present an exceptional talented entrepreneur  to our readers.Madhumita will insist you to give a brief about your background?
I born and brought up in Calcutta. During my childhood I had interest in painting .I was always fascinated by colors in any form,may be a full box of crayons or fabrics.colour mixing and invent a new shade was my best hobby at that time. I was given so much freedom from my parents to do as I liked in the field of crafts and arts which actually inspired me to learn more about crafts. After graduating in geography I have joined masters but because of early marriage I had to stop my study.I never had dream of a normal housewife life .I always dreamed about something extraordinary.Here also after finishing my household work I always take some time to fulfill my dream,I always feel that passion that I have to do something in life which will give me an identity.After marriage I had to go in USA and during my stay over there I have learned jewellery making only to kill my time.That time I used to gift my creations to my near and dear ones.But never feel that urge to start my own business.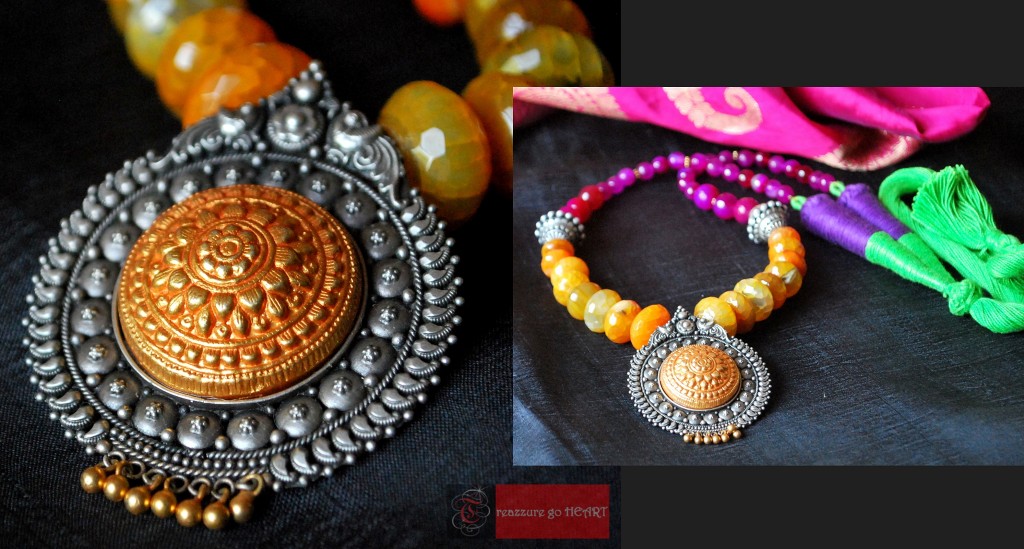 2.When u first realized that customized jewellery can be the reason to make you an entrepreneur?
I have first realized this  when everyone started appreciating my work.I felt deep urge to start our venture when my husband was facing some problems in his job.Though we are facing very tough situation we have declared not to get defeated by life's challenges rather as an unit we have started this venture.
3.To be honest the concept of customized jewellery is now high in demands,so what acted as an inspiration for you to enter this competitive market?
My inspiration is my mentor,who taught me that life itself is a biggest competition between our fundamental goodness and our inner negativity.Only hard work ,strong determination and perseverance can change everything.He always taught me to devote 100% of my entire being in my selected field.
4.Who inspired you to become an entrepreneur? Any idol for you?
My husband,one of my best friend and obviously my mentor are the biggest inspiration for me to become an entrepreneur. No not have such idol in my mind.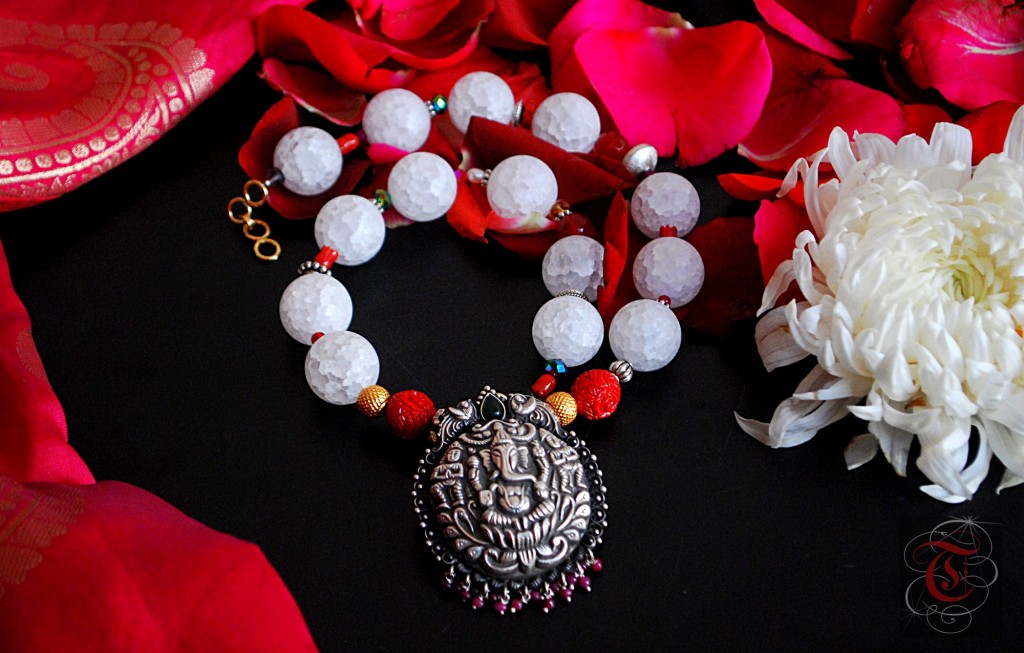 5.Do you design jewellery with your creative imagination or you are acting as a wholesaler for customized jewellery?
Yes I design jewellery with my creative imaginations.I take my inspiration from everywhere.
6. In case anyone wants customized design then is that possible for you to design exactly what the clients wants?
Yes,if anyone wants to customized design I try my level best to make according to their choice.In Fact I have so many clients who used to send picture of their sarees and asked to make a design which can go well with those.
7.What materials you use in making these jewellery?
I work with a variety of semiprecious stones.The materials I use ranges from lavastone,rudraksh,crystal,sterling
silver,pearl,coral,malachite and all.I have no set rules when designing them.i love to mixing color here also,For me this is an adventure to rediscover my own potential.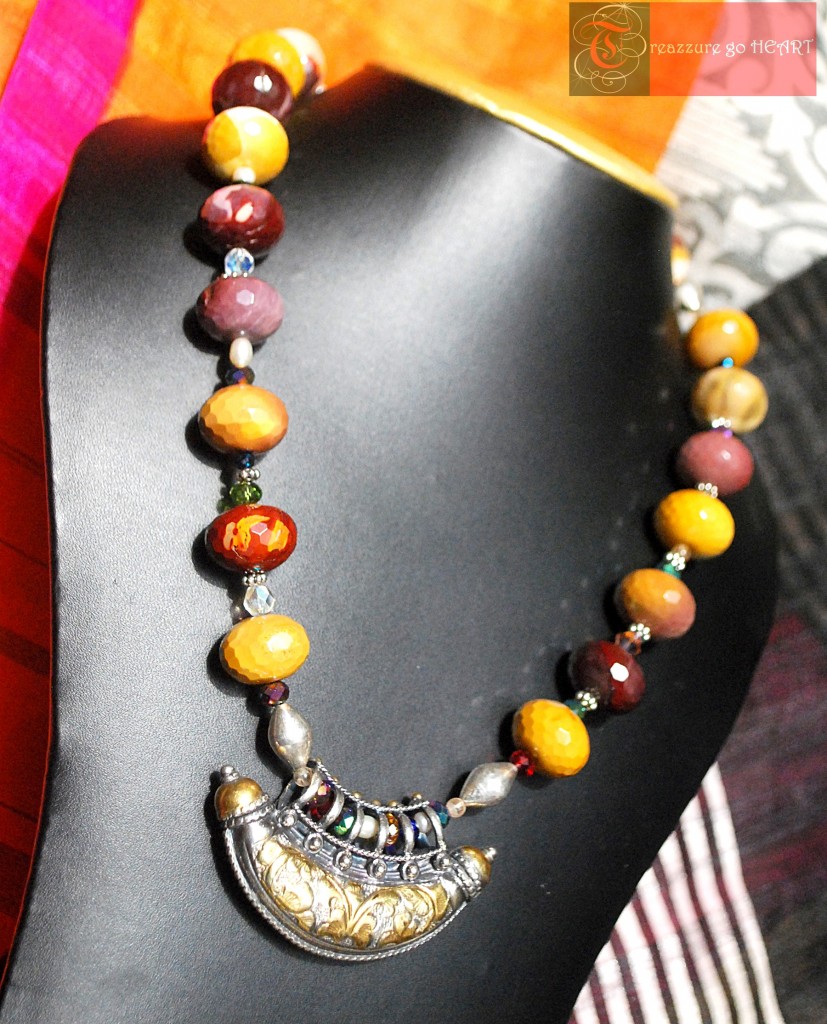 I don't like those designs which are too perfect.I love to spend time with lots of different materials.During my trip on any place I used to search new raw materials for my design. Mcleodganj is one of my dream place to explore new beads .Anyone can easily find a lot of vibrant colors and designs
in my collection.
8. An special trainning you received  in this art form?
No ,not any special training i received in this art form.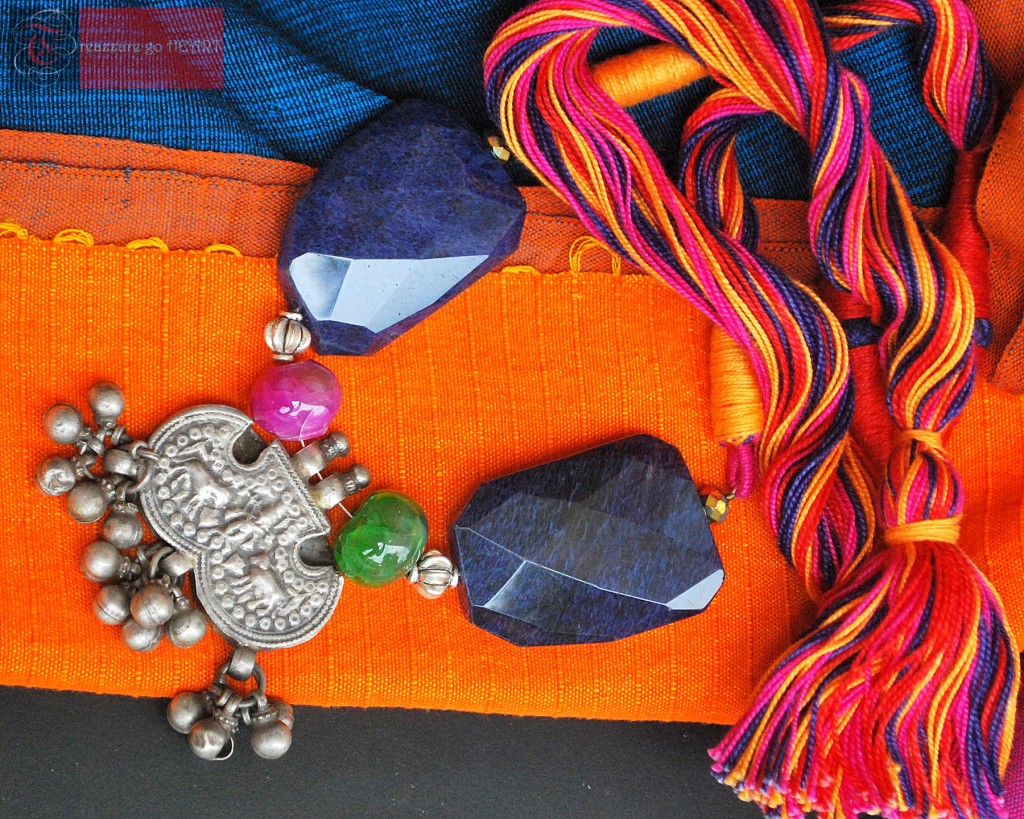 9.Why you named your project as Treazzure go HEART?
We named out project as Treazzure go HEART because of some reason.As a Buddhist practitioner I have learned that the most important treasure in our lives are the HEART  which in other sense the relationship withever person we  encounter in our lives. So I want through my creation which directly come from the core of my heart may touch everyone's life and spread happiness all over .
10.Who are your targeted customer?
All…I have no discrimination among my clients.I just want to connect with them with my artwork.
11.How you are reaching your customers and what sort of response you are getting for your creativity?
Right now i have only this page in Facebook.when I have started my venture three years back only my friends knew,then through them their friends and relatives got to know.now I have so many clients from USA,UK,Muskat,Bangladesh. I am getting very positive response from everywhere.
12.what are your future plans for Treazzure go HEART?
My future plan is to become the most successful creative person in whole universe,and for Treazzure go HEART in future i want to start making men's jewellery and textile jewellery. Treazzure go HEART must reach every corner  of the globe.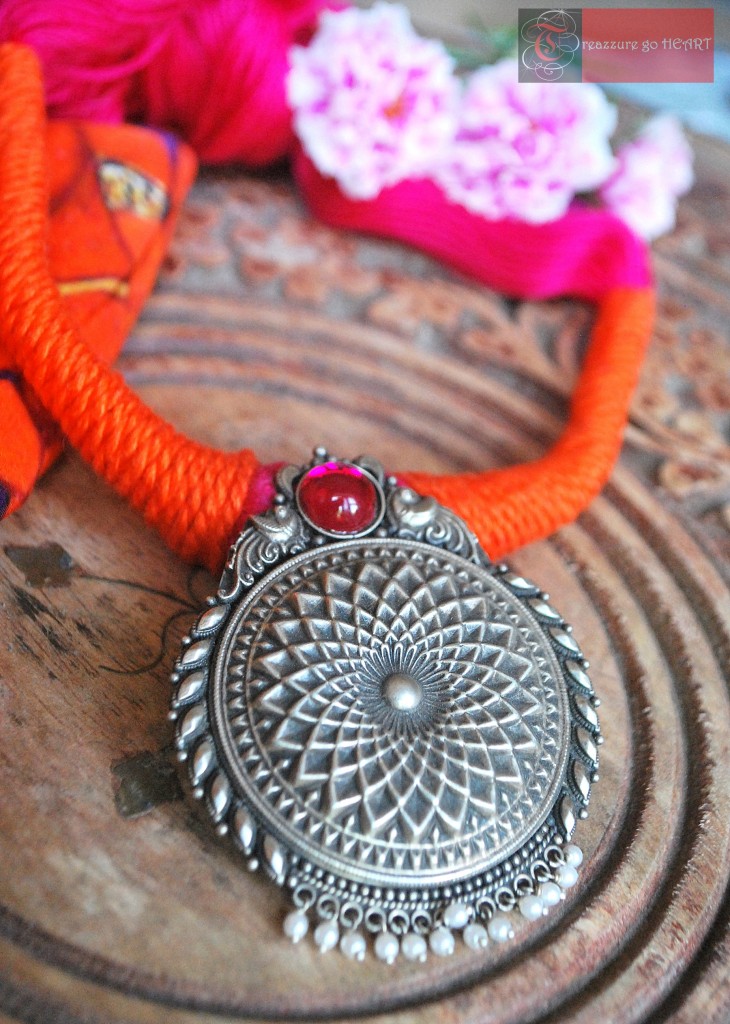 13.what are your other passions in life?
Painting and learning different art form from different places are my passions in life.i want to explore new art form from wherever i ll go in future.
14.How to contact you for placing orders?
For contact me anyone can message me in my online page.Or can call me or whatsapp me in this no..7696095907.My page link is : Treazzure go HEART page –
15.What are your views about Indian women entrepreneur and how you want to encourage such ladies who want to come up and establish them as entrepreneur?
I have found that Indian women entrepreneurs are very very talented ,each and everyone are unique with their creations.I can only say one thing that everyone has some special quality or potential ,try to believe in that and with hard work and determination anyone can reach their desired level.
16.Define Madhumita Datta..The customized jewellery designer.
As a customized jewellery designer Madhumita is a very passionate with different ideas and cherish every single individual .she is  still exploring her true potential( work in progress) as an artist. She is really doing hard work to show the true meaning of an artist.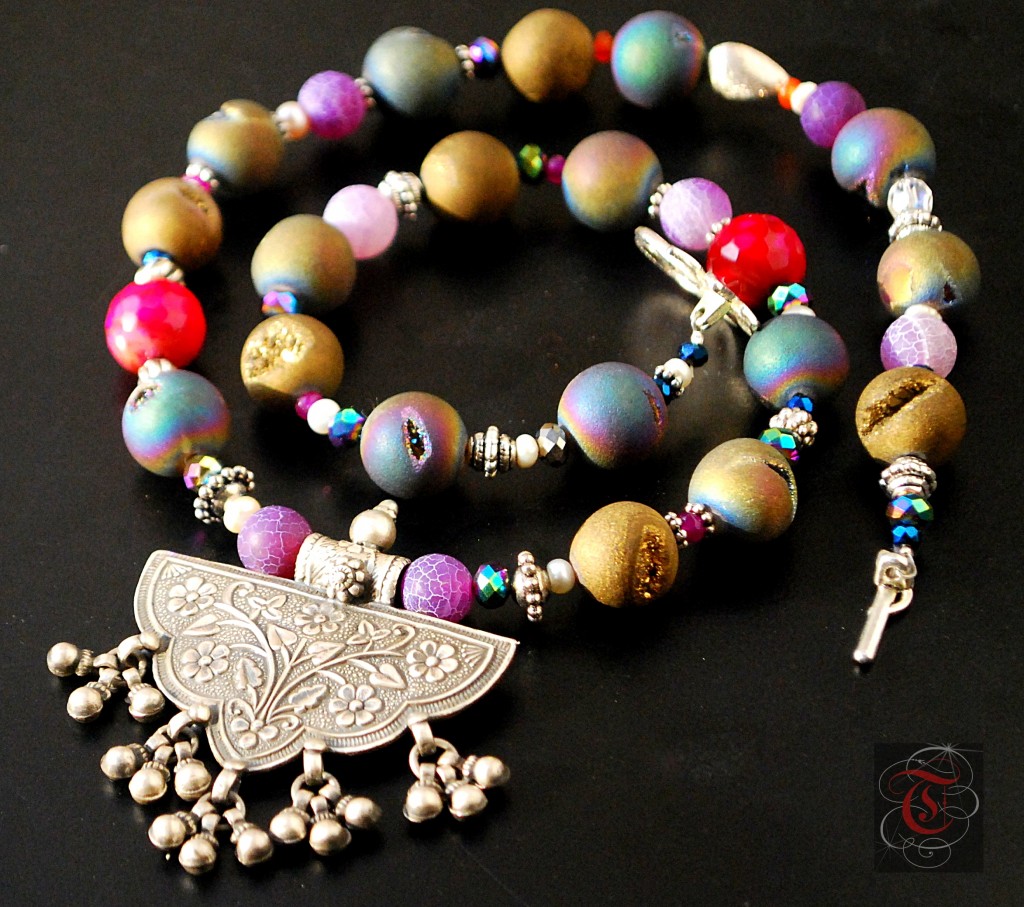 Thank you so much for giving me this opportunity.
Photo Credit: Biplab Datta