STORY OF SOSHA CREATIONS @ SOUMYA
 Soumya a lovely lady with a creative brain walked that extra miles to become an entrepreneur, Being a mother of 2 and a lovely wife she is a confident woman and managed both home and business equally well. She is a true example of a modern independent Indian woman. Check out what she shared with us in the recent chit chat session.

1) Hello Soumya, Welcome to Indiacafe24.com. Its an honor to have you with us. Soumya lets start the session with few words about you as a person and your family
Thank you for inviting me to share about my work in Indiacafe24.com. I am a Fashion Designer and MBA in HR by qualification and have work experience of 9 yrs as a HR.
I am blessed with 2 lovely kids. My elder son Gandharv is a child artist, who loves Drawing and enjoys Clay Modelling and younger daughter is just completing 3 months.
Harsha, my Husband is a Civil Engineer by Profession,and he is into Construction business.
My Mother and Brother are my backbone who have always helped me to build my career.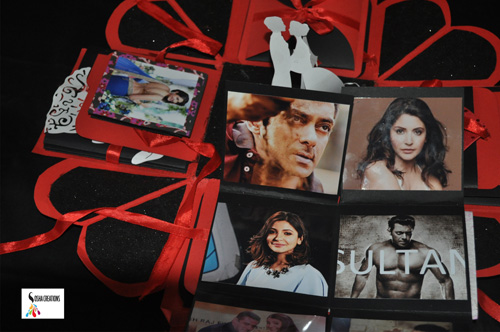 2) You call yourself a homemaker and also the owner of a brand. All women are homemakers be it a working woman or a non working one, but what makes you different from them.
It is a nice question. Yes, you are right all women are homemakers be it a working woman or a non-working one. But working women have the added responsibility of managing their work. It is by virtue of being naturally multi-talented that women are successfully able to balance their work and family really well. I am fortunate to work from home and also own a brand. All these have become possible due to Internet, Website and Social Media (e.g. Facebook). When it started, it was more like a hobby than a serious business idea, but after seeing such amazing response, it has now become a full-fledged business in its own right. The difference as I see, many of them (women) are talented but they work elsewhere (as I was doing as well) could be due to managing their own life's necessities, and hence they are not in a position to explore this creative talent of theirs and pursue their entrepreneurship dream. But here fortunately for me, this is something I could do it by giving a proper direction and shape to my creative instinct and passionately drive it to become what it is today. In fact, now my productive working hours are more for my business but the best part is that I don't feel that I am working at all.
3) As per you How important these days for women to be self dependent or independent financially and in their thought-process ?
It is very important to be financially independent and that will make us more confident. It will also help us express our thoughts and views more openly. At times of difficult situations, it is always the women (wives) who stood by their husbands. It helps the family to have a better lifestyle. It gives equal opportunity for both to live the way they want.
4) Who discovered your creativity first?
I was very creative since school days and keenly interested in learning new creative things. My paternal aunt Indira who is my Father's elder sister discovered my talent first and encouraged me financially to pursue my interest.
5) What type of creative work you actually do ?
Sosha Creations caters to huge amount of personalised gifting options. We started with just one simple product and now we have more than 100+ products. Our specialisation lies in handmade cards, scrapbooks, lamps, bean bags, photo frames etc. You can see our products on our
FB page – https://www.facebook.com/soshacreation/
or our website – www.soshacreations.com
6) Say something about Sosha Creations?
Sosha creations is in to handmade gifting which will help the loved ones to express their emotions through customised gifting solutions. Now, we do have more than 100+ options and we are planning to have 500+ options in next 3-6 months. The official Website was launched recently and soon our mobile apps are getting released as well.
7) Being a crafter do you think that there are true admirers of craft work in this world or its just a hobby type of work for many? What it is for you?
I strongly believe true work is always appreciated and artistic talent is a god's gift which will not be gifted to all at least not in the same proportion. I feel myself very lucky to be one of those gifted ones and for me my craft is like my worship. Many people take it as a hobby as it was for me too initially as I said, but getting paid for what we love doing is a great feeling and thus, it makes perfect sense after all. Today, people love to be different and ready to spend decent sum for personalised gifting. The overall mindset has changed towards this particular sector and that has created an ocean of an opportunity turning it into a 'million dollar' business model.
8) When people show interest towards buying your craft, do you ever analyze what will be the future of your art in their hands or you try to understand conversing with them what actually provoked them to buy the craft ?
Yes, we do talk to the client and try to understand the reason for gifting and customise it accordingly. We also try to check the feedback after they receive the product and ensure that they are satisfied. Our customers are so happy that they have been recommending us to everyone they know and hence it is spreading like a wildfire now.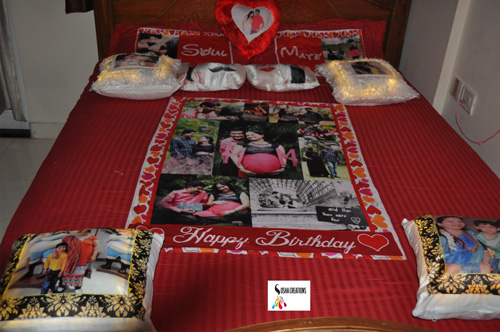 9) Who taught you these art and craft work?
I always had a strong inclination towards creativity which finally became my inspiration for me to resign from my corporate career and take a step ahead towards my passion. To be honest I have never received any training. I am a self learner and never get tired in experimenting with new things. I learn mostly through trial and error method and as a reference point I do take a lot of inputs from the internet. Art is like an ocean and once you start swimming you cant stop. And, the ones who love to do it will never feel any pain or tiredness. The moment I experiment and succeed in one, I will be enthused to discover the other one. So, you see, each day is a new learning for me.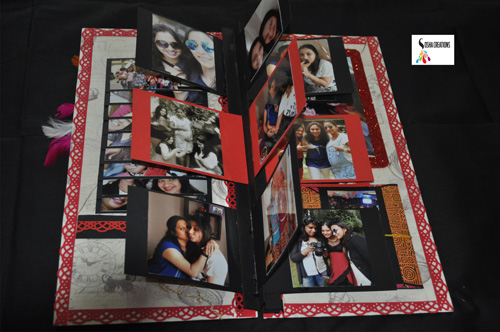 10) Do you conduct classes ?
Yes, I do conduct workshops and also take online training sessions.
11) What are your expansion plans for Sosha Creations?
Sosha Creations is soon planning to start supplying to independent retail outlets as part of our offline business plan. Company is launching the Android and iOS apps shortly and it would be spreading all over India with franchisee model. Our plan is to have a pan India presence through physical stores in the next 2-3 years and global presence in the next 5 years.
12) What is your team size?
I have a small team of 4 crafters, apart from the marketing team.
13) What else you love to do apart from your creative work?
I love music, travelling and spending time with my family and friends.
14) If you get chance then will you take up classes to educate underprivileged people who can earn by by learning from you?
I would love to do that if I get an opportunity.
15) Who is your biggest art critic?
My husband is my biggest critic. Though he appreciates my creation, he will not miss a single chance to highlight the mistakes which has always helped me to improvise on the quality.
16) What are you plans in this year?
Immediate plan is to launch our Apps and then market ourselves on various market places.
17) Describe Soumya the crafter in one line?
A passionate artisan who uncans beauty from ordinary objects.