The Story Teller- Diptendu Chakraborty
Telling a story in style and in interesting way is bit difficult for an author and Especially when he or she is not having a background of literature. But Diptendu Chakraborty made it possible  and his debut novel is doing really well in market. We had a chit chat session with him. Check out what he shared………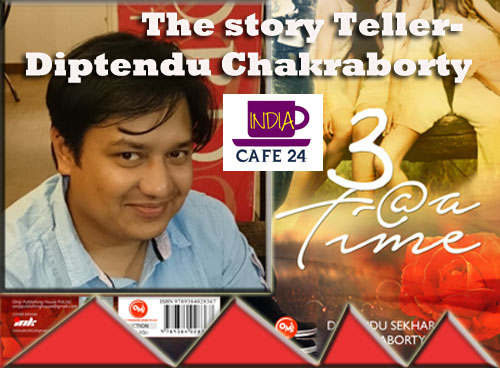 Its a pleasure to have you on this platform of Indiacafe24.com. Our readers would surely want to have a sneak peak on your background and family?
Ans – I am an author from heart and a marketer from mind. I did my schooling from various states of India since my dad was serving in the Army. I am the only child of my parents.
Currently i am working with Toyota in Muscat.
When and how you decide to pen down a novel?
Ans – Writing as a habit was cultivated since childhood as unlike others i was an extremely quiet and well mannered kid. However, things and proceedings that i used to observe and wanted to express were actually conveyed through my pen on a diary which i maintained till my graduation. It contains all the activities, accomplishments, en devours that has happened throughout my life from childhood.
Though, I never thought that one day all my fantasies would be transformed into a novel but a little encouragement from my friends and my colleagues who read my short stories gave me the confidence to pen down a novel.
I started the novel in August 2014 and finished it by January 2015.
Which genre of book you love to read and prefer to write?
Ans –  I love to read romantic, sensual, crime and thriller related novels. As far as writing is concerned presently i am focusing only on romantic and sensual genre novels however in future i would definitely like to experiment with thriller and crime related novels for writing.
Very recently your novel 3@ a time got published. So how you are feeling ? What sort of reviews you are getting?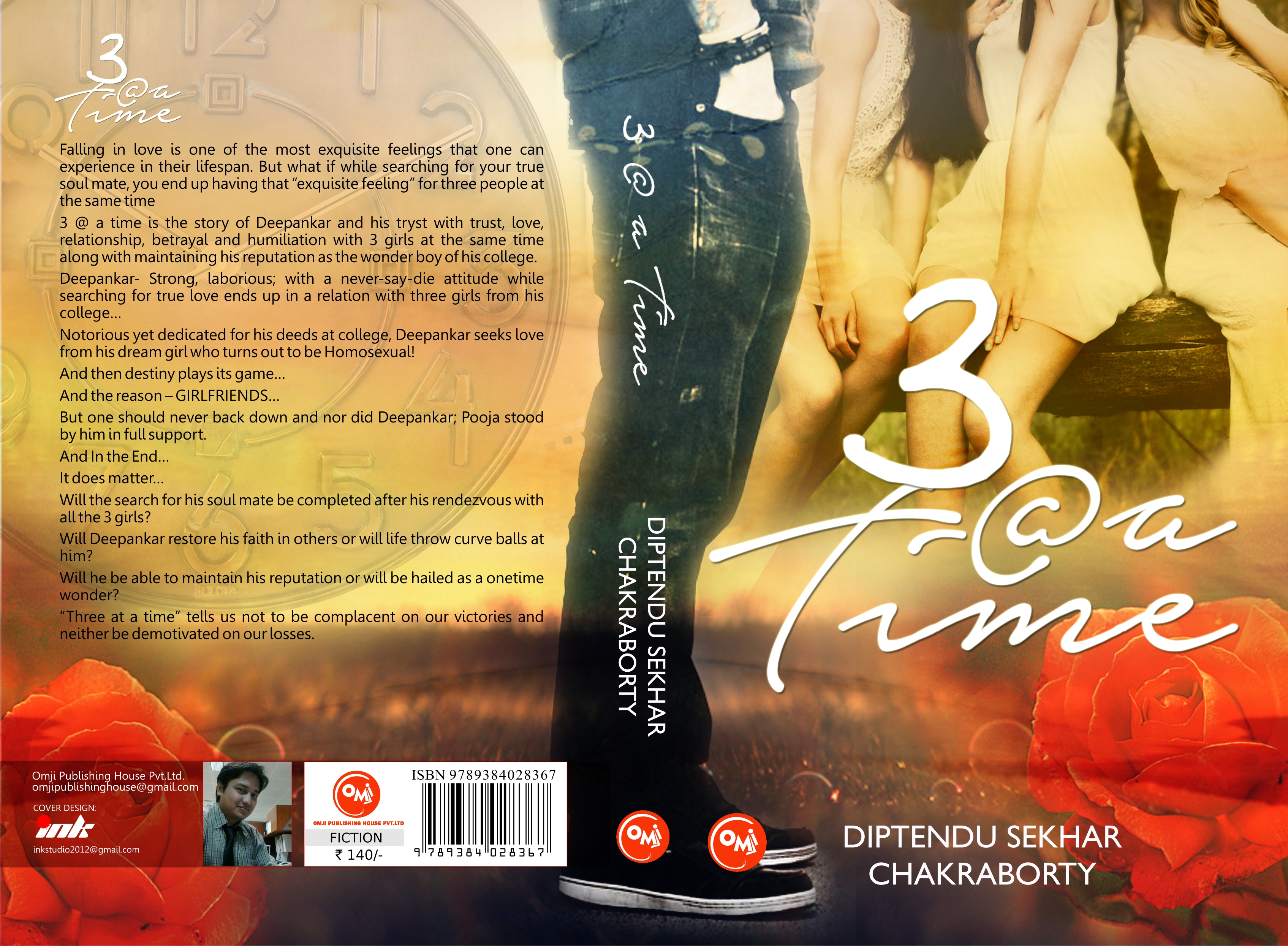 Ans – When your passion gets recognized and people appreciate you for your work that pleasing feeling of blissfulness is mind blowing. Many people were congratulating me for my achievement while many were appreciating my work. The entire feeling was astounding and remarkable.
To be truthful till now i have got mixed reviews. While 80% of the readers are appreciating my work, there are a section of readers who have a few negative points about the book.
Share a brief of the story
Ans – Falling in love is one of the most exquisite feelings that one can experience in their lifespan. But what if while searching for your true soul mate, you end up having that "exquisite feeling" for three people at the same time
3 @ a time is the story of Deepankar and his tryst with trust, love, relationship, betrayal and humiliation with 3 girls at the same time along with maintaining his reputation as the wonder boy of his college.
Deepankar- Strong, laborious; with a never-say-die attitude while searching for true love ends up in a relation with three girls from his college…
Notorious yet dedicated for his deeds at college, Deepankar seeks love from his dream girl who turns out to be Homosexual!
And then destiny plays its game…
And the reason – GIRLFRIENDS…
But one should never back down and nor did Deepankar; Pooja stood by him in full support.
And In the End…
Does it matter?
Will the search for his soul mate be completed after his rendezvous with all the 3 girls?
Will Deepankar restore his faith in others or will life throw curve balls at him?
Will he be able to maintain his reputation or will be hailed as a onetime wonder?
"Three at a time" tells us not to be complacent on our victories and neither be demotivated on our losses".
How you reacted when you saw your first copy of  debut Novel 3@ a time
Ans – I was silently looking the cover and was in tears.
The conflict between the publishers and authors is very common. Have you faced such problem while finding publisher for your book?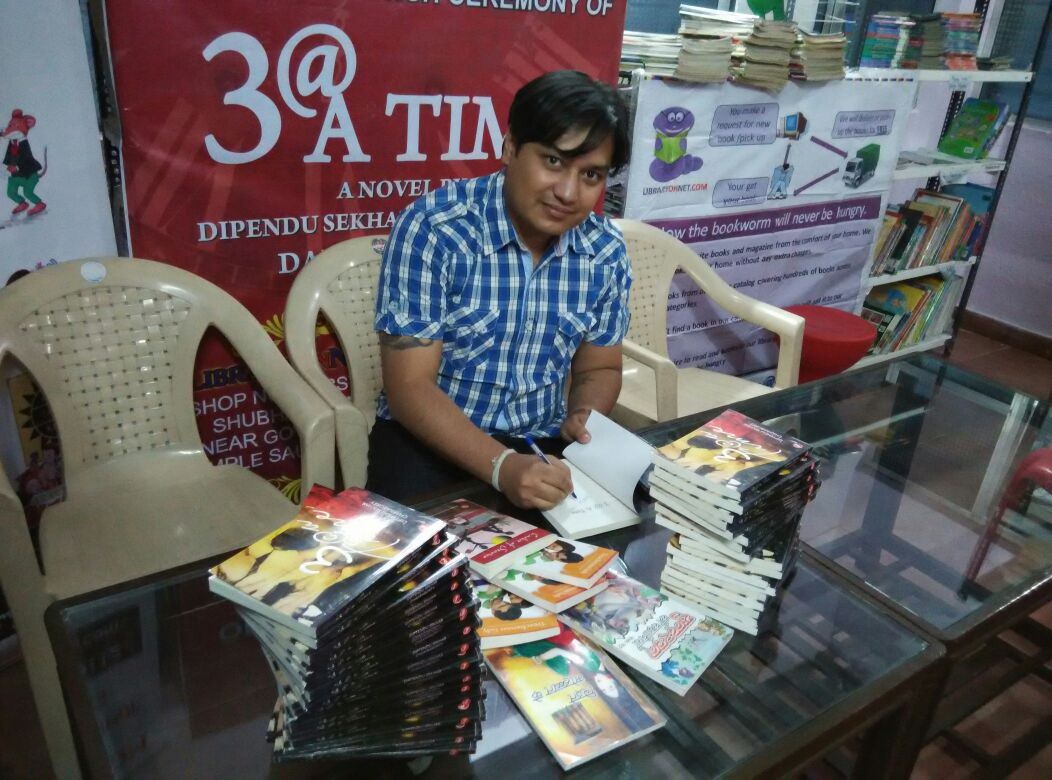 Ans – Absolutely, i had the toughest time of my life in order to find a publisher. However, Omji publications and their team helped me a lot and backed my instincts to finish the novel and publish it. I will always be grateful to them for all their endeavors.
When you first realized that you have the spark of becoming an author?
Ans – During my Post Graduation one of my stories was published in a local news paper and was greatly appreciated. That moment i realized someday i would like to see my name as Author Diptendu Chakraborty.
What are your other passions in life?
Ans – I love all forms of professional dance, as a matter of fact i used to be a choreographer during my college days. Though with time and body weight issues the swiftness in my dance has died but the passion is still alive as a dancer.
Apart from dancing i love music specially unplugged versions of songs.
What are your future plans ?
Ans – Currently i am working on my second book which is a book consisting of poems called "Lonely Shadows". However, in future i would like to write scripts and lyrics for films and television.
What next in pipeline  and of what genre?
Ans – Currently i am working on my second book which is a book consisting of poems called "Lonely Shadows". It's a compilation of poems consisting of love, life and dreams with a story attached to each poem.
Which authors inspired you in life?
Ans – I am a big follower of Nicholas Sparks and Stephen King. The way they make you fall in love with their book's is just unimaginable.
Any suggestion to budding authors?
Ans – Just follow your instincts to carve and compose your stories, articles and poems. Never worry about them getting published or getting good reviews, just write for the fun of writing and your follow your passion. If you have good story no one can stop your stories from reaching every corner of the world.
Define Diptendu Chakraborty the author in One line?
Ans – Imperfect , Unfaithful and completely Livid. But people love crazy than being boring.