Ruchi Singh – The Frank and Humble Author
Ruchi Singh- An author who managed to win the hearts of many with her very first Novel Take 2. In spite of being a technical person she proved that she understands the emotion of life and its various shades pretty well. We had a close session with this talented author. Check out what she said.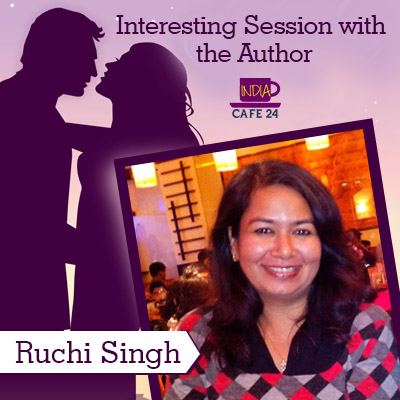 It a pleasure to have you on this platform of Indiacafe24.com. Our readers would surely want to have a sneak peak on your background.
RS: Thank you Samata, and Indiacafe24 for giving me this opportunity to voice out my thoughts. I am an Electronics Engineer by education, a Quality Consultant by profession, but a writer by choice. I prefer to write in two genres; romance and romantic thriller. I began with writing short stories and articles, which have been published on various online forums and have been a contributing author to many anthologies and have published my first novel Take 2.
Catch me on:
Facebook: https://www.facebook.com/ruchisinghauthor
Twitter : https://twitter.com/RuchiWriter
Website: www.ruchisingh.in and www.iluvfiction.com
What did you think about Romantic Novel and its popularity in market?
RS: Romance as a genre is immensely popular, no doubt. It is generally believed that only women prefer them, but it is not true. I know men who love to read a good romance story. But yes there is a stigma created by many, so readers do not openly admit it.
That takes us to the next question, why are they so much in demand. These days life has become so stressful that readers want to relax with a breezy, light read which takes them away from their daily mundane life, entertains them and leaves them with a happy, optimistic feeling
You are a qualified electronics engineer then how come you got addicted towards writing world?
RS: I have been an avid reader since childhood. Writing happened like an epiphany in 2013 and the first story that I wrote, gave me immense joy beyond words. After there was no question of stopping, so I began learning the nuances of the trade and building the writer's world. You can say my love for reading propelled me towards writing
What elements of romantic genre stories fascinate you most?
RS: Everything. The journey of the two protagonists, from their first meeting, to conflicts, to 'happily-ever-after'. Romance keeps one young.
Very recently your novel Take 2 got published. So how you are feeling? What sort of reviews you are getting?
RS: It's a very heady feeling. I am getting good response to the book and the reviews could be read at Goodreads. Readers like the way I write and that is a good sign, kind of a green signal. Someone messaged that the dialogues are good, laced with subtle wit; this compliment is something which I would always cherish. I am very encouraged with all the support from readers as well as writer's fraternity.
Share a brief of the story
RS: There are two main themes which I wanted to highlight in Take 2, firstly the plight of women who were divorced or thinking of divorce, and secondly the co-existence of conservative and modern India.
Take 2 is about Priya, who is a small town, intelligent girl, for whom ethics and family values hold an important place in life. The story revolves around her struggle to carve a life for herself braving the conservative society and realizing that the choice to be happy remains with her.
Abhimanyu's character was conceived to compliment Priya. If you are in love with someone you have to nurture it by showing support, care and affection. And that is what Abhimanyu does for Priya. I have tried to bring out that sentiment in the story along with some drama to entertain the readers.
And since I am an eternally optimistic person and all my stories would have HEA. I also admit to bringing a bit of Bollywood to make it a light read.
How you reacted when you saw your first copy of debut Novel Take 2
RS: It was a surreal experience, holding a thick book with your name on it. The awe and the joy is unimaginable.
The conflict between the publishers and authors is very common. Have you faced such problem while finding publisher for your book?
RS: I have never faced any such problem.
When you first realized that you have the spark of becoming an author?
RS: When one of my stories won the Indireads Inc short story competition, the anthology 'Voices Old & New' is now available on Amazon.
What are your other passions in life?
RS: I am a voracious reader, some of my favorite authors are Frederick Forsyth, Georgette Heyer, and John Grisham, amongst the Indian authors I like Chitra Divakurni and Anuja Chauhan.
Besides writing and reading, my other interests include dabbling with Indian classical dance forms. I have attained Junior Diploma in Bharatnatyam last year.
What are your future plans – will continue with both profiles of engineer and author – Or will go with any one – If yes then which one and why?
RS: I will go ahead with my writer profile. J Why? I am enjoying it too much and I think two decades in Corporate world is enough for anyone.
What next in pipeline and of what genre?
RS: While 'Take 2' is a contemporary romance with a spice of social drama, the next one is a romantic thriller, in discussion with a traditional publisher. I am also planning a suspense series, which is at a very nascent stage. I might write a literary piece one day, there are many ideas floating in my mind.
Define Ruchi Singh the author in One line?
RS: Live, let live and enjoy the journey called life.