Pen, Paper and A Story Born- Meet Akash Verma
 Akash Verma , A Talented handsome author  who  is also a successful entrepreneur  joined us for this session. He is the best seller authors  of 2 Novels and his 3rd Novel A Broken Man also managed to receive great success. Read this Chit Chat session we had with him.

 Its a pleasure to have you on this platform of Indiacafe24.com and Our readers would surely want to know you closely.
A Broken Man  is your third book, so if we ask which among It Happened That Night, Three Times Loser and the latest one – Is your favorite and  why?
 It's a difficult task to choose between the three. It's like a mother being asked to choose her favorite child between the three kids that she has
 Do you have any connection with the story of A Broken Man in your personal life?
 Yes. I have grown up in Lucknow and have spent a lot of time in Mumbai. All the characters in A Broken Man have resemblances of people who I have seen and been with. I think a writer would be lying if he/she says that the story is a complete work of fiction and free of any inspirations from real life
  What did you think about romantic Novel and its popularity in market? Which genre is your favorite and why?
Romance and love are the bonds that tie people together across the world. This is bound to be the single most popular insight. Any story that touches the chord and this insight beautifully is bound to resonate with the readers.
How you got addicted towards writing world?
I belong to a family of writers; both my parents are eminent Hindi writers. I have always been surrounded with books and literati. So this was never a new world for me. It was just the time.
 Who is the one who for the first time noticed the spark in you to become an author?
As I mentioned earlier, I was into literature and books from the time I was a child. It came naturally to me , without me trying hard to imbibe it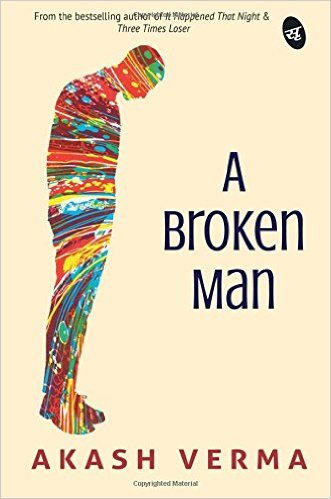 Very recently your novel A Broken Man got published. So how you are feeling? What sort of reviews you are getting?
Very Positive and heartfelt and that touches me the most. Most of the readers are loving the book because of its simplicity, the poetry ( I have used some Hindi poetry in the book, which I think is the first time attempt) and the poignant background of Dalit discrimination, that is so deeply entrenched still in the Indian society.
 Which character of your Novel is your favorite and why?
Chhavi, the female protagonist. She is the symbol of hope, love, and strength that any man would yearn to have in his life. You will have to read the book to know more about her.
The conflict between the publishers and authors is very common. Have you faced such problem while finding publisher for your book?
No. I haven't.
 When you first realized that you can too be an author?
  When I wrote the first chapter of my first book. It happened that Night
 What are your other passions in life?
  Music, Cinema, History and Travel
What next in pipeline  and of what genre?
A crime thriller based in Gurgaon. I am researching on it currently.
 Define Akash Verma the author in One line?
Live everyday with hope in your heart and you will be able to figure out life.